RAJA AMPAT, Jan 24-Feb 03, 2019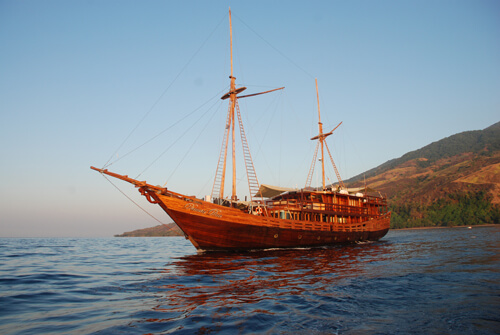 Diving in West Papua mostly takes the form of drift dives due to the moderate currents prevalent in the area, which provide nutrients for the myriad fish and coral. The variety of marine life can be staggering. Some areas boast enormous schools of fish and regular sightings of sharks, such as wobbegongs. At Mansuar it's highly likely you'll encounter large groups of manta rays and turtles. From the boat and often close to shore you may get the chance to don your snorkelling gear for some unforgettable interaction with resident pods of dolphins or even some passing whales.
AVAILABLE PACKAGES AND COSTS
Deluxe Standard

Double Occupancy

Master Cabin

Double Occupancy

Deluxe Standard

Single Occupancy

Up to 4 Dives Daily
Manta Night Dive (conditions permitting)

All Meals, snacks & NON-alcoholic beverages

One Complimentary glass of Wine or Beer with Dinner
Taxes & Transfers

Jan 24-Feb 03, 2019 (10 Days)

Cash price**

$6381

$6195

$6896

$6695

$8199

$7960
Click the purple headers below for full trip details
*all prices per person, cash option requires selecting e-check at final checkout
**cash price is the same as the cash price in the forums, new accounting regulations change the way the 3% credit fee is applied.