It's the GLORIOUS GALAPAGOS Reduex...but WITH MOLA MOLAS + SWIMMING IGUANAS + possible whales and of course ALL THE REGULARS...Squadrons of Hammerheads, Spotted Eagle Rays, Golden Rays, Mobilas, possible whalesharks and MORE!!!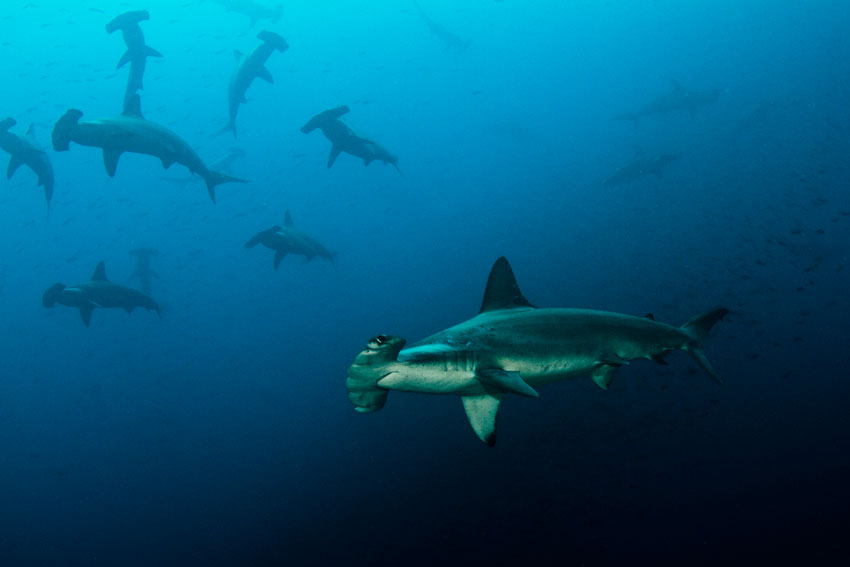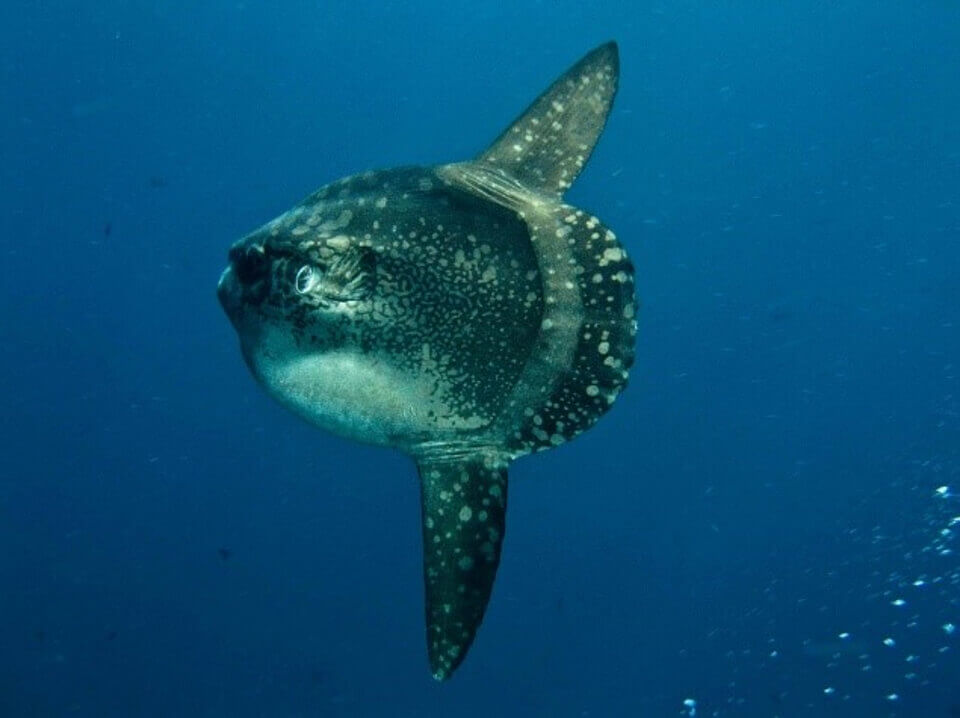 DATES:
April 16-23, 2022 plus early booking pkgs for extra days in Quito and/or other islands in the Galapagos. We will have a  complete turnkey option for you to get from Quito to Baltra where the trip begins. We will ALSO help with the local flight bookings from Quito to Baltra to ensure we all make it.
BOAT & FLOATING HOTEL:   M/V Tiburon Explorer 
The state-of-the-art Tiburon Explorer, debuting in April 2020, accommodates 16 passengers in 9 air-conditioned staterooms. All staterooms are located on the main and lower decks and have windows to maximize views of the renowned Pacific Ocean and Galapagos Archipelago. In addition, each stateroom has twin beds that can be converted to comfortable queen beds for couples, and include private bath and shower facilities, dressers, and closets. When not dreaming about whale sharks and their next dive, guests can enjoy the air-conditioned salon on the main deck, furnished with dining tables and TV/lounge area. Sunning and viewing areas on the top deck offer ample seating and a hot tub where you can regale stories of hammerheads from your day. 
This contemporary liveaboard is equipped with all amenities avid divers could need. The dive deck is expansive and outfitted with individual gear bins, air, and nitrox filling stations, tank racks, and a separate fresh water rinse tank for underwater camera equipment. Photographers and videographers will also be delighted with the dedicated camera table and recharging stations. Tiburon Explorer sets a high standard for dive safety and all dives are conducted from two large pangas (tenders), easily boarded from the deck. Plus, its equipped with a satellite telephone for emergency calls worldwide.
SAMPLE ITINERARY: NOTE: We will offer a minimum of 1-3 day EARLY ARRIVAL Pkgs so you don't miss the boat and can see Quito and/or land parts of the Galapagos! Stay tuned for those details as they evolve.
Saturday: Baltra (1 Check Out Dive at Punta Carrion)
Guests fly to the Galapagos Islands from Mainland Ecuador, arriving in the late morning. The dive guides will meet the guests at the airport between 11:30 am and 12 pm and escort them to the Galapagos liveaboard, Tiburon Explorer. Guests will board the vessel, have lunch and listen to the briefings. After the briefings, the guests will do a check out dive at Punta Carrion. After dinner the vessel will depart to the next scheduled destination.
Sunday: Balta North (2 Dives)
6:30 and 9:30 dives
Sightings include rays and schools of fish.
Afternoon North Seymour land visit. Walk the path around North Seymour Island to see the large colonies of Blue Footed Boobies and Frigate Birds. Sighting of Sea Lions and Marine Iguanas are also common.
Depart for Wolf Island (long transit)
Monday: Wolf Island (4 Dives)
6:30, 10:30. 2:00 and 4:30 dives. Possible night dive.
Sightings often include hammerheads, whale shark (in season), eagle rays, sea lions, Galapagos sharks and silky sharks
Tuesday: Darwin Island (4 Dives)
6:30, 10:30, 2:00 and 4:30 dives
Sightings often include hammerheads, whale sharks (in season) eagle rays, Galapagos sharks and silky sharks.
Transit to Wolf Island
Wednesday: Wolf Island (3-4 Dives)
6:30, 10:30, 2:00 and 4:30 dives
Sightings often include hammerheads, whale sharks (in season), eagle rays, Galapagos sharks and silky sharks.
Transit to Cabo Douglas (12 hours)
Thursday: Cabo Douglas (1-2 Dives)
Sightings include marine iguanas.
Transit to Punta Vicente Roca
Punta Vicente Roca (1-2 Dives)
Sightings often include mola mola, turtles and macro life
Transit to Cousins Rock (10 hours)
Friday: Cousins Rock (2 Dives)
6:30 and 9:30 dives 
This is a great macro diving with an excellent chance of seeing sea horses, sea lions and eagle rays. Lunch will be served while transiting to Santa Cruz (3 hours). Travel by bus to the Santa Cruz Highlands to visit the giant tortoises in their natural habitat. Transfer to the town of Puerto Ayora. Dinner on your own in Puerto Ayora. Return to the Tiburon Explorer at 8:30pm.
Saturday: Baltra
Depart the vessel by 9 am. Transfer to the airport.
PRICING & AVAILABLE SPOTS:
16 spots total on.... Main deck Staterooms (1-6): Twins or queen beds, dresser, closet and private ensuite bathroom with shower. Lower deck suites (7-9): large port windows, twin or queen beds, lounge area with sofa bed and private ensuite bathroom with shower.
April 2020 - June 2020: $6,095 July 2021 - June 2022: $6,895* July 2020 - July 2021: $6,395 July 2022 - June 2023: $6,995* Plus: Galapagos National Park Fee ($100), Chamber Support Fee ($35), Tourist card ($20) and fuel tax. Airfare to Galapagos Islands and land options before/after cruise additional.Guaranteed Single Occupancy is billed an additional 80% of the retail stateroom/suite price. *Fuel tax included as of July 2021
Package includes: 7 nights/8 days aboard the vessel; up to 4 dives daily (weather permitting); 3 meals daily, except last evening's meal; between-dive snacks; towels, linens, etc.; use of tanks, weights and weight belts; all air fills; transfers within Galapagos Islands for same day arrivals & departures; local alcohol and non-alcoholic beverages. Rates may increase for existing reservations and will be confirmed no later than 12 months before the charter departure date.
All pricing are in US Dollars, per person double occupancy.
THOSE WANTING TO BE NOTIFIED WHEN THIS TRIP IS OPEN FOR  BOOKING AND ALL AMAZING EARLY BOOKING DETAILS:
1.   Kamala aka WreckWench
2.   Sandra aka DiverSandra
3.   Debbie aka dkal
4.   Jose aka Jesterdiver
5.   Jenny aka Tabeak
6.   Nick aka Malarkey
7.   Brenda aka MissBK
8.   Jeff aka o2dive12
9.   Erica aka Zinfandel
10. Jason aka Jelly Magnet
11. Hillary aka SoDakMermaid
12. Jeff aka o2dive12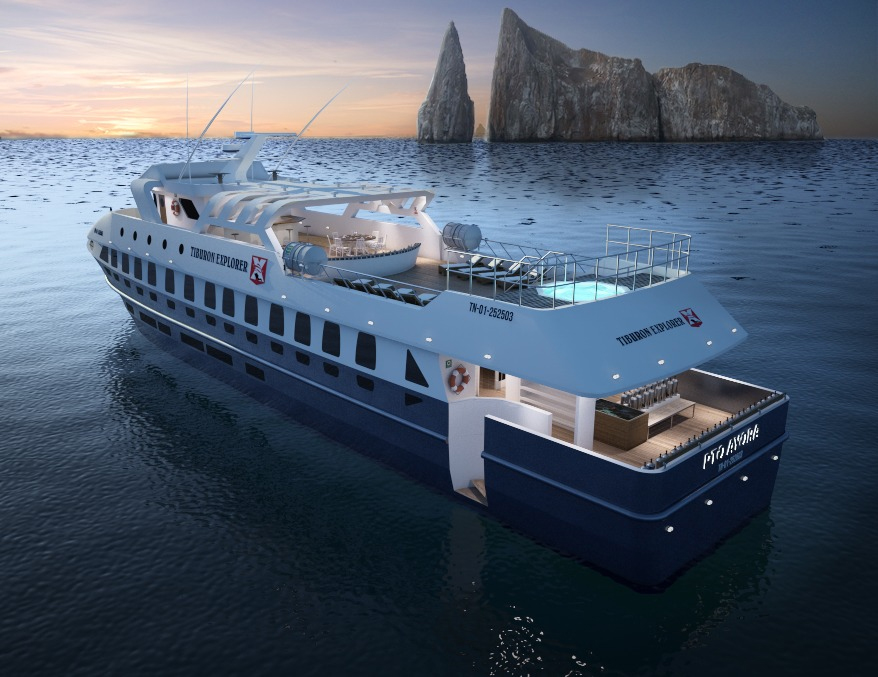 Edited by WreckWench, 09 March 2020 - 04:09 PM.