SAVE THE DATES...& ADVISE WHEN OPEN FOR BOOKING: Bonaire...BE THANKFUL FOR...Extraordinary Caribbean Diving... and EXTRAORDINARY FUN...Nov 19-26, 2022......and now...YOGA IN PARADISE!!! :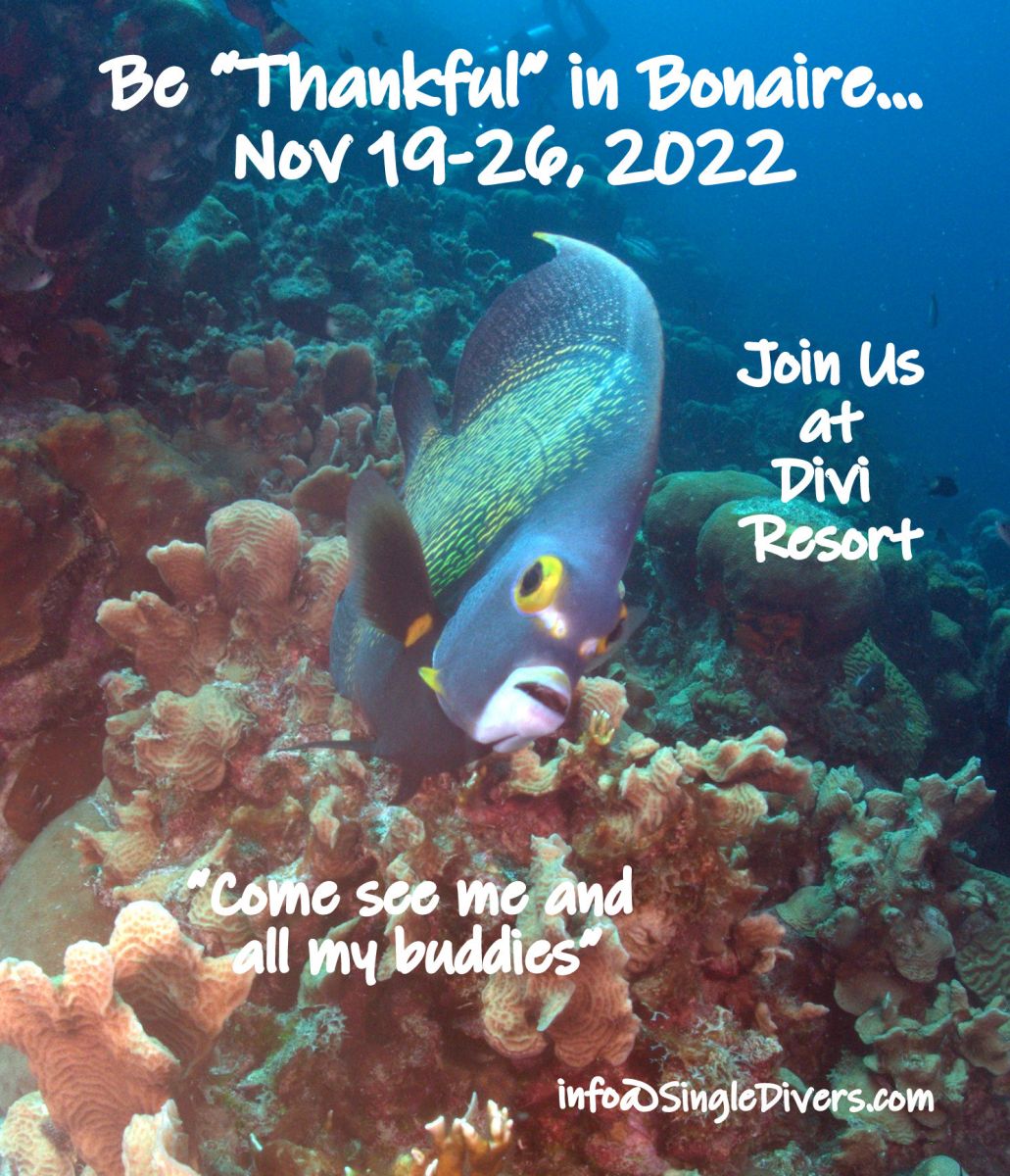 UPDATES:
8-16-21:  We have locked in dates for Bonaire 2022...after all 24 people in 2021 couldn't have been wrong!
We will have full details on this amazing trip soon! Please start the planning process to join us!
Date:  Nov 19-26, 2022 at Divi Flamingo Resort
Where: Iconic  Bonaire...the world's FIRST underwater marine park staying at Divi Resorts!
How:  via a beautiful landbased resort where we have been going for over 12 years and recently remodeled!
Why: Diving in Bonaire is extremely special! it has something for everyone and you've not dove until you've dove BONAIRE!!
Pricing: Pricing estimated to be $1679 CASH double occupancy AND we will offer some INCREDIBLE EARLY BOOKING DISCOUNTS along with our normal booking discounts!
Other: This will be the first time to do Bonaire in NOVEMBER so perfect for those wanting to maximize the holiday for less days off and others who have fall flexibility.... Don't miss this one!
What:  Save the dates, post to have us add your name to the I'm Interested List and we will let you know when this trip is open for booking
ADD MY NAME TO THE NOTIFY LIST (just login and post below to be added to the list):
Kamala aka WreckWench
Ken aka Weesh
Karen aka Ksue44
Thor aka MatrixDiver (Plus One Non Diver)
John aka John57
Hillary aka ginger.ninja
Rebecca aka BarefootBook
Chris aka kittydiverChris

(removed by request, schedule changes)

 Tanya aka TigerSharkT
 Marvin aka Marvo
 .
* Not upgraded membership.
First early notification TBA SNEAK PEEK PRICING IS READY
UPDATES:
8-21-21: 
NOTE you must upgrade your basic to our premium memberships.  When we open this trip the first people notified will be the ones that have their membership dues upgraded!  And it you can sign up quickly...we will have a ROCKING DEAL FOR OUR EARLY BIRDS!!! WOW!!!    Stay tuned....
Edited by dive_sail_etc, 26 November 2021 - 08:32 AM.