GET YOUR AIRLINE TICKETS AND GET YOUR SPOT!!! THIS TRIP IS NOW OPEN FOR BOOKING HERE!!! YAY!!!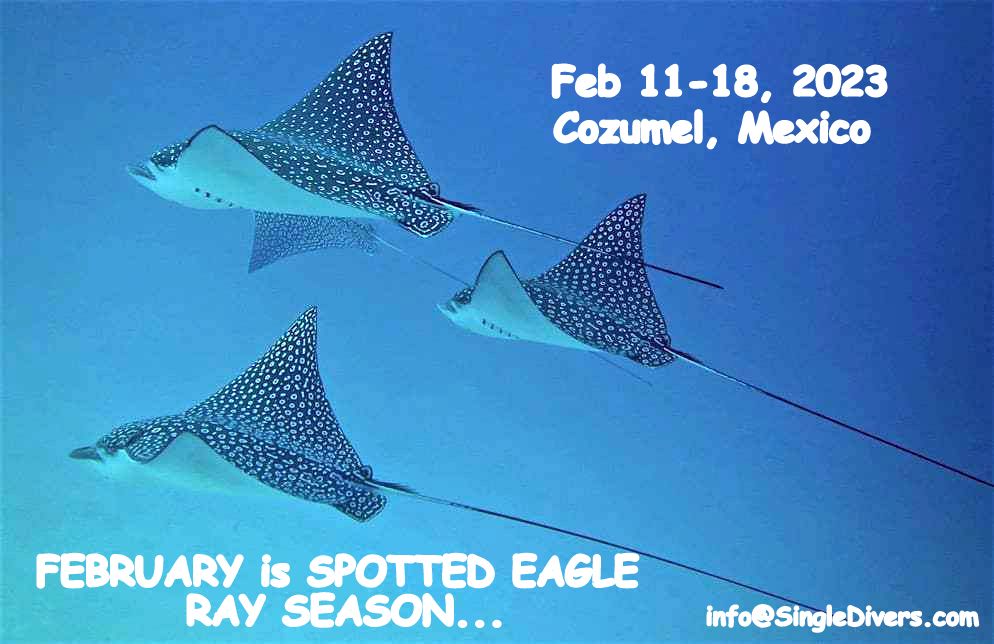 SAVE THE DATES...& ADVISE WHEN OPEN FOR BOOKING:
February 11-18, 2023 COZUMEL Dive & SURPRISE...You help us decide!
See more pictures HERE     Coming soon!
We will have full details on this amazing trip soon! Please start the planning process to join us!
Date:  Feb 11-18, 2023 Dive & SURPRISE!!!
Where: Cozumel Mexico with our amazing friends Casa Del Mar and Cozumel Marine World
How:  
Cozumel "DIVE & SURPRISE"  ... help us decide... photography, amor, or even 'smokin in February' aka our famous 'grill and dive'...but in Feb instead!
Feb 11-18, 2023
Estimated $1495  ALL inclusive!
What fun...YOU get to help decide what our extra special SURPRISE will be for our Feb Cozumel trip. February is the month of love so we can focus on LOVE IN THE AIR...or LOVE OUR OCEAN or we can do the photography workshops or even our special 'Grill & Dive' SMOKIN Tips from our professional grill master!
So what do you want?
Turn ANY dive into a magazine quality memory when you can capture your vision on 'film' or digital media! These workshops are FREE and you can 'hire a photo mentor' for privates during the trip.

Love is in the air... and the sea!!! Its Valentine's Day so we can tap into that theme!

February is "Smokin" when our pitmaster is on the trip! We are checking his 2023 calendar but this trip might work for a different time of year to SMOKE & GRILL!

Other ideas YOU want to see on a trip!
PLUS....
Trip  is ALL Inclusive including booze and runs 7 nites, 5 days 2 tank dives, 1 guided shore nite dive, park fees and FREE WORK SHOPS & PHOTOGRAPHY CLASSES!  Don't put off this resolution any longer! Cozumel is critter rich for amazing photography!
Why:  We want you to help choose the extra specials we will SURPRISE EVERYONE WITH!!!
Pricing: Pricing for double occupancy should be approx $1595 or less! Stay tuned as we finalize the details
Other Interesting Stuff: This will be the first time we've let YOU decide what our extra special FREE VALUE Add to this trip... HINT...VOTE and stay tuned for more details!
What:  Save these dates....simply post in this topic to have us add your name to the "I'm Interested List" and we will let you know when this trip is open for booking Or you can send an email to trips@singledivers.com with your screen name, email you used to register on the SD.com site with and that you'd like to be added to the notify list!
NOT A MEMBER YET?  Simply click on REGISTER in the upper right and CREATE A FUN SCREEN NAME such as WreckWench or ScubaPunk or CajunDiver or Luv2Dive etc and then you can post to SAVE THE DATE yourself! (Note only upgraded members of our club can book our trips so get a head start on that process now!)
NEED HELP?  Email trips@singledivers.com or admin@sngledivers.com for assistance.
ADD MY NAME TO THE NOTIFY LIST (just login and post below to be added to the list):
 Kamala aka WreckWench
 Patty aka N.J. Turtle
 Jaque aka Jaque
 Tom aka Desertguy
 Scott aka Starshark12003
 Teresa aka just4trix
 John aka John57
 John57's non diving wife aka John57+1
 Janice aka aquagirl14
 Buz aka Airhead
 Cecile aka Zil
 Thor aka Matrix Diver
 Tricia aka diveps
 Sally aka saltea
 David aka davewave3283
 John aka NASDS in TX
 Mark aka DVCMark
 Joel aka GigemDiver
 Maryann aka MantaMaryann
 Kelly aka Idreaminsaltwater
 .
Edited by WreckWench, 22 July 2022 - 10:26 AM.