SAVE THE DATES.... BEST OF COZUMEL
NOTIFY ME WHEN OPEN FOR BOOKING LIST: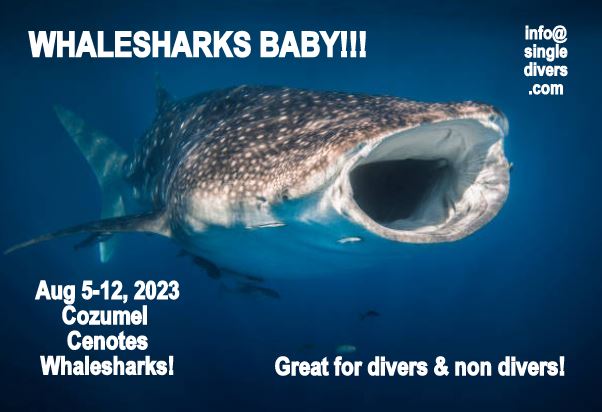 THOSE WANTING TO BE NOTIFIED WHEN THIS TRIP IS OPEN FOR  BOOKING AND ALL AMAZING EARLY BOOKING DETAILS: (we list your name and send a PM the day the trip is opened for general booking. If your premium membership is not updated then we send an email out within 48 hrs of opening for general booking to let you know. You will need to upgrade your membership [see HERE for how] and then you can sign up for the trip. Save time and upgrade now to ensure you get the spot you want!)
 Kamala aka WreckWench

 Brad aka dive_sail_etc
 Steve aka soonerdiver
 Ed aka Diver Ed
 Karin aka kato
 Rebecca aka BarefootBook
 Rebecca aka BarefootBook Plus One
 Rebecca aka BarefootBook Plus Two
 Mindy aka MinFin
 Brad aka dive_sail_etc
 Mark aka DVCMark
 David aka Scuba Dave
 Janelle aka jellyfishluv
 .
Location: Mexico
Dates:      Aug 5 - 12, 2023
Resort:    Casa Del Mar  "home by the sea"
Dive operator:  Marine World Cozumel
Water Temp: low to mid 80's
Air Temp: 90_100F
Current: mild
Visibility: 60-90ft
Experience Level: novice to moderate (anyone under 10 dives will need to hire a DM to help them since this trip covers a number of diving experiences i.e drift diving, current, overhead environment in the cenotes, & snorkeling with the whalesharks & mantas etc.)
TRIP HIGHLIGHTS:  This trip has it ALL!!! WHALESHARKS, MANTAS, CENOTES and BABY TURTLES!!!  We will dive in Cozumel for 3 days, dive 1 day in two world famous  "Cenotes" and then spend 2 days with the magical "Gentle Giant Whalesharks"! You won't want to miss this one! We usually do it every 2 years but due to covid we have not done it since Aug 2020!
 FULL DETAILS COMING SOON!

Don't forget to ask us to add you to the NOTIFY ME WHEN THIS TRIP IS OPEN list!
Edited by dive_sail_etc, 27 November 2022 - 08:24 AM.