Getting up at 4:00am was worth it for this dive day!! EXCELLENT DIVES TODAY! MASSIVE Octopus, Octopus, Octopus, Octopus, Octopus, friendly wolfeels, grunt sculpins, warbonnets, gunnels, sailfin sculpins, ratfish, vermillion rockfish, and more!! Hopefully some of GG's pictures came out and we'll post some here!! WHO-HOO!
We dove: Z's REEF and SUNRISE BEACH in the South Puget Sound, WA. Both dive sites run in fairly the same direction (NNW to SSE) with the boat dropping you between shore and the site. Both sites seem to resemble each other with rocky ledges resembling small walls ranging in depth from 40-60'.
Z's Reef
(REEF survey code 28210002) is located on the southeast shore of Fox Island. The rocky ledge is approximately 200 yards long. There are tons of nooks and crannies to this ledge, so a light is necessary and the sea life treasure to be found is diverse. The visibility is always a bit lack luster here, but focusing on looking in the nooks and crannies, you tend not to notice it too much. What you will notice is the extremely friendly wolfeel with the gimpy fin that comes right out to you! cmt489 remembers my scream when I was rammed by him earlier this year!
I got it to go to GG for pictures and I think if her gloves had been less thick she would have given me the "#1" signal...*ahem*

MOre than one LARGE octopus was seen on this dive in open crevices which allows for a great view of the critter. This is the reef where I showed WreckWench her first Giant Pacific Octopus. This site really does produce memories! One of my favorite parts to this site is an area not much traveled by divers because they mostly concentrate on the ledge, but toward the South end of the ledge if you back away you will often find yourself in a huge field of very large Spiny Pink Starfish and I mean a HUGE field of them.
Sunrise Beach
(REEF survey code 28100005) is located just north of Gig Harbor, on the peninsula side of the Tacoma Narrows Bridge. It is subject to very strong and unpredictable currents as it sits at the South end of Colvos Passage. We experienced a steady less than 0.5 knot current pushing to the South. Due to current and the greater diversity of rocky ledges with a 200' stretch of a 25' high rugged rock wall, Sunrise is the more prolific of the two sites. There are a number of well traveled dens for both octopus and wolfeels that seem to house very large tenants year after year and although we know they cycle through this site seems to support healthy critters so as not to disappoint divers year after year. This dive was no different showing us several LARGE LARGE Giant Pacific Octopuses - larger than the ones of Z's Reef! It was pretty insane their size and the openess of the crevices to really get a show! I tried ot lure one out by singing "Eat Colleen" into my regulator. Colleen (gis_gal) thought I was just saying hello to the octo - I'll let her keep thinking that...

There were tons of small critters on this site as well as large. We spotted a Grunt Sculpin, numerous paired Gunnels of many varieties in empty Giant Barnacle Shells, baby octopus as well as giants, and more. Another interesting feature to this site was tons of swimming scallops everywhere! Their jeweled smiles are pretty captivating. One decided to go after my dive buddy, inked_diver, which was a first for him!

And without surprise I should mention that often Sunrise Beach is considered a top favorite amongst local divers.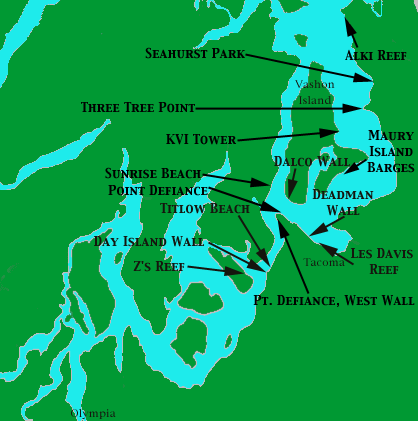 Thank you for excellent dive choices by our fabulous crew Rick and RJ!! Wish we'd been able to spend more time with you two, but hoping your afternoon trip was a good one!
Here's the list of our fantastic divers on board. It was wonderful sharing a boat with you and fun diving with inked_diver, GG, and Maren! Thanks for a GREAT day!
1. Nicolle aka Dive_Girl
2. Colleen aka gis_gal
3. Troy
4. Billy
5. Carl
6. Edward aka inked_diver
7. Steve
8. John
9. Maren
10. Kirsten aka ScubaK
11. Tim - aka Cpt. Bungee
12. Talon
13. Scott
And GG, the Apple Strudel was AMAZING!!!!
Afterward the first 8 of us listed above headed to the RAM on Ruston Way for a warm meal and drinks. Beer of choice was the locally brewed Buttface Amber!
Conversation was fun and we've decided as we normally do - we need to do it again!
Thanks SD divers and friends for a fun way to ring out 2006!