Its true...they have FINALLY come up with a portable, inexpensive but effective way to give divers a lifeline to help if they are stranded, swept away by current or just lost from the boat. IT IS NOW SHIPPING AND IN STOCK!!! DON'T GO DIVING, BOATING, JET SKIING OR ANY WATERSPORT WITHOUT IT!!!
The Nautilus portable handheld GPS is the answer!!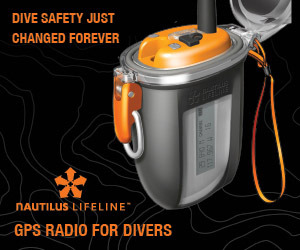 Dive safety just changed forever with the introduction of the Nautilus LifeLine – a compact sleek radio GPS for divers that is depth rated to 425 feet. It is similar in size to a blackberry but a wee bit thicker. You can use it as a full featured marine VHF radio to chat with your friends. You can ask for help on CH16 from ANY boat around you within an 8 mile 12.5 km radius whether it is the largest cruise ship in the world, a passing tug, ferry or yacht or the smallest fishing boat. It's a full featured GPS that even allows you to geocache your dive sites. And most important of all, it is built with DSC compatibility allowing you to broadcast an alarm and your GPS position to every vessel in range that is equipped with a modern VHF marine radio. Lights will flash, horns will go off, everyone else's radio will autoswitch to C16 and your GPS coordinates and brief message will be displayed on their radios.
CLOSED POSITION WHILE DIVING: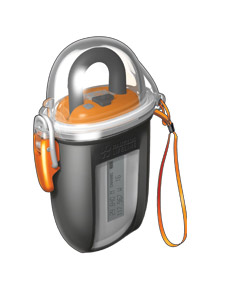 OPEN POSITION WHILE IN USE: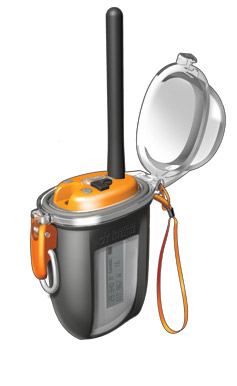 This new radio will be available to divers in late March. SingleDivers.com is one of its first distributors...and we will be able to take early orders for the incredibly low price of only $299 + shipping and handling.
We can not discount the price of the unit but if you are premier member we can give the first 10 people who buy them a $25 SD Bonus Bucks Coupon which you can use on other merchandise, travel etc.
We will use this thread to manage sign ups and shipments just as we do other merchandise and trips.
PRICE:
Nautilus Lifeline MSRP = USD $299. Shipping and handling is $15 for the first Lifeline, and $5 for each additional unit in the same shipment. (This includes inbound and outbound shipping costs.)
SPECIALS:
The first 10 people who order the Nautilus Lifeline and pay in full will receive $25 in SD Bonus Bucks which can be used for SD merchandise, trips etc. good for one month after ordering.
SHIPPING:
Shipping cost is $15 for the first unit and $5 per add'l unit if all going to the same address. (This includes inbound and outbound shipping costs.)
Product will start shipping the end of March from the vendor. SD will turn these around within several days of receipt of product.
HOW IT WORKS:









ORDERS FOR NAUTILUS LIFELINE:
See post #2 for Orders and Order Status including payment and shipping info.