SOLD OUT!!! WAITING LIST ONLY!! (Check back for a date in early 2019...we are working on it!)    1 FEMALE SPOT OPEN + we have 2 dates in Jan/Feb 2019...but don't delay!
Click

H

ERE TO BOOK your RAJA AMPAT trip NOW!! 
Click

HERE

for WHO'S GOING & current AVAILABILITY on this trip!
Click

HERE

for Why our Trips are Unique & What Others Have Said About our Trips!
Click

HERE

for How to Sign up for our Trips AND Important SD Trip Booking Related Info.
Click

HERE

to Register as a Premier Member or

HERE

to Upgrade to a Premier Member of SingleDivers.com
Click

HERE

to LIKE our Facebook PAGE and to share pics & more...
BOOKING AND TOPIC/THREAD DISCUSSION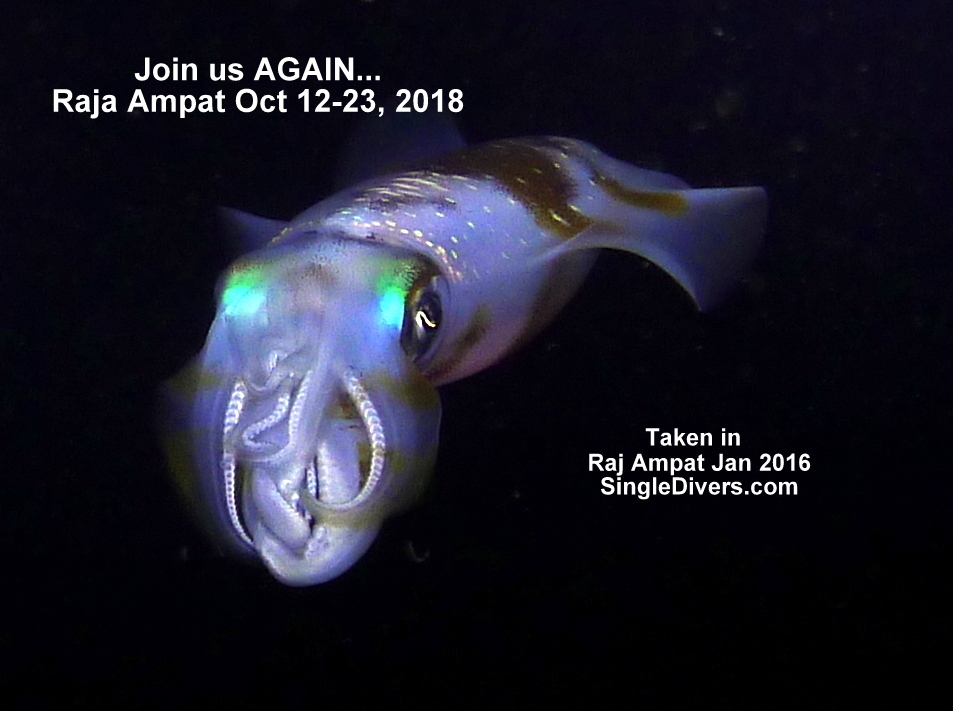 We have booked this boat for Oct 12-23, 2018 for 11 glorious days in RAJA AMPAT!!!  We will be adding some sister trips in the area to maximize the airfare AND the effort to get there. It is not easy to get there BUT IT IS SO WORTH IT!!!  TRUST ME!!! It is now OFFICIALLY MY NEW FAVORITE PLACE IN THE WORLD TO DIVE!!!
PRICING:
HOW MUCH & HOW MANY CAN GO?
The boat has 2 levels of cabins... Master and Deluxe Standard. ALL cabins can be configured as two large twins or 1 king. (There are no bunk beds on this boat. )
11 Day trip Oct 12-23, 2018:
Master Level $7428 / $7205 Cash Price (echeck)
Qty: 4 d/o spots
Deluxe Standard $ 6861 / $6655 Cash Price (echeck)
Qty: 8 d/o spots
This is a MUST SEE & EXPERIENCE BUCKET LIST TRIP!!!

 
DISCOUNTS & DISCOUNT DISCLAIMER:
 
Hey gang we need you to look below if we have posted the codes or at the purple TAB called DISCOUNTS in the booking system (click on the link at the top of this topic and it will take you to the specific booking details for THIS trip or click on the blue box called BOOK NOW and it will take you to the full trip details in the new website/booking system.  Once there click on the trip you are interested in and READ THE DISCOUNT details under the purple tab called DISCOUNTS  to know what they are AND to get the code needed to get the discount. (WE ALSO TRY TO POST IT BELOW FOR YOUR CONVENIENCE)
 
You must use the code when you book as they are not retroactive after you sign up UNLESS otherwise stated like the buddy rebate etc.
 
We are sorry for any inconvenience this may cause but the accounting expenses of manually trying to do the discount is far exceeding the discount amount making it very prohibitive to manage this way. So please be sure to use the discount code AT TIME OF INITIAL BOOKING. 


 
NOTE: The EBD or Early Booking Discounts can only be used as follows:
1. When paying in full
2. When you first sign up
3  By the deadline given. After that deadline they disappear and the code will not work. (So please leave a buffer if you need to xfer money or have questions.)

Pay in FULL at time of Booking by 9-31-16 for Early Bird Discount: $200 OFF

MASTER Level (use COUPON CODE:

SEE IN BOOKING SYSTEM UNDER PURPLE HEADERS

)  OR

$100 OFF

DELUXE STANDARD Level (use COUPON CODE:

SEE IN BOOKING SYSTEM UNDER PURPLE HEADERS

)

Deposit at time of Booking by 9-31-16: $50 OFF

ANY DEPOSIT  (use COUPON CODE:

SEE IN BOOKING SYSTEM UNDER PURPLE HEADERS

)

Book by 12-31-16 and enjoy an Early Christmas Present to Yourself - 10% Discount on any one purchase from ANO Lights or Coreskin Apparel or 20% off two or more items (10% or 20%Discount must be used by March 30, 2017)
Book by 12-31-17 For one (1) chance to WIN A FREE Coreskin or ANO Product/Voucher worth $100!
Book by 3-31-18 For one (1) chance to WIN FREE NITROX

1 additional chance for each...WIN FREE ANO/CORESKIN GEAR worth $100 and/or Free NITROX by signing up on our Facebook Trip Event for this trip AND "LIKE" SingleDivers.com if you have't already AND share the FB trip booking on your page or in another diving group to which you belong. Please email  with your full list of contest entries; please reference RAJ AMPAT CONTEST ENTRIES in the subject line.

Cash Discount:

Use our e-check option to pay for your trip and

CASH DISCOUNTED PRICES

will be applied at checkout.

Active Duty Military Discount:

 

$25 OFF

if you are active duty military of any country that fights for freedom with the USA.

Member Rebate:

 File for your $25 

member rebate

 within 30 days after the trip. You'll find the required form here.
SAVE $75 by submitting your Documents within 21 days of booking this trip. If booking within 45 days of the trip please submit your documents within 3 days. Otherwise the $75 document processing fee will be added to your final invoice.
PACKAGE INCLUDES:
Return transfers to/from the airport to the vessel or from/to any hotel and the airport the day of embarkation or disembarkation, within a distance of 20km
Accommodation with A/C in twin or double /twin bed cabin with en-suite showers and toilet.
All meals and drinks including beer while on board (excluding wine and Spirits). One glass of wine per person and night will be complimentary
Air Tanks, weight belt and weights.
Cruise director
Dive Guides, with a maximum of 4 customers per guide
Unlimited diving (schedule permitting)
Government taxes
Land tours and group activities organized by Dive Damai
One 45 minutes spa treatment of each person on board
NOT INCLUDED:
All vessel port and harbour fees: between USD5 and USD25 per day depending on the destination
Enriched Air Nitrox: USD10 per diving day
Dive/snorkel gear: USD3 per item or USD10 per full set per day
National Park/maritime areas entrances fee
Dive insurance: REQUIRED see Insurance Tab for recommended providers
Laundry: USD1 per item
Spa treatments after the complimentary one:USD10 per 45 minutes treatment
Travel insurance: highly recommended see Insurance Tab for recommended providers
Crew gratuities
International and domestic air, land, sea transportation, and excess baggage charges
Visa, hotels and food ashore before and after the cruise
VIP service at the airport - where available
OPTIONAL: * Note - All optional add-ons must be paid for in advance for these prices. Additional costs may apply if you sign up on the boat if still available at all.
To see the rest of the trip details or to sign up CLICK HERE 
*all prices per person, cash option requires selecting e-check at final checkout 
**cash price is the same as the cash price in the forums, new accounting regulations change the way the 3% non-cash convenience fee is applied.
 
 
VERY IMPORTANT LINKS:
Click

HERE

for Full Trip Details in our New Booking System & Integrated Payment & Document Portal
To see who is on this trip click HERE or check the 3rd post of this topic/thread.
To see how to sign up and get regular trip updates click HERE or check the 2nd post of this topic/thread.
To Register as a basic member and/or upgrade to PREMIER member or above please click HERE
REMEMBER...ALL TRIP GOERS NEED TO BE PREMIER MEMBERS OR ABOVE TO JOIN OUR AMAZING DIVE CLUB TRIPS!!!   Email admin@singledivers.com for help in registering or upgrading if needed! Email trips@singledivers.com for help regarding the trip itself!
Edited by WreckWench, 16 April 2018 - 07:53 AM.