SAVE THE DATES...& ADVISE WHEN OPEN FOR BOOKING: NC Wrecks & Sharks July 2-7, 2020
We will have full details on this amazing trip soon! Please start the planning process to join us!
Date:  Jul 2-7, 2020  (Diving days Jul 3-6, Arrive Jul 2 Depart Jul 7)
Where: Morehead City, NC for world class Wreck & Shark diving
How:  via Landbased dive operator Olympus Diving staying locally in Morehead City, NC
Why: DIVING ON HISTORY & ATLANTIC SAND TIGER SHARKS and loads of EVERYTHING ELSE!!! 
Pricing: Preliminary pricing starts at  approx $950
Other: This will be our first trip in about 5 years BACK to NC where SingleDivers.com got its start!!! We have run dozens of trips there over the years!  NC is not for everyone and we will have info about who can and should plan to join us. So stay tuned...
What:  Save the dates, post to have us add your name to the I'm Interested List and we will let you know when this trip is open for booking
NC TRIP UPDATE July 2019:
I am in the process of getting this trip ready to be opened for booking. Sadly due to the catastrophic nature of the hurricanes that hit NC last year many hotels are STILL not open for business and some do not know if they will ever open again. That has greatly impacted not only availability but also pricing for lodging. Sadly pricing for nearly everything has gone up some across the board. So I will need to revise the price of the trip to reflect the higher pricing once I finalize the remaining pricing inputs.
ALSO in the past we have structured transport from RDU airport for those flying in to the coast. This time we will not do this. In the old days most of those joining us were flying in but my guess is that most will drive to NC. WE WILL HELP WITH CARPOOLING much like we do our FL trips so as to help those who do fly in or those who wish to minimize the impact of so many vehicles (yes parking is an issue in EVERY beach town) as well as help decrease the costs.
Stay tuned... it won't be long now. Kamala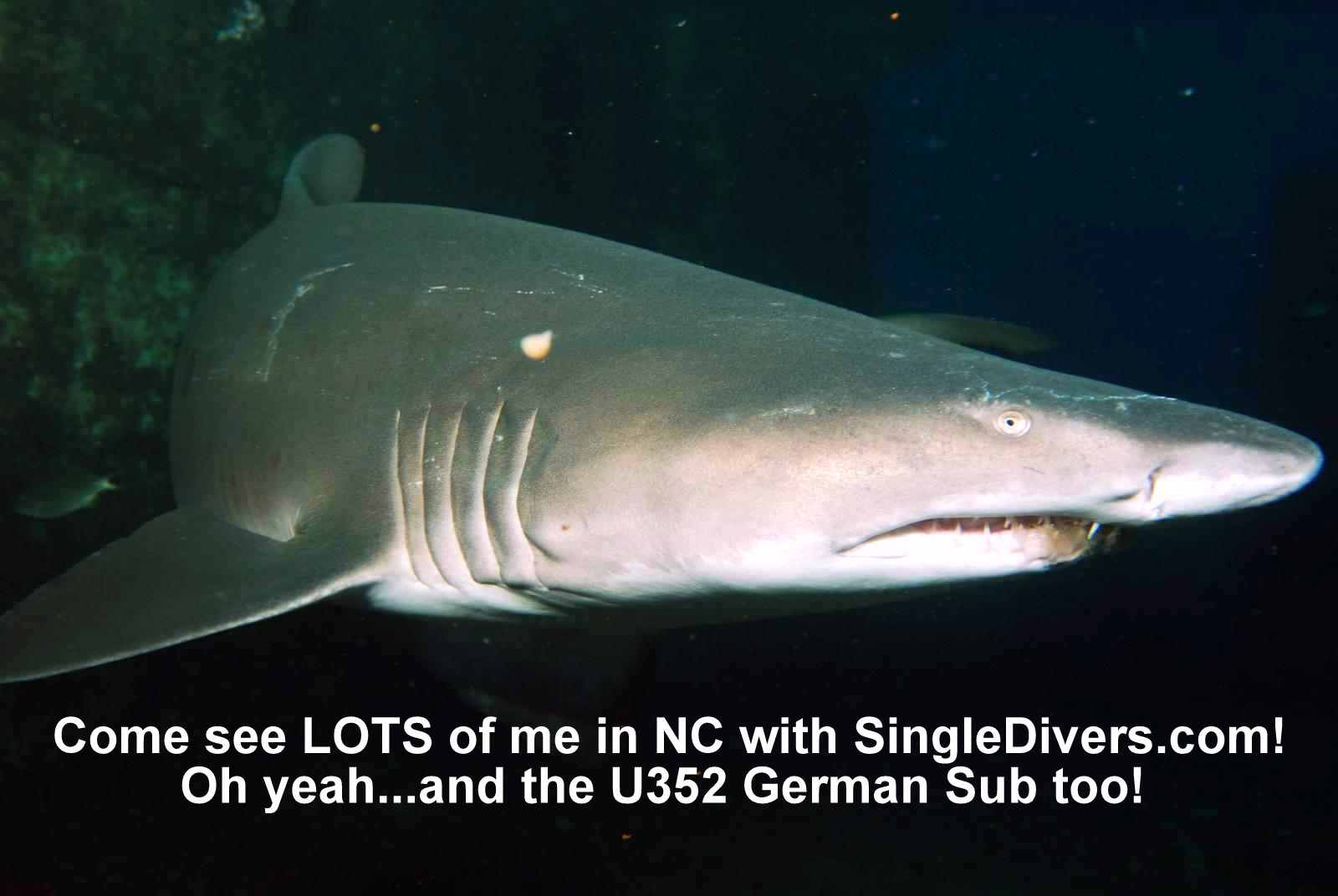 ADD MY NAME TO THE NOTIFY LIST (just login and post below to be added to the list):
1.   Kamala aka WreckWench
2.   Nick aka Malarkey
3.   Jose aka jesterdiver
4.   Susan aka Resqdew
5.   Norm aka Photographic Mercenary
6.   Ed aka Diver Ed
7.   Jeff aka o2dive12
8.   Jeff aka Seahorsewrangler
9.   Scott aka Starshark12003
10. Teresa aka just4trix
11. Robert aka Beer Bob
12. Gary aka Geronimo
13. Thor aka MatrixDiver
14. David aka Divetraveler
15. Brenda aka missbk
16. Chris aka CLH418
17.
UPDATE:
WOW! It's great to see so many familiar faces to return to one of my fave destinations in the world!  And while NC Wreck & Shark diving is not for everyone ...it is amazing diving for those with intermediate or advanced diving skills.  We ask that you have at least 40 dives and have dove in salt water before and recognize that getting sea sick is not an option...meaning we will be 2-3 hrs offshore so if anyone gets sick or is prone to sea sickness we can't turn around until everyone has completed their dives.
Wrecks....SHARKS.... and LIONFISH...NC is loaded so don't miss this trip which we expect to open soon! Kamala
Edited by dive_sail_etc, 13 August 2019 - 05:50 PM.