NOW OPEN FOR BOOKING HERE.
Ask Questions HERE.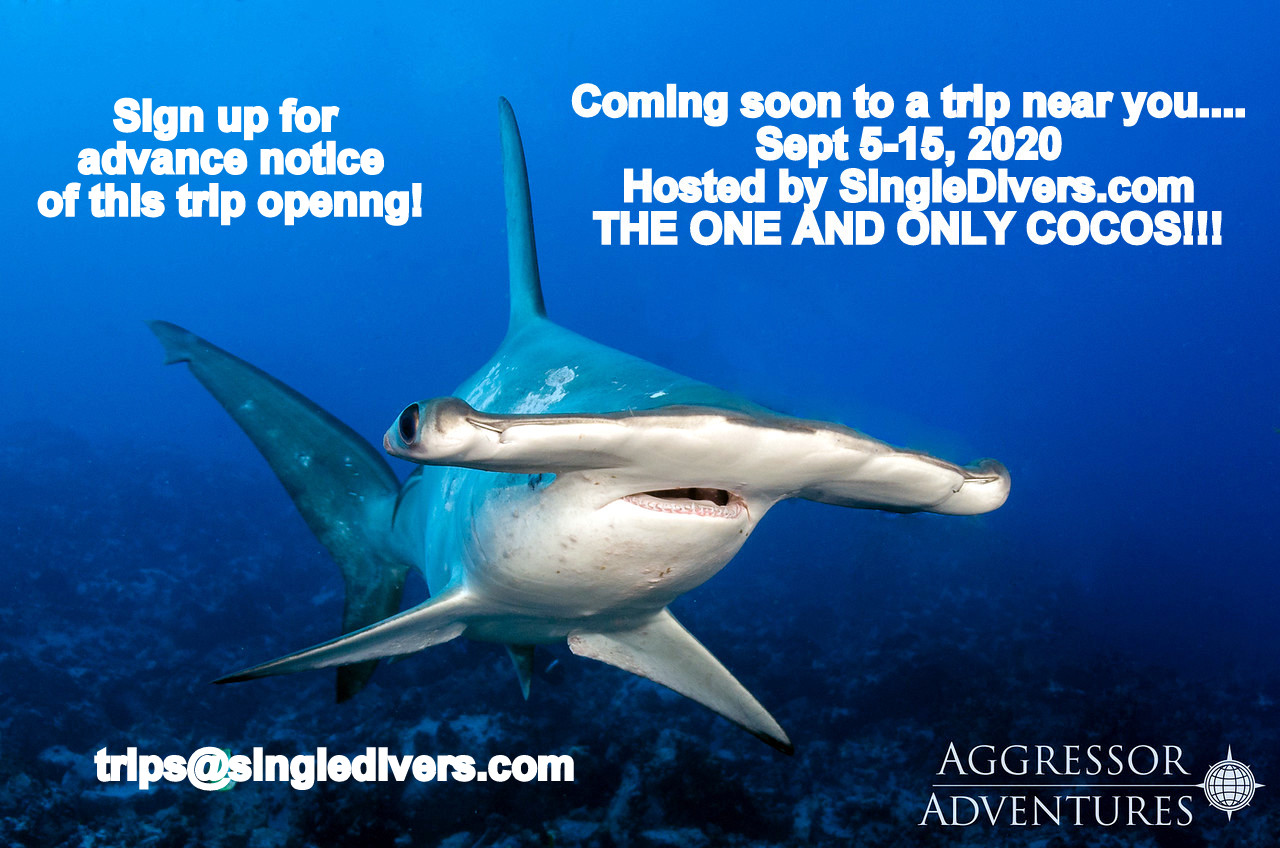 SAVE THE DATES...& ADVISE WHEN OPEN FOR BOOKING: Cocos...SHARK HAVEN... Sept 5-15, 2020 + 1-3 days prior to ensure you arrive in time:
UPDATES:
8-23-19: Trip will be open for booking today and WATER TEMPS are 81.7degrees RIGHT NOW!!!
We will have full details on this amazing trip soon! Please start the planning process to join us!
Date:  Sept 5-15, 2020 (with a 1-3 day options prior to ensure you arrive in time) aboard Okeanos Aggressor II
Where: Iconic Cocos...the one and only COCOS ISLANDS!!! One of the undisputed Shark Capitals of the world!
How:  via Liveaboard in order to reach the remote islands and see these majestic animals in their natural habitat! It's THE way to see Cocos! Its our FIRST trip to Cocos!
Why: Diving in Cocos is iconic. It offers big animals, SHARKS SHARKS AND MORE SHARKS and its a bucket list trip everyone needs to do once. Plus its our first time there...don't miss out! Its taken nearly 17 years to reach this venue so don't miss this epic trip!
Pricing: Pricing starts at approx $5599 for the HUGE 10 day liveaboard portion of the trip. We will add 1-3 day optional touring pkgs to ensure you get there in time to catch the boat AND we will offer some FIRST TIME DISCOUNTS along with our normal early booking discounts!
Other: This will be our first trip to Costa Rico and Cocos in our nearly 16 year history! This boat is the preferred boat by our repeat Cocos members.... Don't miss this one!
What:  Save the dates, post to have us add your name to the I'm Interested List and we will let you know when this trip is open for booking
ADD MY NAME TO THE NOTIFY LIST (just login and post below to be added to the list):
1. Kamala aka WreckWench
2. Pam aka Blue151
3. Henry aka PiscesTX
4. Jerry aka tunne36*
5. Gary aka Geronimo (sent request about rebreather diving)
6. Thor aka MatrixDiver
7.  Marcia aka LovesToDive
8.  Mindy aka Mintastic
9. Cecile aka Zil
* Not upgraded membership.
First early notification 8-18-19 SNEAK PEEK PRICING IS READY
UPDATES:
8-17-19: 
Get your premium memberships updated NOW!!! We will be opening this trip in a few days and the first people notified will be the ones that have their membership dues upgraded!  Oh and it you can sign up quickly...we have a ROCkING DEAL FOR OUR EARLY BIRDS!!! WOW!!!    Stay tuned....
Edited by WreckWench, 27 August 2019 - 11:34 AM.