Forums Menu: Orientation 2018-2019 Trips Topic Listing
Trip Topic Menu: Trip Details Trip FAQ Ask a Question Who's Going??? Book Now
REMEMBER...ALL TRAVELERS NEED TO BE PREMIER MEMBERS OR ABOVE & HAVE DIVE INSURANCE TO JOIN OUR AMAZING TRIPS!!!
Location: Puerta Galera Philippines
Dates:      April 07-14, 2019
Resort:    El Galleon Dive Resort
Dive operator: Asia Divers
Water Temp: 79-86 F 
Air Temp: 93F day - 73F night
Current: Calm
Visibility: 50 - 85 F
Experience Level: All levels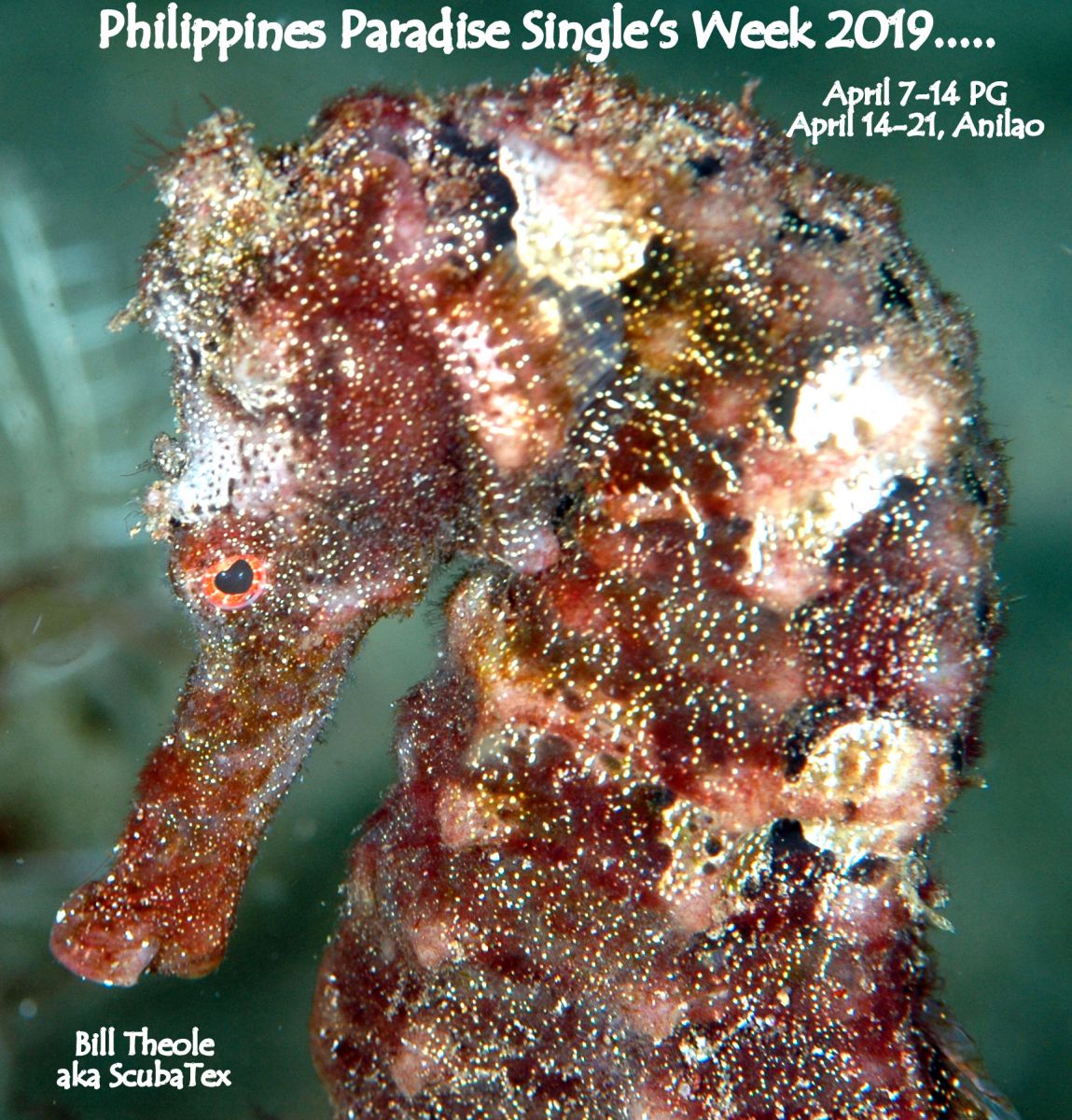 Pricing:
TRIP PKG PRICING:
Budget D/O =

4 spaces

:

$1390

 

or

$1349 CASH

Budget S/O =

2

spaces

:

$1603

 

or

$1556

CASH

Poolside D/O =

8 spaces:

$1491

 

or

$1447

CASH

Poolside S/O =

2 spaces

:

$1805 

or

$1752

CASH

Ocean View D/O =

6 spaces

:

$1574

 

or

$1528

CASH

Ocean View S/O =  

1 space

:

$1971

 

or

$1913

CASH
*All prices are per person.
**Cash Discounted Price is given when you select e-check at final checkout.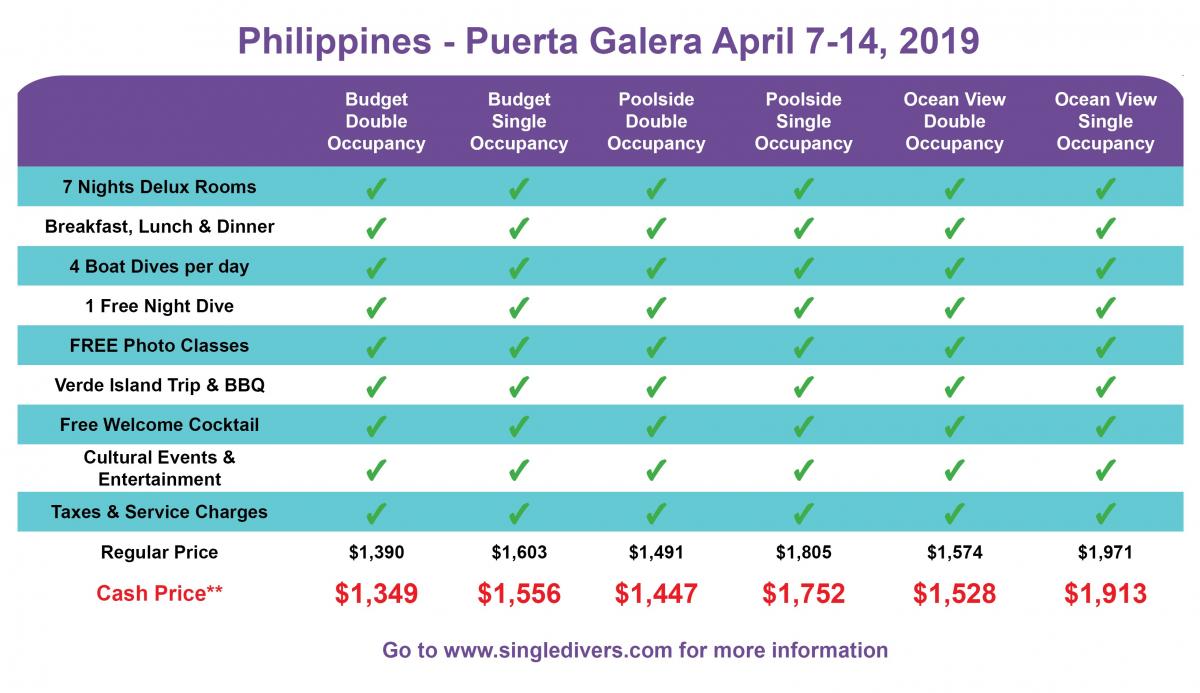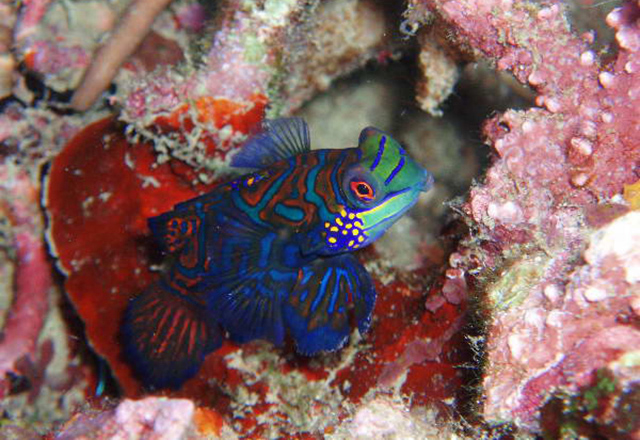 Puerto Galera has some of the best diving in Asia and two dive sites in particular are world famous; "The Canyons" which is an exhilarating rollercoaster drift dive, and "Verde Island", a marine park reserve which feels like diving in an aquarium. Most of the dive sites in Puerto Galera are no more than ten minutes away by speedboat, with year round good visibility, warm water, and an abundance of marine life.  Puerto Galera makes an ideal choice for a diving holiday, whether you are a beginner or expert diver and is an excellent place for macro spotting and underwater photography 
What's Included:
PACKAGE INCLUDES:
All of the above rates are inclusive of tax i.e. included in the pkg price (currently at 12% VAT).
7 nights at the beautiful, fun and conveniently located El Galleon Dive Resort in Puerto Galera
Unlimited day diving up to 4 boat day dives per day (w/ tank, w-belt, boat, and guide)
One trip to Verde Island for 3 luxurious dives + BBQ on the island including adult beverages after diving (note this is only a 3 dive day due to transit back and forth and cook out)
Welcome Cocktail on the house, & group orientation meeting after last group of divers arrive.
Cultural Events including local student dance troupe, firedancer, and other great entertainment all week!
One FREE Boat Night Dive (must have previous night dive experience and be comfortable doing them - although included we will have everyone sign up for this beforehand)
Breakfast served daily from

6:30 – 9:00

Lunch served daily from 

12:00 noon – 2:30

Dinner served daily from 6 pm – 10 pm
Includes taxes & Service charges per person
Air fills, tanks, lead and weight belt
Gear Lockers for your gear and LOTS of hanging space for your wetsuits/skins

Free

Photo Classes from several outstanding PhotoPros

Learn how to improve your photo skills whether GoPro, Camera, Video etc.  Everyone will learn and benefit for Free!!!  Private one on one's available but probably not needed with all the free instruction you will receive on this trip!
Either start at the basics or go beyond...Both levels of instruction will be offered as part of the trip!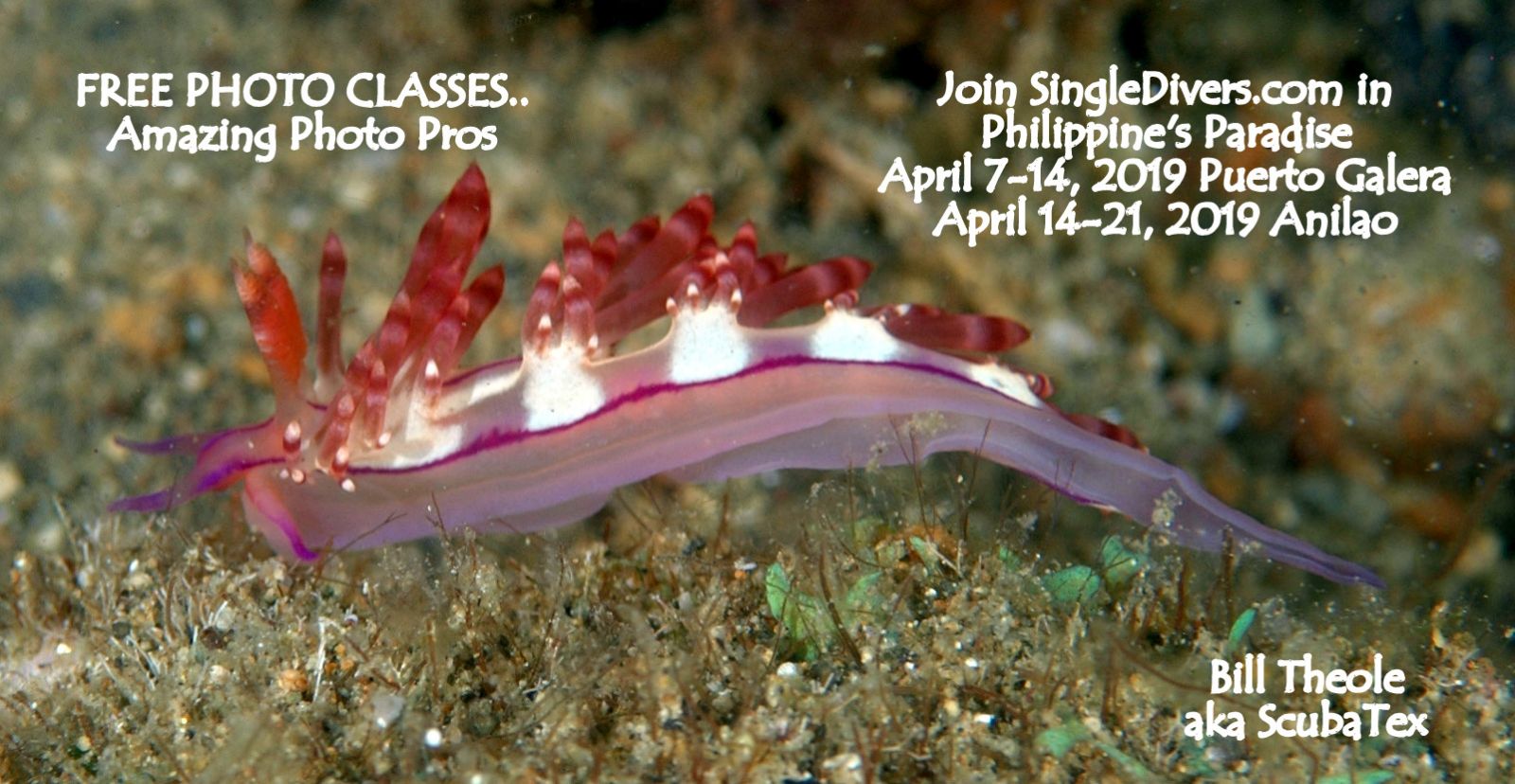 NOT INCLUDED PKG:
Airfare to Philippines(MNL)

Add'l night in MNL to ensure bags arrive in time, rest and consolidate transfers to Puerto Galera

R/T Airport-Hotel transfers:(* See details below for how we will arrange group transfers)

Nitrox: Week package = $TBA or TBA  cash discounted price

Nitrox for additional dives/per tank: TBD
Additional Day dives/each: $TBD or TBD
Additional Day dives with rental gear/each: TBD
Night Dive: TBD
Rental gear w/out Computer per day: TBD
Computer rental per day: TBD

Resort and Dive Crew gratuities

Dive Insurance - MANDATORY

Trip cancellation insurance - MANDATORY
Options & Extras:
OPTIONAL ADD-ON'S:
Nitrox Upgrade Pkg

for full week: TBA

Extra Night Local Group Hotel d/o:   TBA

Extra Night Local Group Hotel s/o:   TBA

Tours: TBD
Travel & Transfer Details:
* Transfers are based upon how many people are in a van. Each van can take up to 6 people. Therefore arriving a day early or departing a day later will be more expensive if you wish to proceed to the resort immediately unless you have several people sharing the same arrival and/or departure times. SD.com will help consolidate people based up when they sign up into shared vans for the transfers. We can ALSO help you arrange a private transfer if desired. (Please consider arriving in Manila a day or so early to ensure your bags arrive and/or you do not experience flight delays.)
Transfers:
Package does not include transfers to and from the resort because of the distance from the airport to the resort. HOWEVER most int'l flights arrive at similar times so we will help you see which flights others are on to book the transfers accordingly. The first people to sign up will be the ones to set the first transfer times. Transfer from Manila airport to the island of Puerto Galera and then to the hotel or back will take approx 3 hrs as follows: The land transfer will take around 2 hours and the boat approx. 1 hour. When arriving at night there is a fee for a nite or very early am boat transfer if in the dark.  We encourage you to STILL consider arriving early and stay a day or so in Manila to ensure your bags arrive and/or to avoid missing a scheduled transfer of your shuttle if your flight is delayed.
Transfer Pricing:

1-6 persons $320.00 ...so as little as $53.40 or as much as $320 one way.
7-12 persons $480.00... so as little as $40 per person or as much as $68.60 per person one way.
13-24 person $960.00 ...so as little as $40 per person or as much as $73.75 per person one way.
VISA/PASSPORT INFORMATION
 
It is the travelers responsibility to ensure they have the proper documentation to travel into each country on his or her itinerary as well as for re-entry and return to their country. Please check with the appropriate consulate to ensure you have the proper documentation. Many countries require a passport that must be valid for at least 6 months beyond your period of stay. Always check your passport and visa requirements. Since regulations vary by country, contact your consulate or embassy of your country for the requirement. The Reservation Office and staff cannot assume responsibility for passengers not having correct documentation. 
 
We recommend: 
Dive Assure please reference SingleDivers.com via the drop down menu under GLOBAL PARTNERS.  Click here for Dive Assure for either a 'one time' policy OR ! an annual policy that is either BOTH Dive & Trip Insurance providing PRIMARY COVERAGE with excellent rates and coverage OR JUST TRIP INSURANCE. They offer annual plans as well as one time policies. They are not the cheapest but they are the most hassle free when filing a claim.
 
Discounts & Rebates:
 
DISCOUNTS & DISCOUNT DISCLAIMER:
You must use the code when you book as they are not retroactive after you sign up UNLESS otherwise stated like the member rebate etc.
We are sorry for any inconvenience this may cause but the accounting expenses of manually trying to do the discount is far exceeding the discount amount making it very prohibitive to manage this way. So please be sure to use the discount code AT TIME OF INITIAL BOOKING.
NOTE: The EBD or Early Booking Discounts can only be used as follows:
When paying in full
When you first sign up
By the deadline given. After that deadline they disappear and the code will not work. (So please leave a buffer if you need to xfer money or have questions.)

Pay in FULL at time of Booking by 11-11-18 and take $75 OFF on any POOL OR OCEANVIEW D/O package (Use COUPON CODE:

19MNL1EBD75

)
Pay in FULL at time of Booking by 11-11-18 and take $100 OFF on any POOL OR OCEANVIEW S/O package (use COUPON CODE:

19MNL1EBD100

)
Pay in full at time of Booking by 11-11-18 and take $50 off any Budget D/O or S/O  (use COUPON CODE: 19MNL1EBD50)
Deposit at time of Booking by 11-15-18: for Early Bird Discount: $25 OFF (use COUPON CODE:

19MNL1EBD25

)
Pay for ADD'L TRIP TO VERDE ISLAND (pkg includes one and YES it's that great!!!)  by 2-28-19 and save $10!

This makes the extra trip $30 cash vs $40 cash

(use COUPON CODE:

19VERDE10

)
1 additional chance for each...WIN FREE BIG BLUE or CORESKIN GEAR worth $100 and/or Free 2nd VERDE ISLAND TRIP by signing up on our Facebook Trip Event BY 4-1-19 for this trip AND "LIKE" SingleDivers.com if you haven't already AND share the FB trip booking on your page or in another diving group to which you belong. (EARN ONE CHANCE PER SHARE)

Please email  with your full list of contest entries links and please reference PUERTA GALERA PHILIPPINES SOCIAL MEDIA CONTEST ENTRIES in the subject line.

Cash Discount: Use our e-check option to pay for your trip and our

RED CASH DISCOUNTED PRICES

 will be applied at checkout.
Active Duty Military Discount: $25 OFF Active Duty Military Discount for any active duty military of any country that fights for freedom. Thank you for your service. (Please be prepared to provide proof of service in person at time of check in)
SAVE $75 by submitting your Documents within 21 days of booking this trip. If booking within 45 days of the trip please submit your documents within 3 days. Otherwise the $75 document processing fee will be added to your final invoice.
Only one (1) coupon code can be used per order
Payment Details:
 
PROGRESS PAYMENTS:

 PROGRESS PAYMENTS:
 
1. Deposit: $750
2. Progress Payment 1 due 11/20/18: $750
3. Progress Payment 2 due 12/20/18: Balance + Add-ons
 
Note: Trip must be paid in full 90 days prior to departure. Extras must also be paid in full 60 days prior i.e., Nitrox, extra nights etc. IF YOU NEED EXTRA TIME LET US KNOW! (Note that to add an extra to the trip you must pay for it when you add it.)
             
PAYMENT OPTIONS:
 
SingleDivers.com uses a secure payment gateway fully integrated into our online booking system that allows you to pay for trips or merchandise using the following payment options:
An online e-check that debits your checking account automatically without having to mail in a check or having your bank mail a check from your account
An online credit card transaction that eliminates the need to fill to fill our a credit card authorization form.  (Note int'l cards please use AA as your *STATE* designation and 12345 as your zipcode and the charge should go thru. Please also note that we only can accept MC and VIsa
PRICING INFORMATION:
 
SingleDivers.com provides its members with pricing that reflects all possible savings available including discounts from our over 10,000 member buying clout. We offer a CASH DISCOUNT that is always in BOLD RED LETTERS along with our regular pricing for easier comparison of all possible savings. The cash discount will be taken at the time of payment when you choose the "e-check" option.
HOW TO PAY:
As you sign up for a trip you will add either the trip deposit amount or the full trip price to the shopping cart. You can also add any extras you wish to purchase but you will have to pay for them whenever you sign up for them. So if you are not ready to pay for nitrox now but want us to know you will be adding it to your order...please use the comment box to let us know ultimately what you are signing up for and any other special concerns you have or information you want us to know. Just understand we will not show you listed as doing something until it is paid for.
When you are ready to pay for the extras you want you will click on the BOOK NOW button for the trip you are on and select the add-on(s) that you wish to pay for, add them to your cart and then check out. Depending on the trip you may need to click on the purple TAKE ME TO THE ADD-ON'S BOX. You will then either pay via e-check or credit card depending on whether you want a discount for cash or prefer the convenience of payment over time.
When its time to make a progress payment you will click on MY TRIPS under TRIPS on the main menu. You will see "Make a Payment" under PAYMENTS in the upper right. Then choose what you are paying for and complete your payment.
After each order you place with us you will receive an email order and payment confirmation. If you do not receive these TWO email confirmations (one showing the order at full price and one showing what was debited from your account including the cash discount) check in MY PAYMENTS to see if the payment was successful. If you do not see the payment in your My Trips then MAKE THE PAYMENT AGAIN. You will always get an order confirmation email every time you attempt an email but you will ONLY get a Payment Confirmation email when your payment was successful. If you need assistance please email .
The MY PAYMENTS section is located under the PAYMENTS option found in the upper right of the MY TRIPS area of our site which is found under the TRIPS tab in the main menu.
IN GENERAL:
Only payments received via our secure online payment gateway/portal will be accepted and will qualify for early payment discounts. (So check before you book for any discounts you may qualify for as they can not be applied after booking.)
If you are unable to use the gateway please provide a complete description of the problem/error you are encountering INCLUDING A SCREEN CAPTURE of the error here: SUBMIT HELP TICKET
If International/ Non-US Clients and your credit card payment does not work, either use AA as the state and 12345 as the zip or please use our traditional written credit authorization form to submit your credit card payment. To receive this form click on SUBMIT HELP TICKET.
TRIP AND DIVING INSURANCE ARE MANDATORY FOR THIS TRIP:
 
DIVE Insurance is required on all trips! DIVE insurance is VERY inexpensive. Even if you have insurance that you think covers DIVING ACCIDENTS and air liftsit is CHEAP (approx $100-$125) to get a supplemental policy to ensure you are covered for an entire year of diving.  NOTE: DAN is secondary ins which means you pay and they reimburse anything not covered by other ins policies. DiveAssure.com is PRIMARY insurance meaning they pay directly to the provider without your involvement.
 
PRO TIP; The two primary suppliers of dive insurance DiveAssure.com and DAN are inexpensive enough to carry both. This way you will have the best coverage internationally, the best coverage domestically, primary insurance, secondary insurance and if a claim is denied on one policy you can submit it on the other. No matter what happens...YOU ARE COVERED!!! ... PRICELESS!!!
 
We recommend:
 
Dive Assure: for either a 'one time' policy OR an annual policy for BOTH Dive & Trip Insurance providing PRIMARY COVERAGE with excellent rates and coverage! Please use THIS LINK and/or reference SingleDivers.com via the drop-down menu under GLOBAL PARTNERS. (If you can not find the drop down, do not reference anyone and email info@singledivers.com your policy info and we will do it for you via our Dive Assure company representative. OR SIMPLY USE THIS LINK AND YOU WILL BE AUTOMATICALLY TIED TO US. )
Alternatively you can also use....
Diver's Alert Network: Please use our reference number when ordering: ID1603080   (This only works if you are a new first time DAN member.)