Forums Menu: Orientation 2018-2019 Trips Topic Listing
Trip Topic Menu: Trip Details Who's Going??? Ask a Question Trip FAQ Book Now
REMEMBER EACH TRAVELER MUST BE PREMIER MEMBER OR ABOVE & HAVE DIVE INSURANCE THAT COVERS RELATED TRIP DATES TO BE ELIGIBLE TO JOIN OUR AMAZING TRIPS!
Location: Anilao Philippines
Dates:     April 14-21, 2019 
Resort:  Buceo Anilao Beach & Dive Resort  
Dive operator: Buceo Anilao Beach & Dive Resort
Water Temp: 79-86 F
Air Temp: 93F day - 73F night
Current: Calm
Visibility: 50 - 85 F
Experience Level: All levels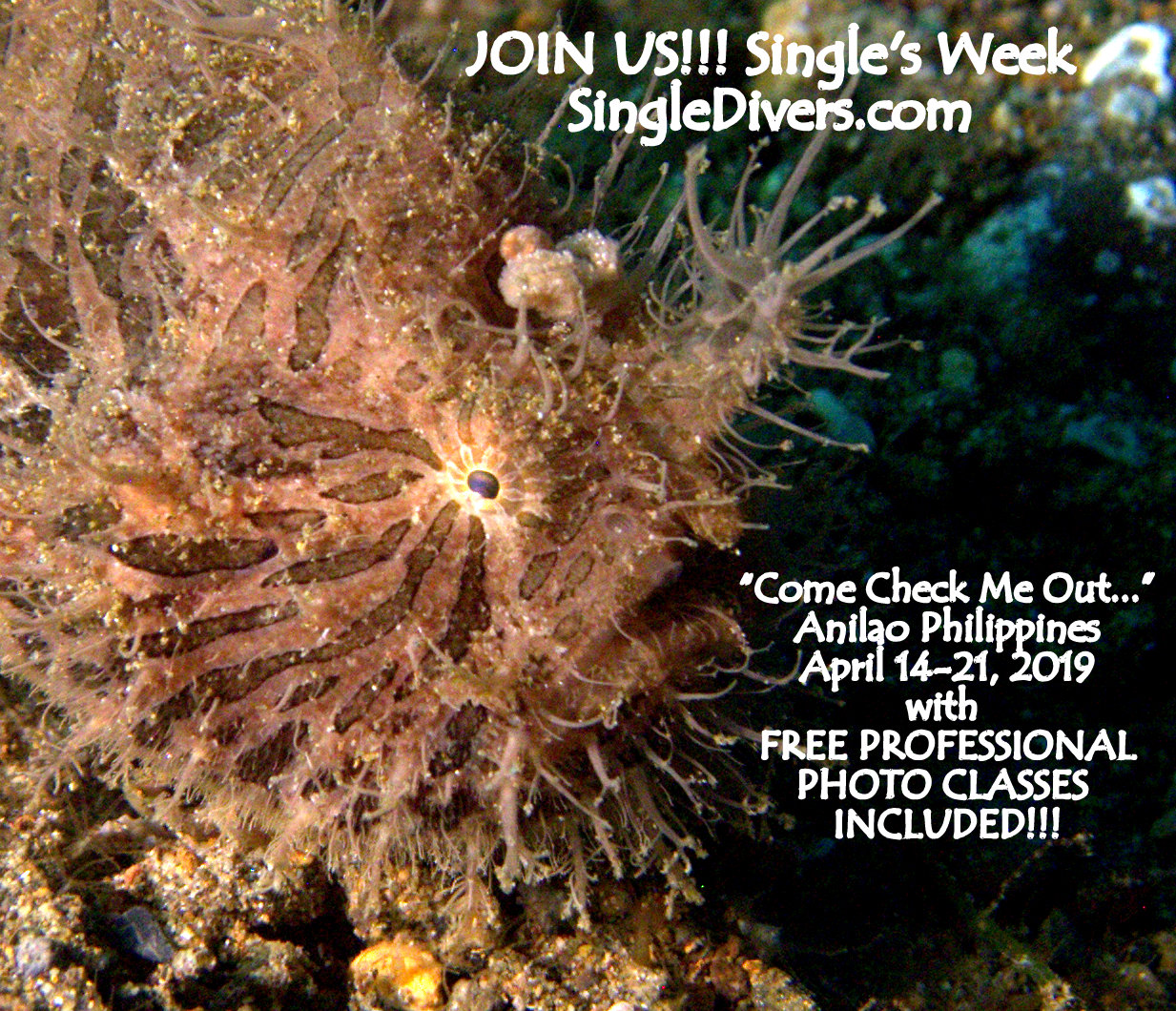 Pricing:
 
TRIP PKG PRICING:
Standard  D/O = 2 spaces: $1334 full price OR 

$1295 CASH

Standard S/O =  2 spaces: $1551 full price OR 

$1505  CASH

Ocean View D/O = 6 spaces: $1442 full price OR 

$1400 CASH

Ocean View S/O = 2 spaces: $1803 full price OR 

$1750 CASH

*All prices are per person.
**Cash Discounted Price is given when you select e-check at final checkout.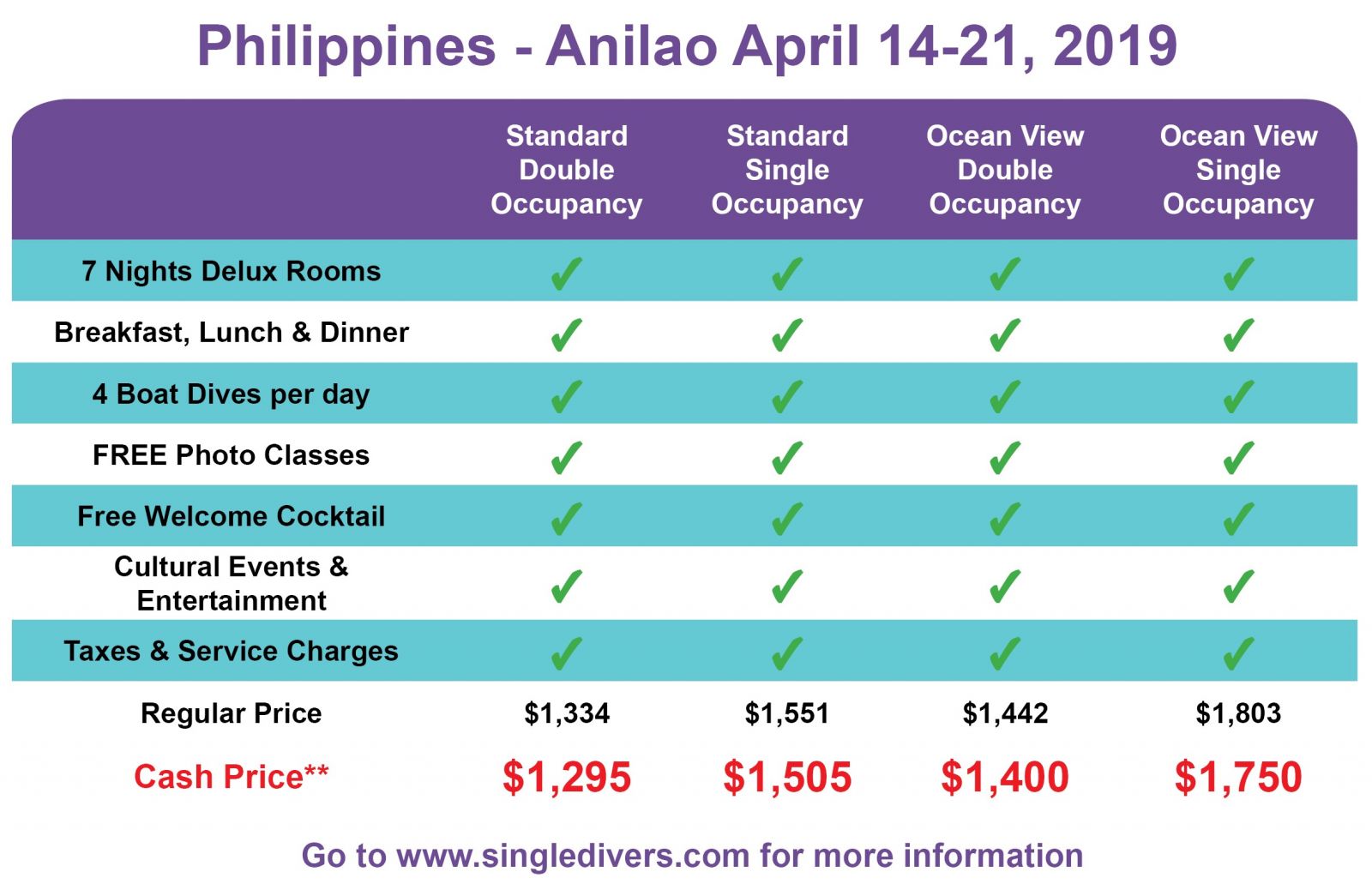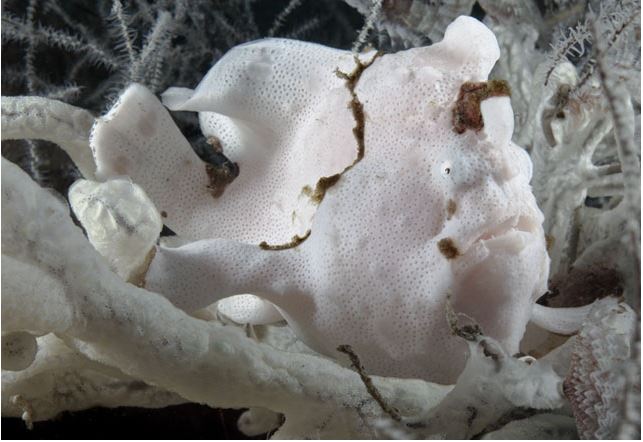 Anilao is known among divers for its macro life and muck diving.  (Muck does not mean poor vis but it does usually mean a sandy bottom with little traditional reef structure which means the critters are out in the open.) There are huge areas of coral reef and a range of Indo-Pacific critters in the local waters.  Divers can find shrimp, crabs, nudibranchs as well as frogfish, pipefish and seahorses.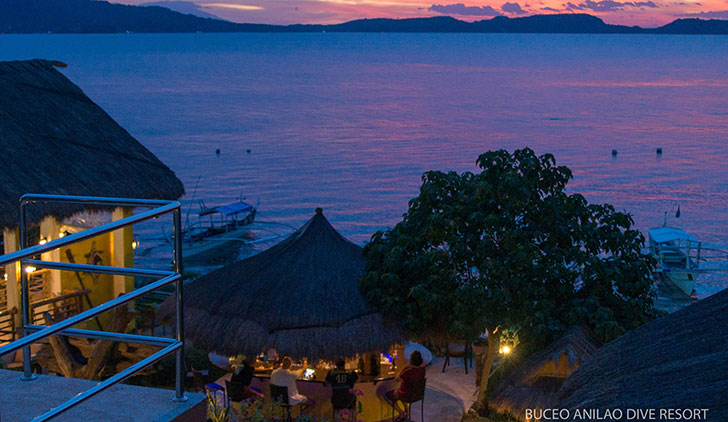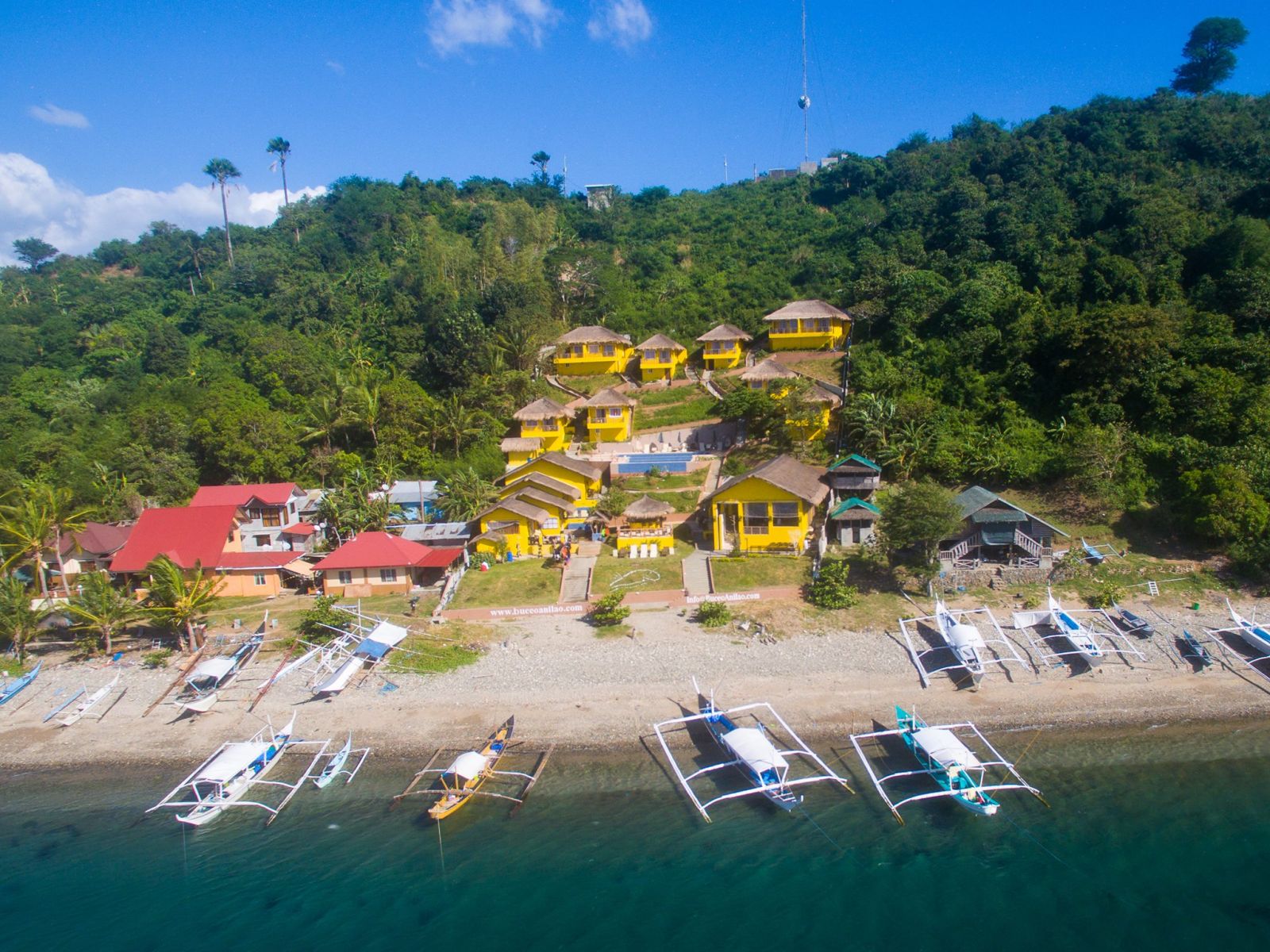 What's Included:
PACKAGE INCLUDES:
All of the above rates are inclusive of tax i.e. included in the pkg price (currently at 12% VAT).
7 nights at the beautiful, fun and convenient Buceo Anilao Beach & Dive Resort www. BuceoAnilao.com in Anilao 
Unlimited day diving up to 4 boat day dives per day (w/ tank, w-belt, boat, and guide) or 3 day dives and 1 nite dive
Welcome Cocktail party including the first drink on the house!
Cultural Events and/or other great entertainment all week!
Breakfast served daily from

6:30 – 9:00

Lunch served daily from 

12 noon – 2:30

Dinner served daily from 6 pm – 10 pm
Includes taxes & Service charges per person
SD T-Shirt commemorating the trip
Air fills, tanks, lead and weight belt
Gear Lockers for your gear and LOTS of hanging space for your wetsuits/skins
Welcome Beverage upon arrival & group orientation meeting after last group of divers arrive

Free

Photo Classes from PhotoPro Larry Davis​

Learn how to improve your photo skills whether GoPro, Camera, Video etc.  Everyone will learn and benefit for Free!!!  Private one on one's available but probably not needed with all the free instruction you will receive on this trip!
Either start at the basics or go beyond...Both levels of instruction will be offered as part of the trip!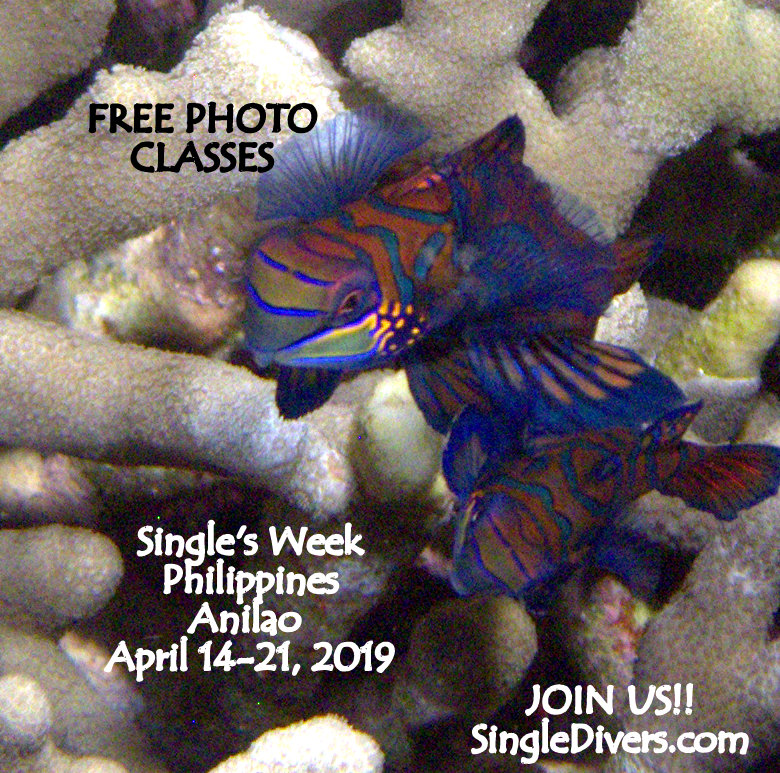 NOT INCLUDED:
Airfare to Philippines(MNL).

R/T Airport-Hotel transfers:(* See details below for how we will arrange group transfers)

Nitrox: Week package = See below

Nitrox for additional dives/per tank: See below

Additional Day dives/each: $37 or $35 cash discounted price

STANDARD ROOM EXTRA NITES  see below

OCEAN VIEW ROOM EXTRA NITES  see below

Additional Day dives with rental gear/each: see below

Night Dive: TBD

Optional island tours and spa services

Rental gear, instruction and retail charges

Resort and Dive Crew gratuities

Dive Insurance - MANDATORY

Trip cancellation insurance - MANDATORY

OPTIONAL EXTRA DAYS:

 

Accommodation in Oceanview Deluxe Cabanas: - 5 rooms total so 2 s/o spots and 6 d/o spots
(45 sqm, 2 double beds, 1 twin bed, AC, Fan, CR, Hot Water Shower, Safe, Balcony, Minibar)
Double 62 US$ per person $60 CASH
Single Room 114 US$ per person $110 CASH

Accommodation in Standard room: 3 rooms total so 2 s/o spots and 2 d/o spots

(15 sqm, 1 double bed, AC, CR, hot water shower, safe, no balcony
Single room 50 US$ per person  $48 CASH
Double room 31 US$ per person  $30 CASH

 

OPTIONAL EXTRA MEALS:
Buffet Breakfast included in all room category prices
Buffet meals /or Set menus (Lunch and Dinner) 32 US$ a day per person $30 CASH  (16 US$ per meal per person ). Bottled / Canned drinks not included. Recommended for groups.

 

OPTIONAL Diving Extras:

 

Unlimited Diving (maximum of 4 dives a day or 3 day dives and 1 night dive)
3-8 days TBD US$ per person per day $TBD CASH
 - Additional dives TBDUS$ (after 16 dives package) $TBD CASH

 - Additional Days $TBD per day for the first 3 extra days...$TBD CASH after the 4 extra day of diving prices go down even more.

 - Nitrox TBD US$ per tank $TBD CASH or 60 US$ or $TBD CASH per 10 tanks or $120 weekly pkg or $TBD CASH

 - * Special Trip to Verde Island 40 US$ per diver  or $TBD CASH (minimum 5 divers) or 196US$ fuel surcharge, to be divided among divers/boat.

 - * Sanctuary Dive Fees PAYABLE AT RESORT appr. 300 pesos (7 US$) per person per day (May change without prior notice, thank you for understanding)

 - Private guide available for TBD US$ per dive, additional PAYABLE AT RESORT

 - Private boat available for 2TBD US$ per dive, additional PAYABLE AT RESORT

 - For Diver with children, Baby sitting service is available, at 100 Pesos per hour PAYABLE AT RESORT

 

Eco-Tours (please inquire for more information):

Equipment Rental - PAYABLE AT RESORT BUT WE TALLY WHAT WE NEED BEFORE HAND

Maricaban Picnic & Snorkeling
Tagaytay Tour
Taal Volcano Trek
Los Baños Hot Springs
Hidden Valley
Pagsanjan Falls & Rafting
Mount Makiling Trek
Manila Historical & Cultural
Conquer Corregidor Island
BCD 200 pesos per day (approx 5US$)
Regulator (with octopus & gauge) 440 pesos per day (approx 11US$)
Wetsuit 190 pesos per day (approx 5US$)
Mask, Snorkel & Fins 270 pesos per day (approx 6.6US$)
Computer 410 pesos per day (approx 10US$)
Torch / Flash Light 360 pesos per day (approx 9US$)
Full Equipment (without computer) 810 pesos per day (approx 20US$)
Travel & Transfer Details:
* Transfers are based upon how many people are in a van. Each van can take up to 6 people. Therefore arriving a day early or departing a day later will be more expensive if you wish to proceed to the resort immediately unless you have several people sharing the same arrival and/or departure times. SD.com will help consolidate people based up when they sign up into shared vans for the transfers. We can ALSO help you arrange a private transfer if desired. (Please consider arriving in Manila a day or so early to ensure your bags arrive and/or you do not experience flight delays.)
Transfers:
Package does not include transfers to and from the resort because of the distance from the airport to the resort. HOWEVER most int'l flights arrive at similar times so we will help you see which flights others are on to book the transfers accordingly. The first people to sign up will be the ones to set the first transfer times. Transfer from Manila airport to the island of Anilao and then to  the hotel or back will take approx 2 - 3 hrs as follows: The land transfer will take around 2 hours and the boat approximately 5 minutes. When arriving at night there is a fee for a nite or very early am boat transfer if in the dark.  We encourage you to STILL consider arriving early and stay a day or so in Manila to ensure your bags arrive and/or to avoid missing a scheduled transfer of your shuttle if your flight is delayed.
Transfers Manila-Anilao or Anilao-Manila (locally Insured Van with driver):
1-6 persons per van 100US$ per way per van (round trip 200 US$ per van) CASH ONLY PAYABLE AT RESORT FOR NOW
or
Transfers Batangas bus station - Anilao or Anilao - Batangas bus station, each way (by van): 1-6 persons per van 50US$ per way per van CASH ONLY PAYABLE AT RESORT FOR NOW

 
VISA/PASSPORT INFORMATION
 
It is the travelers responsibility to ensure they have the proper documentation to travel into each country on his or her itinerary as well as for re-entry and return to their country. Please check with the appropriate consulate to ensure you have the proper documentation. Many countries require a passport that must be valid for at least 6 months beyond your period of stay. Always check your passport and visa requirements. Since regulations vary by country, contact your consulate or embassy of your country for the requirement. The Reservation Office and staff cannot assume responsibility for passengers not having correct documentation. 

DISCOUNTS & DISCOUNT DISCLAIMER:
You must use the code when you book as they are not retroactive after you sign up UNLESS otherwise stated like the member rebate etc.
We are sorry for any inconvenience this may cause but the accounting expenses of manually trying to do the discount is far exceeding the discount amount making it very prohibitive to manage this way. So please be sure to use the discount code AT TIME OF INITIAL BOOKING.
NOTE: The EBD or Early Booking Discounts can only be used as follows
Pay in FULL at time of Booking

by 11-11-18

and take

$75 OFF

 on any OCEANVIEW D/O package (use Coupon Code:

19MNL2EBD75

) OR take

$100 OFF

any POOL OR OCEANVIEW S/O package (use Coupon Code:

19MNL2EBD100

) or take $25 off any Standard Room d/o or s/o  (use Coupon Code:

19MN2EBDL25

)
DEPOSIT at time of Booking by 11-11-18: for Early Bird Discount:

$25 OFF

(use COUPON CODE:

19MNL2EBD100

)
Book by 12-30-18 and enjoy an Early CHRISTMAS Present to Yourself - 10% Discount on any one purchase from BIG BLUE Lights or StREAM2SEA or 20% off two or more items (10% or 20%Discount must be used by June 30, 2019)
Book by 04-30-19 For one (1) chance to WIN A FREE VERDE ISLAND DIVE TRIP worth $40
Book by 04-30-19 For one (1) chance to WIN A FREE Coreskin or BIG BLUE LIGHT Product/Voucher worth $100!
1 additional chance for each...WIN FREE BIG BLUE/CORESKIN GEAR worth $100 and/or Free NIGHT DIVE by signing up on our Facebook Trip Event BY 4-30-19 for this trip AND "LIKE" SingleDivers.com if you haven't already AND share the FB trip booking on your page or in another diving group to which you belong. (EARN ONE CHANCE PER SHARE)

Please email  with your full list of contest entries links and please reference PHILIPPINES SOCIAL MEDIA CONTEST ENTRIES in the subject line.

Cash Discount: Use our e-check option to pay for your trip and

CASH DISCOUNTED PRICES

will be applied at checkout.
Active Duty Military Discount: $25 OFF Active Duty Military Discount for any active duty military of any country that fights for freedom. Thank you for your service. (Please email your military ID to or fax to 888-480-0906)
Member Rebate: File for your $25 member rebate within 30 days after the trip for SD premier and above membership levels (See my forums signature for link to the forms forum or click on the green Paper Forms button in the forums . If you are new to the site send an email to to get the password. PLEASE follow the directions on the form for proper submission & processing.)
SAVE $75 by submitting your Documents within 21 days of booking this trip. If booking within 45 days of the trip please submit your documents within 3 days. Otherwise the $75 document processing fee will be added to your final invoice.
TRIP AND DIVING INSURANCE ARE MANDATORY FOR THIS TRIP:
 
DIVE Insurance is required on all trips! DIVE insurance is VERY inexpensive. Even if you have insurance that you think covers DIVING ACCIDENTS and air liftsit is CHEAP (approx $100-$125) to get a supplemental policy to ensure you are covered for an entire year of diving.  NOTE: DAN is secondary ins which means you pay and they reimburse anything not covered by other ins policies. DiveAssure.com is PRIMARY insurance meaning they pay directly to the provider without your involvement.
 
PRO TIP; The two primary suppliers of dive insurance DiveAssure.com and DAN are inexpensive enough to carry both. This way you will have the best coverage internationally, the best coverage domestically, primary insurance, secondary insurance and if a claim is denied on one policy you can submit it on the other. No matter what happens...YOU ARE COVERED!!! ... PRICELESS!!!
 
We recommend:
 
Dive Assure: for either a 'one time' policy OR an annual policy for BOTH Dive & Trip Insurance providing PRIMARY COVERAGE with excellent rates and coverage! Please use THIS LINK and/or reference SingleDivers.com via the drop-down menu under GLOBAL PARTNERS. (If you can not find the drop down, do not reference anyone and email info@singledivers.com your policy info and we will do it for you via our Dive Assure company representative. OR SIMPLY USE THIS LINK AND YOU WILL BE AUTOMATICALLY TIED TO US. )
Alternatively you can also use....
Diver's Alert Network: Please use our reference number when ordering: ID1603080   (This only works if you are a new first time DAN member.)
 
REMEMBER...ALL TRIP GOERS NEED TO BE PREMIER MEMBERS OR ABOVE TO JOIN OUR AMAZING DIVE CLUB TRIPS!!!   Email admin@singledivers.com for help in registering or upgrading if needed! Email trips@singledivers.com for help regarding the trip itself!