SAVE THE DATES...& ADVISE WHEN OPEN FOR BOOKING:
Feb 18-20 and 21/22, 2022 FLORIDA Dive & Snorkel MANATEES & BHB
See more pictures HERE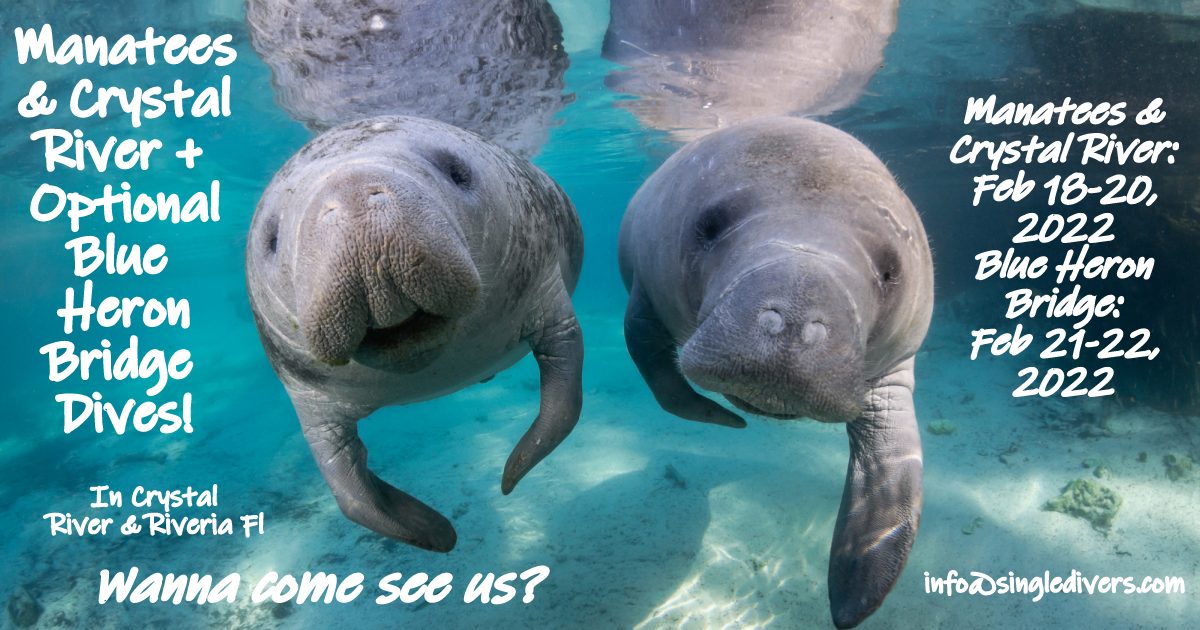 We will have full details on this amazing trip soon! Please start the planning process to join us!
Date:  Feb 18-20 MANATEES and 21/22 OPTIONAL BLUE HERON BRIDGE DIVES, 2022 FLORIDA 
Where: Crystal River, FL and Riveria Beach FL (BHB)
How:  via You can fly into Orlando or Tampa or even South Florida and then drive to Crystal River. We will be helping with carpooling and ride sharing options for our members. So let us know if you plan to drive or fly and if you plan to rent a car or would like to share a car rental and/or rideshare with others members.
We will do the Manatees first then we will head to the West Palm Beach area to dive the Blue Heron Bridge. The tides are midday so that usually means fewer locals diving. And being during 'winter' many locals will not dive during the winter so that is a bonus for us.
We will book hotel rooms and set up the logistics for you for this EXTREMELY AMAZING and FUN BUT UNIQUE and INEXPENSIVE OPPORTUNITY to dive and snorkel with one of the world's most unique creatures and in one of the world's most unique diving venues!
Why:  Our members have always asked that we run a manatee trip but being new to Florida and knowing that all operators are not created equally...its taken us time to learn the ropes so you don't have too! We have amassed the expertise needed to FINALLY RUN THIS TRIP and it will be simply amazing!!!  And given how hard hit many have been by covid and economic issues... an economical trip that is fun, family friendly and different seems perfect for soothing the diving and snorkeling blues after the holidays!
Pricing: Pricing for double occupancy should be UNDER $500 including some great early booking specials to include a guided dive at the Bridge. Depending on interest we can plan one to two days diving the bridge including hotel etc. The idea of the bridge was to help fill out a long weekend option OVER PRESIDENT'S DAY for those wanting to maximize the price of transportation to Florida and keep overall pricing economical!
PRICING UPDATE as of Oct 8, 2021:
It appears that the d/o manatee and crystal river will be about $450 each plus tax (working on that final figure) and the s/o will be about $600 plus tax and the Blue Heron Bridge will be $260 + tax double and $475 + tax single occupancy.
The hotel plays a big part in the pricing but we also are paying for a BHB guide as well. They know where the critters are at. The BHB part will be optional so will be structured a bit differently in our booking system when we finalize the set up this coming week.
Other Interesting Stuff: This will be our first trip EVER to CRYSTAL RIVER FOR THE MANATEES and our local Florida resources have given us super tips and intel on when to go and how to maximize the trip....So stay tuned...
What:  Save these dates....simply post in this topic to have us add your name to the "I'm Interested List" and we will let you know when this trip is open for booking Or you can send an email to trips@singledivers.com with your screen name, email you used to register on the SD.com site with and that you'd like to be added to the notify list!
NOT A MEMBER YET?  Simply click on REGISTER in the upper right and CREATE A FUN SCREEN NAME such as WreckWench or ScubaPunk or CajunDiver or Luv2Dive etc and then you can post to SAVE THE DATE yourself! (Note only upgraded members of our club can book our trips so get a head start on that process now!)
NEED HELP?  Email trips@singledivers.com or admin@sngledivers.com for assistance.
ADD MY NAME TO THE NOTIFY LIST (just login and post below to be added to the list):
Kamala aka WreckWench
Karen aka KSue44
Jaque aka Jaque
Sharon aka SaltyAngel
Cindy aka SundanceDiver
Tom aka SpaceDiver
 Marcia aka LovesToDive
 Jeff aka JHeyNow
 Christine aka kittydiverChris
Tara aka Aquarium Diver
Karin aka Moorishidol
Caleb aka Paradoxx
Tom aka Tshizz1e
Krystin aka Knkcm3
Keith aka MNJoe
Joel AKA Gigem Diver +1 Cindy (snorkeler)
Andrew aka BlueBoat
Katie aka GingerSnap
Tori aka Otterhavefun
.


 
Edited by dive_sail_etc, 24 November 2021 - 09:01 AM.