Forums Menu: Orientation 2018-2022 Trips Topic Listing
Trip Topic Menu: Trip Details Trip FAQ Ask a Question Who's Going??? Book Now   See the PHOTOS!
MUST READ IMPORTANT & ONGOING COVID UPDATES FOR THIS TRIP HERE
REMEMBER...ALL TRAVELERS NEED TO BE PREMIER MEMBERS OR ABOVE & HAVE DIVE INSURANCE TO JOIN OUR AMAZING TRIPS!!!  - COVID INS COVERAGE IS PART OF TRIP INSURANCE NOT DIVE INSURANCE AND MUST BE IN EFFECT THE DAY YOU SIGN UP FOR THE TRIP!  Some carriers do NOT cover Covid but DiveAssure.com does.
Location:  Tiger Beach, Bahamas
Dates: April 24 - May 1, 2021
Dive Operator: Bahamas Aggressor
Airport Details: In & Out of FPO Freeport. (See Travel & Details section for full details)
Water Temp: 75–80F, 24-27C (3-5 mil recommended)
Air Temp: Between 75 and 84 degrees, Cooler at night
Current: Usually No current
Visibility: Excellent up to 400ft
Experience Level: Intermediate diver with 40-50 dives at a minimum
Known for: The Tiger Beach itinerary is an exploration of the remote areas around the West End of Grand Bahama Island.This is a dedicated liveaboard trip with up to 5 dives per day offered. The West End area is rarely visited by guests and is home to many creatures – both large (sharks and dolphins) and small (grouper, snapper, assorted other reef fish).
COVID REQUIREMENTS:  A negative PCR test is required within 72 hrs of taking test and flying to travel to BAHAMAS and a negative covid test is required to return to US. Full Details HERE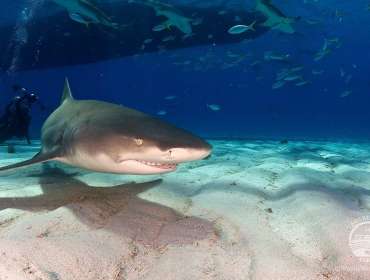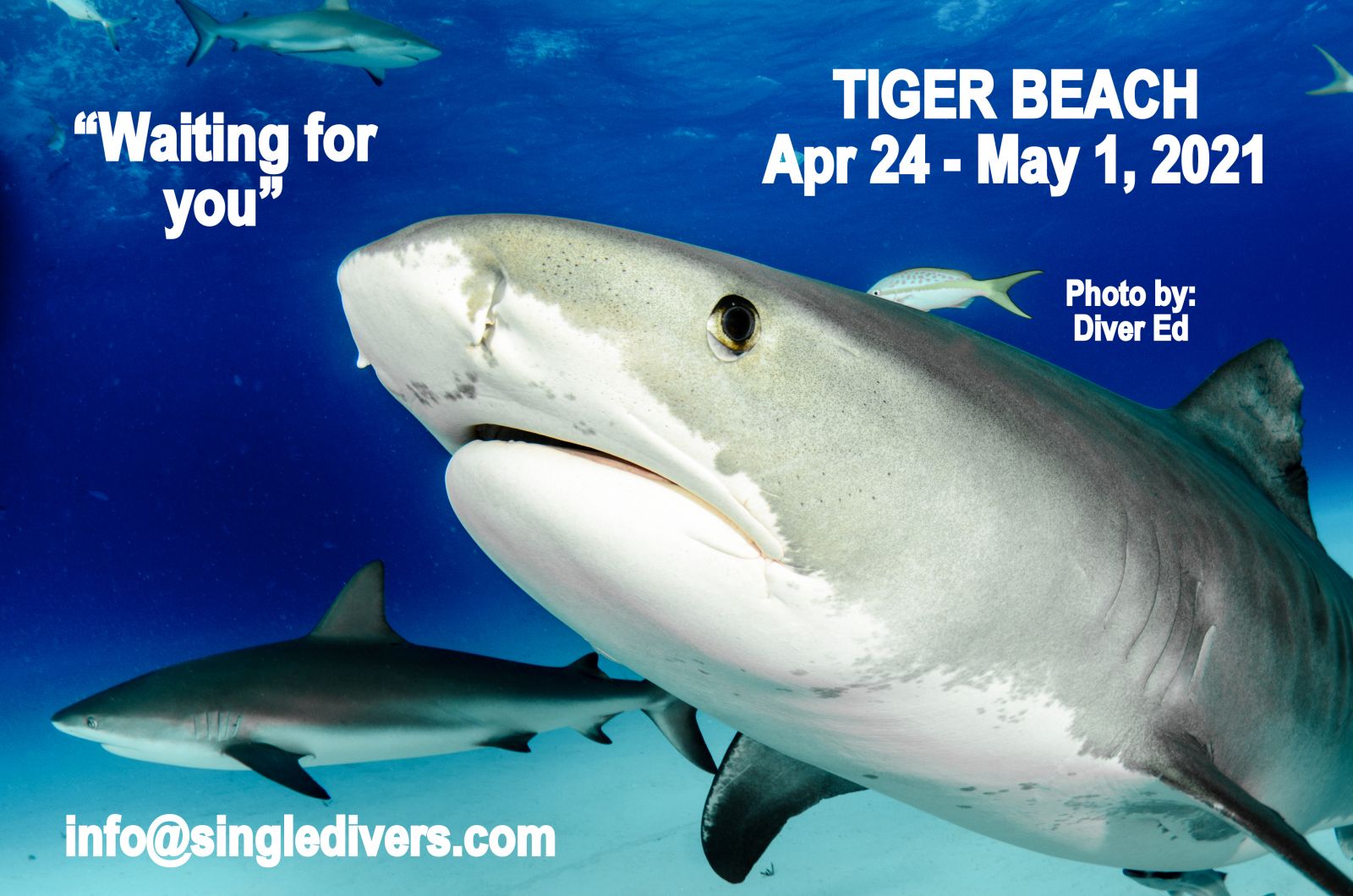 Pricing:
 
TRIP PKG PRICING:
Deluxe Diver D/O: 4 spots at $3,142 or $3,050 CASH
Spacious Quad Diver:  4 spots $2,879 or $2,795 CASH
*All prices are per person.
**Cash Discounted Price is given when you select e-check at final checkout.
Plus: Port fees for 7-nights is $110 and $158 for 10-nights. All fees are paid onboard at the end of the charter. Transfers are not included in the charter price. Taxes and fees paid onboard the yacht are subject to change without notice.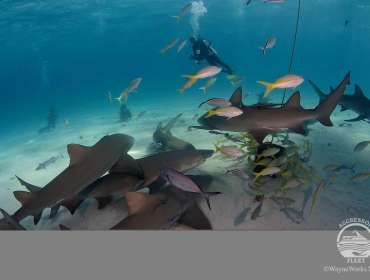 What's Included:
 
PREMIER DIVING PACKAGE INCLUDES:
Air-conditioned Staterooms fitted with private toilets, showers and sinks.
Breakfast (cooked to order), buffet lunch and an elegant chef-prepared dinner with tableside service are served in addition to fresh mid-morning and mid-afternoon snacks.
Beverages (soft beverages, local beer and wine) are complimentary while onboard.
The yacht is equipped with hairdryers in each stateroom. Linens are changed mid-week and fresh towels are placed in each stateroom as needed.
Filled tanks, weights and weight belts are included.
NOT INCLUDED:
Airfare to/from  – Grand Bahama International  - Airport Code (FPO)
Airport transfers are not included with the cost of your charter
It is about 30 - 45 minutes taxi ride to the Host Hotel "Old Bahama Bay". The cost is approximately $75.
$110 port fee for a 7-night trip at the end of the charter when settling your bill. These may be paid by Visa, MC or cash. Personal checks and travelers checks cannot be accepted.
 Tips and Gratuities - usually approx. 10-15% of pkg (These monies go to the entire boat crew. We will tip at the end and collect a group tip.) 
Nitrox $155
Extra nights before or after the trip. SD.com will help set up a group at the Host Hotel.
Rental, instruction and retail charges
Departure taxes (if not included in your airline ticket) - (approx. US$29)
DIVE Insurance- is MANDATORY! DIVE insurance is VERY inexpensive. Even if you have insurance that you think covers DIVING ACCIDENTS and air lift.  It is CHEAP to get a supplemental policy to ensure you are cared for.
TRIP Insurance- It is STRONGLY RECOMMENDED. (See our INSURANCE Info in this topic or click on the Dive Assure link across the top or Dive Assure logo for a no obligation quote.)
$75 Document Processing Fee (SAVE THIS FEE BY SUBMITTING YOUR DOCS WITHIN THREE (3) WEEKS OF SIGNING UP AND THIS FEE IS WAIVED. OTHERWISE IT WILL BE ADDED TO YOUR FINAL INVOICE.  -   NOTE...FLIGHT DETAILS CAN BE SUBMITTED WHENEVER YOU HAVE THEM
Options & Extras:
 
OPTIONAL:
$6 or

$5 C

ASH

"Group TShirt"

INCLUDES FREE SHIPPING

& for add'l $6 or

$5 C

ASH

upgrade you can choose your color/saying/style  (see details in separate post)
Nitrox Upgrade Pkg for full week:

$155 or 

$150 C

ASH 

cf100 tanks:  $TBA but very limited number available (see Extras & Add-On topic to request larger tanks)
Extra Night Local Group Hotel d/o:   TBA (helps with flight options)
Extra Night Local Group Hotel s/o:   TBA (helps with flight options)

Rent A Buddy

Day

$52 Day FULL PRICE per member or

$50 CASH

(0 spots are available as of now)

Week

$155 FULL PRICE per member or $150 CASH (0 spots are available as of now)

SD Air Booking Fee - $37 FULL PRICE per member or $35 CASH
Discounts & Rebates:
 
DISCOUNTS & DISCOUNT DISCLAIMER:
You must use the code when you book as they are not retroactive after you sign up UNLESS otherwise stated like the member rebate etc.
We are sorry for any inconvenience this may cause but the accounting expenses of manually trying to do the discount is far exceeding the discount amount making it very prohibitive to manage this way. So please be sure to use the discount code AT TIME OF INITIAL BOOKING.
NOTE: The EBD or Early Booking Discounts can only be used as follows:
When paying in full
When you first sign up
By the deadline given. After that deadline they disappear and the code will not work. (So please leave a buffer if you need to xfer money or have questions.)
Only one (1) coupon code can be used per order.
COUPON DATES:
Pay in full at time of Booking by Dec 25, 2020: for $100 off any S/O or D/O (Use COUPON CODE:

20FPO100EBD

)
Pay in full at time of Booking by Jan  05, 2021 for $75 off any S/O or D/O (Use COUPON CODE:

21FPO75EBD

)
Deposit by Dec 25, 2020: for $50 off any S/O or D/O (Use COUPON CODE:

20FPO50EBD

)
Deposit by Feb 05, 2021: for $25 off any S/O or D/O (Use COUPON CODE:

21FPO25EBD

)
Deposit or Pay in full at time of Booking by Mar 05, 2021: and get a guaranteed $25 gift certificate off any merchandise SingleDivers.com sells including partner products.
Social Media Discounts: 1 chance to win a FREE $50 gift certificate for purchases from anyone of our Corporate Sponsors such as Big Blue Dive Lights, Stream2Sea, Coreskin, Cochran, BottomCrawlers or SD merchandise for 1) signing up on our Facebook Trip Event for this trip AND 2) for liking SD.com if you haven't already AND 3) for sharing the FB Trip booking on your personal page! (GET A BONUS ENTRY FOR EVERY GROUP OR FRIEND'S PAGE YOU SHARE IT TOO...must tell us in the email below)
(Must do all three!) - To enter send an email to trips@singledivers.com with links to your postings along with BAHAMAS SOCIAL MEDIA ENTRIES in the title.
Cash Discount: Use our e-check option to pay for your trip and our

RED CASH DISCOUNTED PRICES

 will be applied at checkout.
Active Duty Military Discount: $25 OFF Active Duty Military Discount for any active duty military of any country that fights for freedom. Thank you for your service. (Please be prepared to provide proof of service in person at time of check in)
Member Rebate: File for your $25 member rebate within 30 days after the trip for SD premier and above membership levels (See my forums signature for link to the forms forum or click on the green Paper Forms button at the top of the forums . If you are new to the site send an email to admin@singledivers.com to get the password. PLEASE follow the directions on the form for proper submission & processing.)
SAVE $75 by submitting your Documents within 21 days of booking this trip. If booking within 45 days of the trip please submit your documents within 3 days. Otherwise the $75 document processing fee will be added to your final invoice.
Only one (1) coupon code can be used per order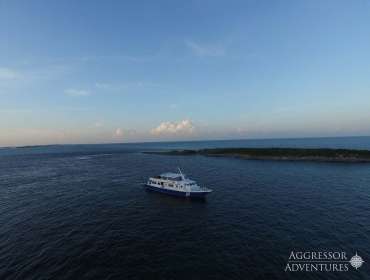 Accommodations:
Host Hotel:
 
Old Bahama Bay is an all-suite beachfront resort with 67 junior suites and 6 spacious two bedroom suites, a 4,000 sq ft infinity edge swimming pool and lounging area with massage jets- perfect for overlooking the beach. Situated directly on the beach on the western-most tip of Grand Bahama Island, Old Bahama Bay has an out-island remote feel, but with the convenience of an international airport and major destination amenities, all just 26 miles away.
ABOUT THE BOAT:
The Bahamas Aggressor is a 100' yacht with a wide beam. Built and powered for comfort, safety and stability, she is diesel-powered, cruises at 12 knots and has 110-volt power onboard. All staterooms are equipped with standard US outlets and USB ports for charging electrical devices. Accommodations include 5 Deluxe cabins with a double and single berth and 1 Quad cabin with two sets of twin bunks. All staterooms have climate controls. Each stateroom is equipped with a TV and digital media player utilizing USB inputs. Feel free to bring your preferred programming to watch or ask the staff to show you how to use the provided thumb drive for in-room viewing.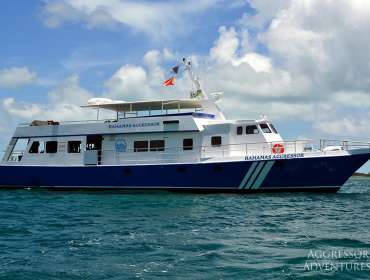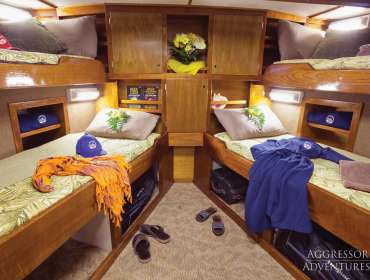 The Bahamas Aggressor sleeps 14 guests in privacy and comfort. She features a roomy, air-conditioned salon and dining area, sun deck complete with a hot tub, lounge and deck chairs, stereo and CD player, shaded wet bar and grill, a complete photo center with a digital video and still photo editing computer. Diving amenities include Nitrox (unlimited Nitrox is $100 per week or $150 for 10 night trips), individual dive lockers, camera table with low-pressure air hoses, and two hot, freshwater showers. The yacht is not responsible for lost, damaged or stolen items. We highly recommend extreme caution and care be taken if you plan to travel onboard with electronic equipment. This equipment should always be stowed after use to avoid the risk of damage.
NOTE: We do not allow for specific bunks nor cabins to be reserved. You are free to request anything you want via our reservation system but we cannot guarantee any special requests can be accommodated other than those related to injuries, diets, etc. We allow roommates to determine amongst themselves who sleeps where.  Our policy has always been to allow divers to work it out themselves and NOT assign or allow people to sign up for specific bunks.

Please do not book this trip if you must have a specific cabin or rooming accommodations. If you are injured and wish to email us in advance to discuss please email trips@singledivers.com and we'll discuss if the trip is suited for your specific limitation. Thank you for your understanding.
POWER SUPPLY
Power is the same as the U.S.
MEALS
The menu onboard is varied and plentiful, with a variety of American feasts, barbecues and local cuisine. If you  have  any  special  dietary  requirements,  please be  sure  these  are  noted  when  completing the  GIS.  You will awaken to  fresh  fruits,  hot  entrees,  cereals  and  juices.  Lunches  are  buffet-style,  featuring  hot  soups, homemade  breads,  salads  and  sandwiches  and/or  entrees.  Dinners  are chef  prepared  and served  each evening  and  include  salads,  vegetables,  seafood,  beef  or  chicken  with  a  fresh  homemade  dessert.  Once onboard,  please  speak  to  the  chef  about  any  special  needs.  Certain  special  dietary  and  beverage  requests may not be available due to the remote nature of this location.
BEVERAGES
The Aggressor's  selection  includes  fruit  juices,  soft  drinks,  iced  water,  iced  tea,  coffee,  and  a  limited selection  of  local  beer  and  wine,  which  are  complimentary.  Due  to  the  high  duty  charged  on  liquor,  we suggest  you  bring  your  special  brand  from  the  U.S.Drinking and  diving  do  not  mix.  Once  you  consume alcohol, you become a snorkeler until the next day
COMMUNICATION
Delay in travel and emergency only: +1-706-664-0111
M/V Bahamas Aggressor Boat Cell:242-431-4724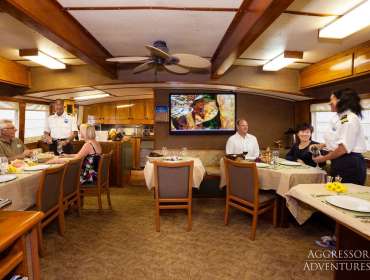 Payment Details:

PROGRESS PAYMENTS:
Payment schedule:
$1,500 deposit
11/20/20: $750 payment
12/20/20:   $750 payment
1/20/21:   Final payment
Note: Trip must be paid in full 90 days prior to departure. Extras must also be paid in full 60 days prior i.e., Nitrox, extra nights etc. IF YOU NEED EXTRA TIME LET US KNOW! (Note that to add an extra to the trip you must pay for it when you add it.)
            
PAYMENT OPTIONS:
 
SingleDivers.com uses a secure payment gateway fully integrated into our online booking system that allows you to pay for trips or merchandise using the following payment options:
An online e-check that debits your checking account automatically without having to mail in a check or having your bank mail a check from your account
An online credit card transaction that eliminates the need to fill to fill our a credit card authorization form.  (Note int'l cards please use AA as your *STATE* designation and 12345 as your zipcode and the charge should go thru. Please also note that we only can accept MC and VIsa)
PRICING INFORMATION:
 
SingleDivers.com provides its members with pricing that reflects all possible savings available including discounts from our over 10,000 member buying clout. We offer a CASH DISCOUNT that is always in BOLD RED LETTERS along with our regular pricing for easier comparison of all possible savings. The cash discount will be taken at the time of payment when you choose the "e-check" option.
HOW TO PAY:
As you sign up for a trip you will add either the trip deposit amount or the full trip price to the shopping cart. You can also add any extras you wish to purchase but you will have to pay for them whenever you sign up for them. So if you are not ready to pay for nitrox now but want us to know you will be adding it to your order...please use the comment box to let us know ultimately what you are signing up for and any other special concerns you have or information you want us to know. Just understand we will not show you listed as doing something until it is paid for.
When you are ready to pay for the extras you want you will click on the BOOK NOW button for the trip you are on and select the add-on(s) that you wish to pay for, add them to your cart and then check out. Depending on the trip you may need to click on the purple TAKE ME TO THE ADD-ON'S BOX. You will then either pay via e-check or credit card depending on whether you want a discount for cash or prefer the convenience of payment over time.
When its time to make a progress payment you will click on MY TRIPS under TRIPS on the main menu. You will see "Make a Payment" under PAYMENTS in the upper right. Then choose what you are paying for and complete your payment.
After each order you place with us you will receive an email order and payment confirmation. If you do not receive these TWO email confirmations (one showing the order at full price and one showing what was debited from your account including the cash discount) check in MY PAYMENTS to see if the payment was successful. If you do not see the payment in your My Trips then MAKE THE PAYMENT AGAIN. You will always get an order confirmation email every time you attempt an email but you will ONLY get a Payment Confirmation email when your payment was successful. If you need assistance please email .
The MY PAYMENTS section is located under the PAYMENTS option found in the upper right of the MY TRIPS area of our site which is found under the TRIPS tab in the main menu.
IN GENERAL:
Only payments received via our secure online payment gateway/portal will be accepted and will qualify for early payment discounts. (So check before you book for any discounts you may qualify for as they can not be applied after booking.)
If you are unable to use the gateway please provide a complete description of the problem/error you are encountering INCLUDING A SCREEN CAPTURE of the error in an email to trips@singledivers.com
If International/ Non-US Clients and your credit card payment does not work, either use AA as the state and 12345 as the zip or please use our traditional written credit authorization form to submit your credit card payment. To receive this form send an email to trips@singledivers.com.
Travel & Transfer Details:
 
Arrival and Departure / Baggage / Group Hotel and Transfers:

Guests will fly in and out of Freeport Bahamas Grand Bahama International Airport, (airport code is FPO).
Transfers are not included. It is about 30 - 45 minutes taxi ride to "Old Bahama Bay". The cost is approximately $75.
The Bahamas Aggressor operates out of Freeport, Grand Bahama Island for the Tiger Beach trips. The yacht will dock in and out of Old Bahama Bay Resort.
Airport transfers are not included with the cost of your charter. At the end of the charter, the Captain will assist with organizing transportation to the airport or hotel if you are extending your stay. I
Please make your own way to the Bahamas Aggressor anytime 4 – 6 pm. The yacht will depart for the first anchorage at 6 pm.
VISA/PASSPORT INFORMATION
Passports with a minimum of 6 months remaining before the expiration date are required for all arriving foreign nationals. If in doubt about visas, contact the Bahamian Consulate for specific requirements from your country.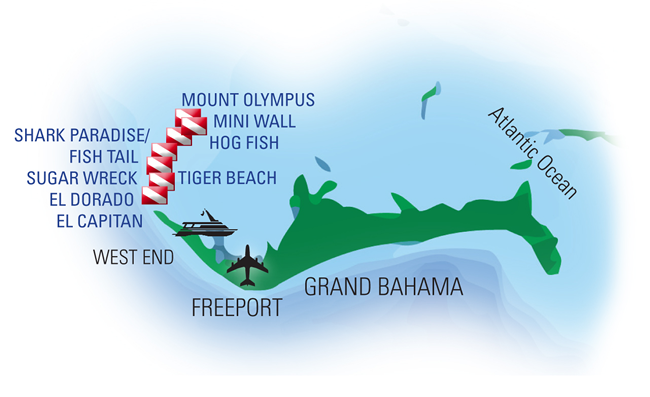 Diving & Itinerary:
 
DIVING
ITINERARY - Tiger Beach
The Tiger Beach itinerary is an exploration of the remote areas around the West End of Grand Bahama Island. The West End area is rarely visited by guests and is home to many creatures – both large (sharks and dolphins) and small (grouper, snapper, assorted other reef fish). At least one afternoon during the trip will be dedicated to a dive at the area known as "Tiger Beach" where we will try to attract sharks using a "scent triangle" filled with bait.  Both Caribbean Reef Sharks and Tiger Sharks are known to frequent the area. Please note: All shark interactions on Aggressor yachts are natural, passive and observational in style. The Aggressor does not actively feed sharks nor chum the waters. Night dives are not offered on the site of Tiger Beach.
Duration: Trips are either 6 night trips or 7 night trips, please be sure you know which one you are on and the embark/disembark days. Boarding is at 4 pm and the yacht departs for the first anchorage at 6 pm.  Everyone must be onboard by that time. Check out is at 8 am. Dinner is not included the last night of the trip, however, there is a restaurant at Old Bahama Bay Resort or guests can venture into Freeport.
DIVING
The staff of the Bahamas Aggressor, with their unique combination of talents, offers the ultimate service. SD will assign a buddy if you didn't come with a buddy. The yacht offers up to five dives per day (one on the last day) including night dives.  There is ample storage space for your diving equipment in your personal locker. The Bahamas Aggressor provides 80 cubic ft. tanks, weight belts and weights. The stern and platform areas are very spacious. The boarding ladders were designed for convenience to allow divers easy entries and exits. Enjoy freshwater showers on the back deck after your dives and dry off with a warm towel. All diving onboard the Bahamas
Aggressor should be within the limits and standards of the training agency that certified you. All dives should be planned no decompression dives.
Tiger Beach Dive Sites
Mount Olympus: The top of the reef is 45-50 feet, down one side you reach the sand around 95 feet, down the other side it just keep going creating a wonderful wall. Guests could spend all day diving this area and never cover all of Mount Olympus.
Mini Wall: This dive site has two mounds running side by side with a small patch of white sand between these mounds covered with marine life. The first of the coral mounds starts around 35 feet and slopes down to around 70 feet. The second mound starts around 40 feet and slopes to about 85 feet. Both mounds as they slope give the look of a small wall.
Hog Fish: A shallow dive ranging from 30-45 feet. As you swim along Hogfish Reef you will notice lots of crevices and ledges to look under for small creatures. A garden of soft corals with hard corals covers the top and schools of Grunts, Snappers, Chromis and Angelfish cover the reef. Swimming in the sandy areas just off the reef are large and small Hogfish.
Shark Paradise: This beautiful reef received its name from the different types of sharks you can find here at any given time. While enjoying the marine life covering Shark Paradise we have seen, Nurse, Caribbean and Lemon Sharks. Once in a while we even get a beautiful Tiger Shark in the area.
Fishtail: Is located just to the south of Shark Paradise. Due to its location we sometimes get a chance to see a shark while diving the beautiful reef which is covered with Gorgonians, Yellow Sea Whips, Sea Plumes, Orange Spiny Sea Rods and Sea Fans. When you can add a mix of hard corals and a variety of lots of tropical fish you have the perfect spot to enjoy.
Sugar Wreck: This is one of the crew members favorite shallow sites. During the late 1800's a barge carrying molasses sank in 18-20 feet of water in the middle of nowhere on the Little Bahama Bank. Soon fish and other marine life found this to be a great hiding place and soon the wreck was covered with marine life. At any given time we can find the resident Green Moray Eel, or Nurse Shark and everyone's favorite, the Hawksbill Turtle that comes up close for pictures and video.
El Dorado: Starting in 40 feet and sloping towards a sandy bottom around 70 feet, guests will enjoy seeing Lobsters, huge Channel Clinging Crabs, Banded Coral Shrimp and schools of fish. At night Octopus, Squid, Turtles resting, Eels swimming out in the open and an array of hard and soft Corals are seen.
El Captainan: A huge underwater mound that is covered with Gorgonians and hard corals. Just off to the side are two large pinnacles. The top of the main mound starts around 45-50 feet and the bottom 90 feet. You can easily follow schools of fish or stay in one small area and look for lots of macro and small animal life.
Tiger Beach: A beautiful beach area that sits in 15 feet of water. There's a white sandy bottom that seems to always have Sharks. Most of the Sharks seen are Lemon Sharks ranging from 4-7 feet in length. Also seen are Caribbean Reef Sharks, Nurse Sharks and Tiger Sharks.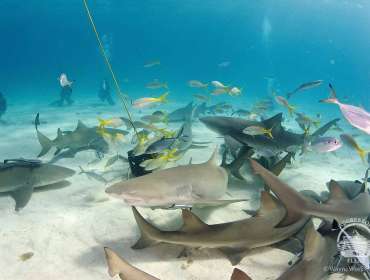 Experience Required & Training/Workshops:

Experience Required
 
All divers must be certified as open water scuba divers by an internationally recognized certification organization.
All divers must be experienced divers (we recommend that you have more than 40-50 logged dives) and have logged at least one dive within the 6 months prior to boarding the vessel. Dives are very often at an advanced level. Currents can be very strong and often divers are required to swim against them.

While in the water, you and your buddy are in charge. Every dive starts with a dive briefing from the yacht staff. However, as a certified diver, you and your buddy are responsible for planning and conducting your own dives within the limitations set forth by the briefing. The staff will be on the dive deck providing surface support for divers as well as staff in the water offering support, u/w photography and videography, and critter spotting services as well. On some dive sites a staff member will offer to lead a group and assist them in locating specific points of interest. However, they do not offer direct supervision of dives. If you start out with a group, as long as you and your buddy remain in contact with each other and are ok – you may follow your own dive plan. Divers who desire more personal attention and structured/supervised dives should consider taking one of the yachts numerous specialty courses. An underlying skill featured in all of specialty training is planning, executing, and debriefing after your dive in order to build a more confident diver.

Conservation laws do not permit spear fishing or collecting.
Training & Workshops
Several  diving  specialty  courses  are  offered onboard  including  Nitrox,  Advanced  Open  Water,  UW Photography, Master Diver and more.  Open Water Certification Courses & Check-Out Dives are offered as well.

PHOTO/VIDEO EQUIPMENT

The Bahamas Aggressor offers  a  complete  digital  photo facility  including  a  PC  for  downloading  photos.  The photo  pro  is  available  for  free  coaching  with  equipment rental.    Photo  equipment  is  available  to  rent separately  or  as  a  complete  set  up.    The Bahamas Aggressor has  a  strobe  charging  station  and  a  large camera  table  available  for  your  camera  and  video  equipment.  Guests  should  bring  their  own  battery chargers.Drones are allowed in the Bahamas.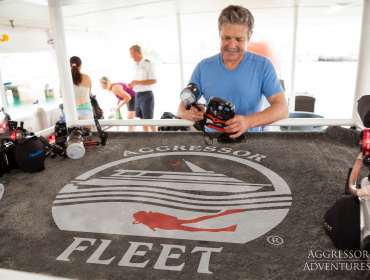 Insurance, Documentation & T&C's:
 
INSURANCE

DIVE Insurance is required!DIVE insurance is VERY inexpensive. Even if you have insurance that you think covers DIVING ACCIDENTS and air lifts…it is CHEAP (approx $100) to get a supplemental policy to ensure you are covered for an entire year of diving. 
 
We recommend:
Dive Assure: for either a 'one time' policy OR an annual policy for BOTH Dive & Trip Insurance providing PRIMARY COVERAGE with excellent rates and coverage! Please reference SingleDivers.com via the drop-down menu under GLOBAL PARTNERS OR SIMPLY CLICK HERE.  (If you can not find the drop down, do not reference anyone and email info@singledivers.com your policy info and we will do it for you via our Dive Assure company representative.)

Trip Insurance is STRONGLY SUGGESTED and/or required (depending on the trip)![/size]  TRIP insurance is VERY inexpensive. Even if you have insurance that you think covers your trip…it is CHEAP (approx $100-$200) to get a supplemental policy to ensure you are covered for your investment in your dive trip. If you opt to not get trip insurance you are responsible for all losses related to your trip including not going for any reason.
 
DOCUMENTATION
All SingleDivers.com trips require necessary documentation to facilitate booking your trip and/or making it a better experience for you.  Once you complete your documents online our automated system will take the information from your last trip with us and fill out your new trip forms for you. You then add any missing information and/or change anything that is no longer current. You will find the forms you need to complete under MY TRIPS which you will find under TRIPS in the main menu across the top of the site. Since each trip requires a unique set of docs, please choose the correct trip from your "My Trips" drop down and then complete the forms required for that trip. Some trips will also ask you to complete the resort or liveaboard's forms as well.  

The INTERNATIONAL AIR AUTHORIZATION FORM is only required when you are having SingleDivers.com  book air for you but this includes air that is part of the trip pkg price.

Not all of our forms are online as they are either infrequently used or being phased out. If you need a form that is not in our online directory, simply click on  DOCS & FORMS in my signature line and you'll find the form. NOTE: Email trips@singledivers.com for the password to this 'forms' forum.
TERMS & CONDITIONS
All SingleDivers.com trips require:
You complete the necessary documentation as referenced above for each trip you sign up to take with us. A $75 document fee will be applied if you fail to submit your online and uploaded documents withing 21 days* of signing up for a trip or within 3 days if signing up within 45 days of departure. NOTE THIS DOES NOT APPLY TO AIRFARE UNLESS SIGNING UP WITHIN 45 DAYS OF DEPARTURE.  *Remember the Forms can be edited at any time up to 30 days prior to departure with updates such as insurance purchase/renewal, change of address, even preferences for rooming and diving so there is no reason to delay your initial Forms submissions.  This enables us to meet the reporting deadlines imposed by our suppliers.
SingleDivers.com LLC

reserves the right to refuse service to anyone.

You read all the trip details before booking and commit to being responsible for post trip booking follow up by use of our TRIP PM, FORUM DISCUSSIONS  and in some cases emails. You commit to ask us how to use these tools if uncertain and commit to keeping your premier membership dues current and email on file current so we can contact you. Our tools require your dues and email to be current to work. Any delays/expenses/issues due to lack of trip information will be borne by the trip goer and NOT SingleDivers.com as we regularly and routinely use these tools to communicate extensively with you. If you are not hearing from us it means you are not using the tools we have in place. Email trips@singledivers.com for help.
You have read the EXPERIENCE REQUIRED & TRAINING/WORKSHOPS information in the online trip details to ensure that you are able to safely and comfortably meet the requirements of the trip. Please contact to further discuss any questions you have about attending one of our trips. We often accept students who would not otherwise meet the stated trip requirements because they are taking a class that will then enable them to meet the trip specifications and they will be diving with an instructor or dive master during the dives.
We require Dive Insurance for all dives and trips as stated above and we STRONGLY recommend trip insurance for all dives and trips but in some cases require it due to vendor specific mandates. Please see the online trip details under INSURANCE to see if the trip has optional or mandatory trip insurance requirements.
In the event of cancellation, your trip insurance will be your first line of defense. Secondary remedies include some rights afforded to you based upon when you have to cancel your trip in writing. Please see THIS link for full additional trip cancellation details.
Please read THIS link for our Guaranteed Double Occupancy Policy, Rooming Policies, Payment Terms, the "Ex" Rule etc

Edited by WreckWench, 15 February 2021 - 09:34 AM.