Forums Menu: Orientation 2018-2022 Trips Topic Listing
Trip Topic Menu: Trip Details Trip FAQ Ask a Question Who's Going??? Book Now   See the PHOTOS!

REMEMBER...ALL TRAVELERS NEED TO BE PREMIER MEMBERS OR ABOVE TO JOIN OUR AMAZING TRIPS!!!
DISCOVER THE NORTH CAROLINA EXPERIENCE
(This is NOT a traditional Caribbean trip. PLEASE read all the info we have prepared for you. EVERYTHING is different even from Florida.)
READ THIS LINK TO SEE IF NC IS FOR YOU HERE.
Date: July 2-7, 2020 (Diving days July 3-6, Arrive July 2, Depart July 7)
Location: Morehead City, NC for world class Wreck & Shark diving
Hotel: Fisherman's Inn is a classic NC beach town motel perfectly suited for divers.  Located at 200 Atlantic Beach Cswy; Atlantic Beach, NC 28512, (252) 726-2273 (about 10-15 mins to the boat)
Dive operator: Land based dive operator Olympus Diving located in Morehead City, NC - Boat - Midnight Express (about 10-15 mins from the hotel)
Water Temp:  78 - 82 F
Air Temp: 88 F
Visibility: 30-100 ft
Want to Carpool or Rideshare:  Click HERE to discuss.
Experience Level:  Intermediate to Advanced depending on conditions.  (Please see full qualifications list in the summary I've made AND in the Qualifications section near the end of the trip details)
Current at times very strong so you must stay on the anchor line up and down and use the wreck to break any bottom current.

Vis can vary from 30 ft to 100 ft depending on the gulf stream and winds.

Water temps will usually be 79-80 with the chance of thermoclines depending on the wreck.

There are NO in water dive guides. The dive crew will jump in and tie our anchor off to the wreck and help divers in and out of the water. The second crew member will then jump in at the end and untie the anchor line from the wreck. They are not available to guide divers around the wreck.

We will show you a wagon wheel or star pattern navigation trick that will enable you to enjoy the wreck and see plenty of things AND not get lost.

There will be several dive boats on any wreck at any given time so you must be familiar with YOUR boat's anchor line and where we are in relation to the wreck ie. stern or bow or mid section.

We usually try to do either stern or bow to help with navigation.

These dives are deep... 80-120 ft deep and the rides are long...2-3 hrs to the wrecks.

Please read the FULL QUALIFICATIONS section at the end of this trip details posting and READ THIS LINK where I explain NC Wreck & Shark Diving. Its not for everyone...but for those who go...they will forever be changed!

OTHER REQUIREMENTS FROM THE BOAT:
·         A minimum of 40-50 logged dives. Advanced Open Water Certification OR equivalent required.
·         At least 2 dives in the ocean to 70 feet or greater.
·         At least 2 logged boat ocean dives.
·         At least 2 dives in the last 12 months. Minimum age for Full Day Dive Trip is 15 years old.
·         Physically able to put tanks (rental or private) on the boat each day and remove them to get them filled.   (Wheelbarrows are available but the dive crew/shop staff do not manage/handle tanks for divers.)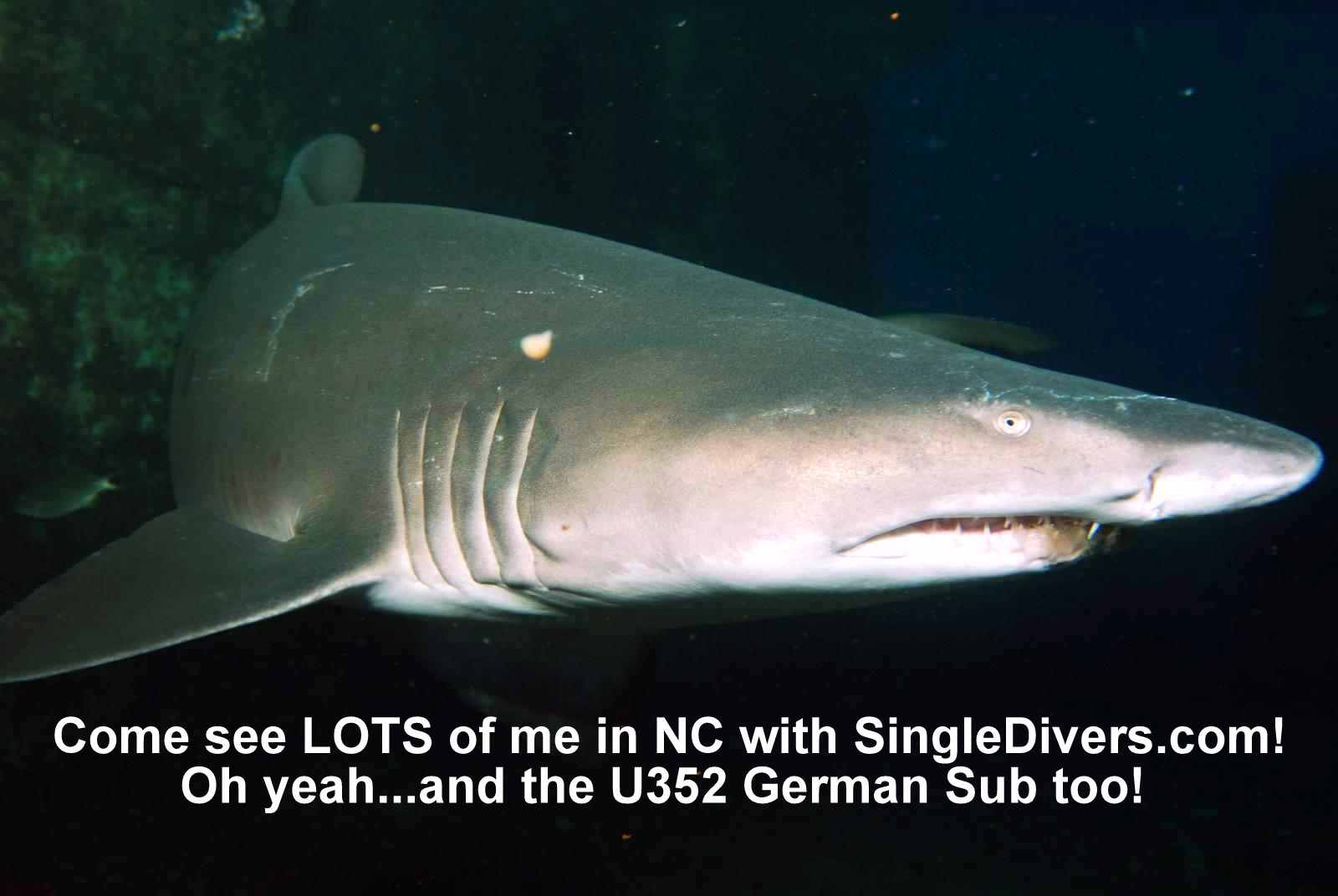 Pricing:
TRIP PKG PRICING:
Diver D/O = 18 spaces $1002 or

CASH $972

Diver S/O = ? spaces $TBD or CASH $TBD  (currently working on 1 single upgrade)
Diving ONLY Pkg  = We have a limited number of diving only pkgs for those who live locally or are staying at another hotel because they have a non-diving companion. Email kamala@singledivers.com for details.
Non-Diver = ? spaces.

Any non diver (unless the accompaniment of a "single" room recipient...would need to stay at another hotel. The hotel barely has enough rooms for all the divers to stay in. If we have a member that wants to bring a non-diver please discuss with me so I can see if its possible to work something out. Rooms in NC are very scarce due to the aftermath of the last serious hurricane. Some hotels have closed forever and many are slow to reopen creating a shortage of rooms. Contact kamala@singledivers.com to discuss)
*All prices are per person.
**Cash Discounted Price is given when you select e-check at final checkout
What's Included:
PACKAGE INCLUDES:
6 Days/5 Nights at Fisherman's Inn & Diver's Hotel (WE HAVE BOOKED THE ENTIRE HOTEL including all rooms, the bunkhouse, the dock, grills, etc.)

4 full days of (2) Offshore Tank Boat dives for 8 boat dives in the pkg with Olympus Dive Center onboard Midnight Express

Lead is included TANKS ARE NOT. and I'm checking on weight belts

Opportunity to dive on "Real WWI and WWII wrecks which are true victims of war including the U352 German U-boat one of only 3 uboats in diveable waters

Opportunity to dive with numerous Sand Tiger Sharks, Sand Bar Sharks and possibly a Bull Shark or two.

Opportunity to dive with massive schools of BIG FISH including schools of Barracudas 6-8ft long

Expertise on "HOW TO DIVE NC" and help in preparing you for this amazing destination as well as help determining if too advanced.

Wide Angle Photography Workshop Tips for getting great shots of SHARKS from locally renown photographer and SD.com member!

Breakfast on the dock and boat daily

Catered Lunch daily on the boat including snacks, sodas and water

One Cookout on the dock dinner to include fresh caught fish, steak, pork, chicken, sides, beverages including wine and beer

Group reservations at 'best local' eateries which is hard to do during a holiday weekend or the chance to do another cookout, pizza party on the dock to watch fireworks and avoid crowds.  Heck with 18 people WE ARE THE PARTY!

Special Happy Hour Events & Pricing

Great give-aways!

Lots of 'Meets & Greets' to get to know everyone!

FREE DEMOS of BIG BLUE DIVE LIGHTS & special deals to OWN YOUR OWN BIG BLUE LIGHT(s)

Wanna carpool or rideshare? Click HERE
OPTIONAL
$6 or

$5 C

ASH

"Group TShirt" INCLUDES FREE SHIPPING & for add'l $6 or

$5 C

ASH

upgrade you can choose your color/saying/style  (see details in separate post)
Nitrox Tank Rental & Fills for 4 days:

$ or 

$ TBA C

ASH 

Air Tank Rental & Fills for 4 days:

$ or 

$ TBA C

ASH

Nitrox Fills (your tanks) per day for 3 days  $  or 

$ TBA C

ASH

Air Fills (your tanks) per day for 3 days $  or 

$ TBA C

ASH

Extra Night Local Group Hotel d/o:   TBA (helps with flight options)
Extra Night Local Group Hotel s/o:   TBA (helps with flight options)

Rent A Buddy

Day

$52 Day FULL PRICE per member or

$50 CASH

(0 spots are available as of now)

Week

$155 FULL PRICE per member or $150 CASH (0 spots are available as of now)

SD Air Booking Fee - $37 FULL PRICE per member or $35 CASH
NOT INCLUDED:
Airfare to Raleigh nor transport from Raleigh to Morehead City approx 3 hrs away (RDU) SEE WHO MAY WANT TO RIDESHARE OR CARPOOL?  HERE
Does not include Tank rental nor fills. You can rent tanks which will be filled daily for you or you can bring your own tanks and then fill them daily. You can dive either nitrox or air but we do not know why anyone would use air...too far to go the site(2-3 hrs)...too deep(80-120ft)...not enough bottom time without using nitrox. IMHO.
Does not include 4 of 5 night's dinners
Does not include breakfast on departure day but a great diner 4 corners is close where we can eat and then head out for airports or driving. NOTE check out flight info for when to fly home
Rental, instruction and retail charges
Dive Crew/Hotel/Wait staff gratuities (usually 10-15% of your land pkg cost or approx $170+)
Instruction/Classes - will NOT be available on this trip. Please let us know what you are interested in?
DIVE Insurance - is MANDATORY! DIVE insurance is VERY inexpensive. Even if you have insurance that you think covers DIVING ACCIDENTS and air lifts it is CHEAP to get a supplemental policy to ensure you are cared for.
TRIP Insurance - It is STRONGLY RECOMMENDED.
See INSURANCE section below for recommendations.
RENTAL GEAR:
Tanks & Fills...see the OPTIONAL PRICING TABLE ABOVE
Regulator System w/ SPG                 $15.00
BCD w/ Power Inflator                        $15.00
Wetsuit 3mm or 5mm                         $15.00
Nitrox Computer                                 $20.00 (ask about our vendor partnership for FREE dive computer rentals)
GoPro Camera                                   $30.00 (ask about our vendor partnerships for FREE Paralenz camera use/rental)
SeaLife Camera                                 $30.00
Discounts & Rebates:
 
DISCOUNTS & DISCOUNT DISCLAIMER:
You must use the code when you book as they are not retroactive after you sign up UNLESS otherwise stated like the member rebate etc.
We are sorry for any inconvenience this may cause but the accounting expenses of manually trying to do the discount is far exceeding the discount amount making it very prohibitive to manage this way. So please be sure to use the discount code AT TIME OF INITIAL BOOKING.
NOTE: The EBD or Early Booking Discounts can only be used as follows:
When paying in full
When you first sign up
By the deadline given. After that deadline they disappear and the code will not work. (So please leave a buffer if you need to xfer money or have questions.)
Only one (1) coupon code can be used per order.
COUPON DATES:
Pay in full at time of Booking by Feb 15, 2020: for $25 off S/O or D/O (Use COUPON CODE:

20RDU25EBD

)
Deposit by Apr 30: Get (1) chance to win FREE Stream2Sea Travel Essentials bag worth $25
Deposit by May15: Get (1) chance to win FREE Scuba Cowboy CD signed by the artist!
Social Media Discounts: 1 chance to win a $25 gift certificate for purchases from anyone of our Corporate Sponsors for signing up on our Facebook Trip Event for this trip AND for liking SD.com if you haven't already AND for sharing the FB Trip booking on your page! (Must do all three!) - To enter send an email to trips@singledivers.com with links to your postings along with NORTH CAROLINA SOCIAL MEDIA ENTRIES in the title
Cash Discount: Use our e-check option to pay for your trip and our

 

RED CASH DISCOUNTED PRICES

 will be applied at checkout.
Active Duty Military Discount: $25 OFF Active Duty Military Discount for any active duty military of any country that fights for freedom. Thank you for your service. (Please be prepared to provide proof of service in person at time of check in)
Member Rebate: File for your $25 member rebate within 30 days after the trip for SD premier and above membership levels (See my forums signature for link to the forms forum or click on the green Paper Forms button at the top of the forums . If you are new to the site send an email to admin@singledivers.com to get the password. PLEASE follow the directions on the form for proper submission & processing.)
SAVE $75 by submitting your Documents within 21 days of booking this trip. If booking within 45 days of the trip please submit your documents within 3 days. Otherwise the $75 document processing fee will be added to your final invoice.
Only one (1) coupon code can be used per orde
Accommodations:
This is my NC home away from home and has been since I got certified in 1994. I've stayed in every room dozens of time but my fave is the 'bunkhouse' or 'girl's hang out' or 'dive central'. It has TONS of space and 2 full bathrooms and a kitchen area that helps me with the meals we will be serving on the trip. I'm talking about a quaint hotel that has been in NC longer than I've been alive, remodeled dozens of times due to storms that hit the area and holds ALL my most amazing NC Memories...the fisherman's Inn and diving hotel!  Well its technically called Fisherman's Inn but more divers stay in it than fisherman. It is located on the Atlantic Beach Causeway, 1.6 miles on the left, after the right turnoff of highway 70 East in Morehead City.
Grills and picnic tables are available for our use on our private dock, behind the motel and next to the boats. All rooms have a refrigerator, cable TV and microwaves. Free Wi-Fi is also available.
It is comfortable, easy to deal with wet gear allowing for drying along wall in front as well as the upstairs bunkhouse railing. REMEMBER...we are taking the ENTIRE HOTEL so it will only be our group staying there which makes it super convenient and fun and safe for us and our gear.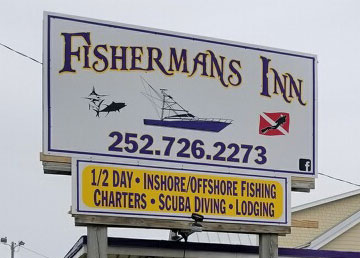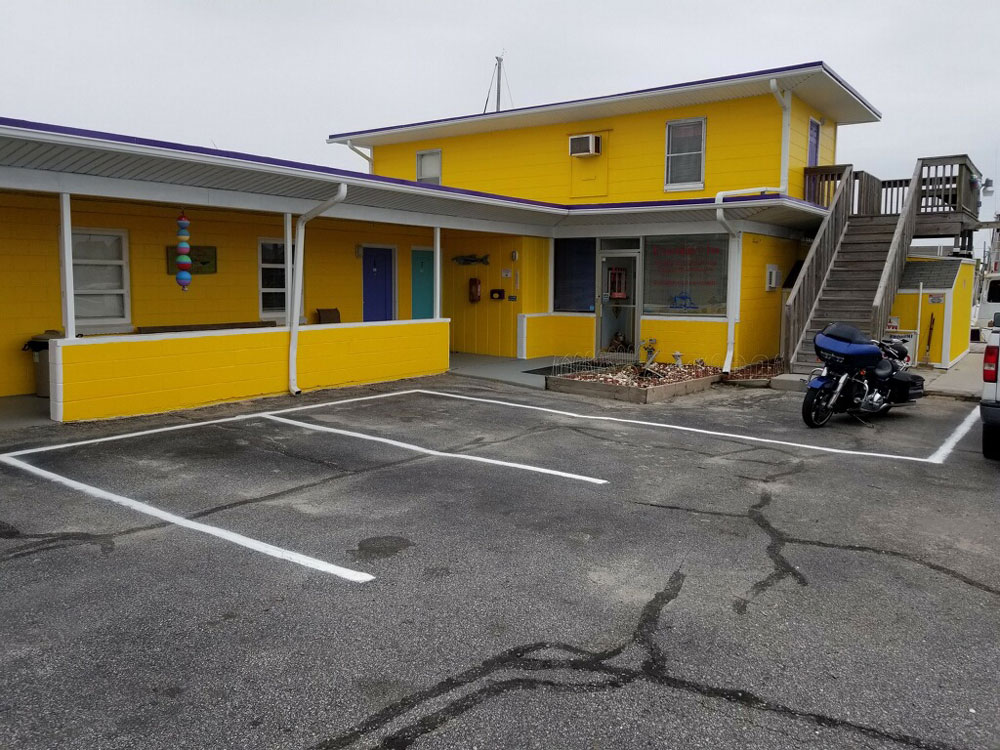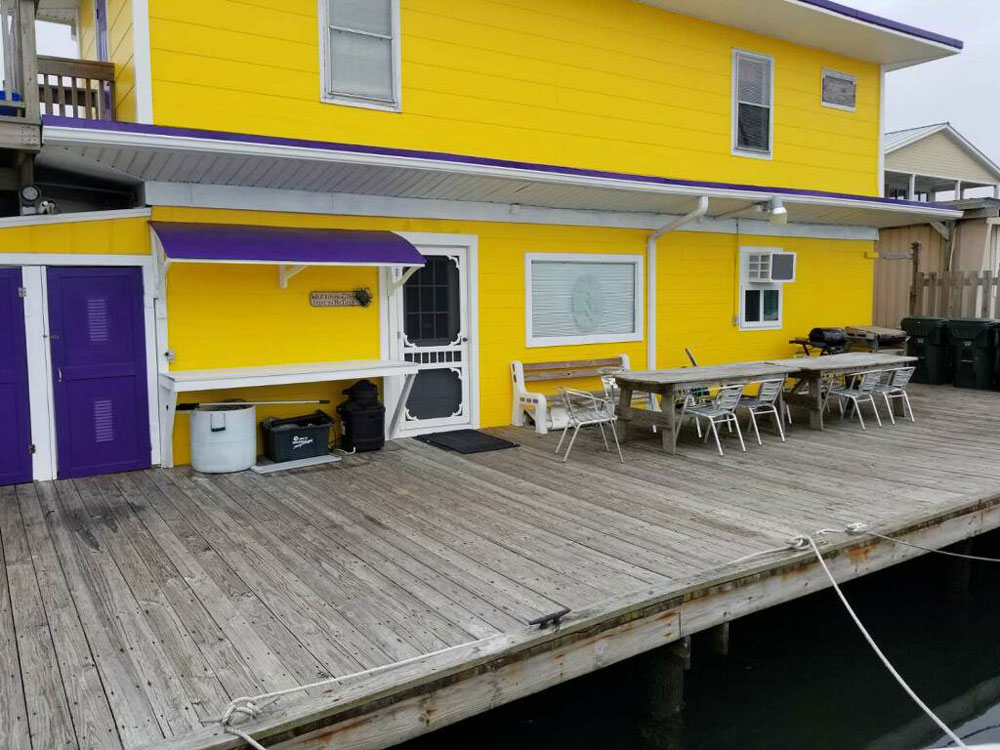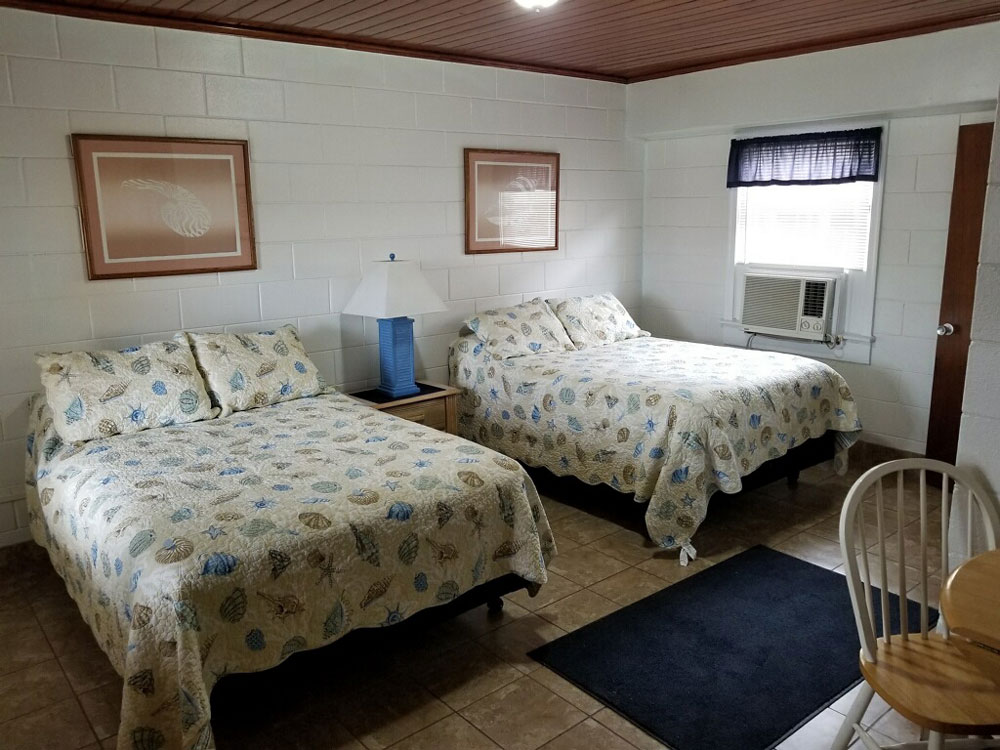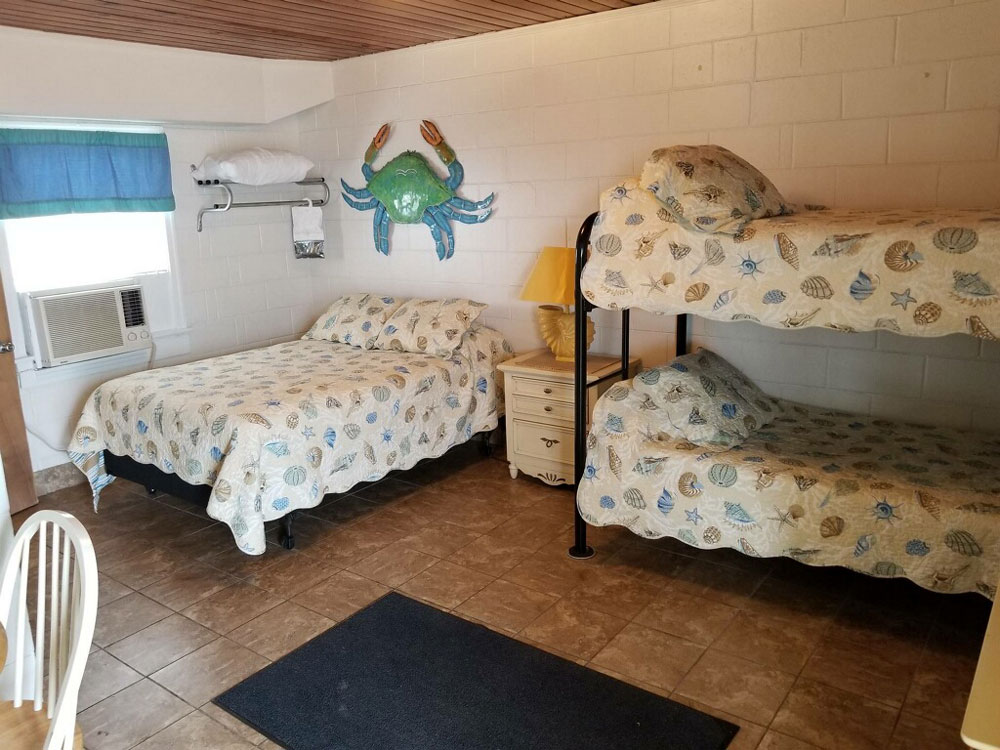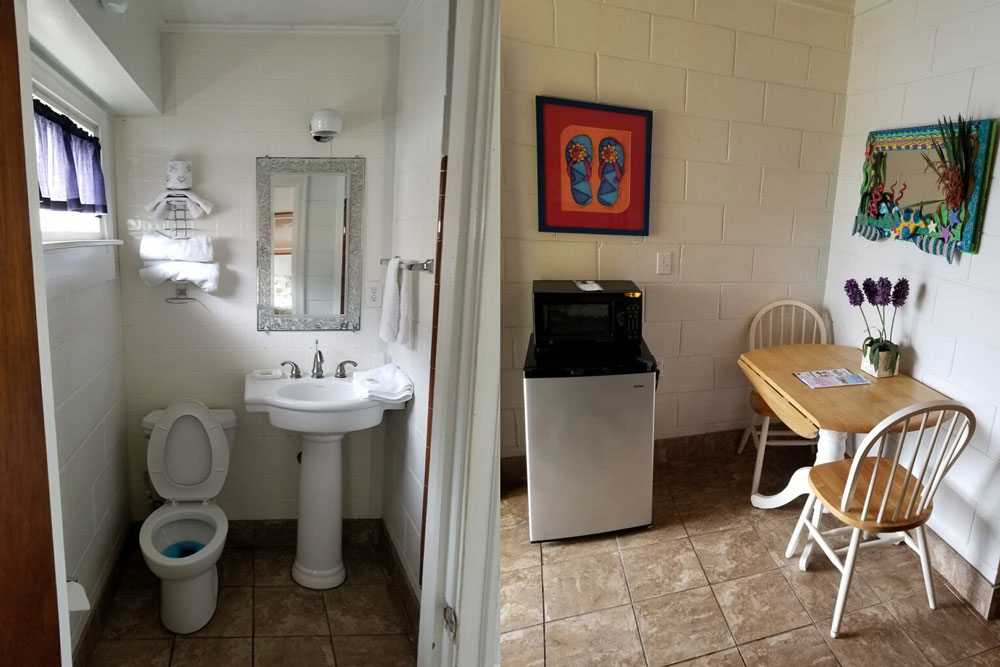 Travel & Transfer Details:
 
AIRPORT INFO 
You will fly into Raleigh Durham International RDU which is about 3+ hrs to the beach aka Atlantic Beach/Morehead City, NC.  You can fly into New Bern but its a very small regional airport so may have baggage restrictions. However you will be only an hour or so from the beach.
No airport transfers are included but we will help you find others driving or flying to carpool and rideshare with.
GETTING TO NORTH CAROLINA & THE BEACH
You can fly into RDU via all major carriers.
You will then rent a car and drive to Atlantic Beach where the hotel is & Morehead City where the boat is.
The drive is approx 3+ hrs from the RDU airport on Hwy 70. (We will provide complete driving directions & tips prior to the trip. ASK US FOR THESE DIRECTIONS AS YOU WILL GET LOST OTHERWISE. GPS IS NOT ALWAYS CORRECT...TRUST US!!)
Alternatively you can DRIVE TO NC from wherever you wish. Some members are coming from the North East so you may be able to join them. Track this HERE
We will help members see what others are doing or help with carpooling/ridesharing HERE
FLYING IN AND OUT OF RDU ... DISCUSS HERE:
I have been asked to help with suggestion regarding "Do Not Arrive Later times" and suggested "Do not depart sooner times" for our NC trip.
Arriving in RDU
Since its a 3 hr drive and you do not want to arrive too late because we have to get up at 5-5:30am the next morning to be at the dive shop UBER early... I would say do not arrive in RDU any later than 2 or 3pm at the latest. This will put you into Atlantic Beach if you do not get lost around 7-9pm based upon getting a rental car and getting out of the airport ON A HOLIDAY WEEKEND DRIVING IN HOLIDAY TRAFFIC as everyone goes to the beach for the holidays (ok it just feels that way).  If you want to join up with people in Atlantic Beach for dinner vs eating along the drive then I would shoot for arriving in RDU by 1-2 pm to get to Allantic beach by 6-7pm BEST CASE SCENARIO since its a holiday weekend.
Departing from RDU
As for return remember the following:
You need to drive 3 hrs back and drop off a rental car and deal with transferring back to the airport etc.
You need to allow enough time to finish off gassing from diving.
So I would depart Atlantic Beach around 11:00-11:30am get lunch in Goldsboro at Wilber's BBQ (AMAZING NC BBQ) and plan to arrive at the airport around 2:30-3pm for a 5pm or later flight out of RDU. Of course you can modify accordingly but this allows you 3+ hrs to get back to the airport, time to drop the car etc and still have time for lunch stop on the way plus 2 hrs prior to your flight home since it is coming off a holiday weekend.
Plus you get to sleep in a little and we get a really NICE country style breakfast... biscuits and gravy, eggs and sausage or bacon etc. at the Corner Diver 1 block away before everyone leaves to go home. Its a traditional way to say goodbye and end a great trip. After that you can easily have time to go and see Queen Anne's Revenge Museum or the local Fort before getting on the road to return to RDU. If driving you will want to get on the road right after breakfast which opens early.
Of course you can also take the extra time to pack up your things which you've been drying at the hotel to get ready to head home or fly out.
I hope this helps. PLEASE use
THIS
topic to discuss who is doing what!
VISA/PASSPORT INFORMATION
There are none for US Citizens.  For other global citizens, please review United States visa requirements posted on the Internet.
TRIP INSURANCE:
 
Trip Insurance is STRONGLY SUGGESTED and/ is NOT required on this trip! TRIP insurance is RELATIVELY inexpensive. Even if you have insurance that you think covers your trip…it is CHEAP (approx $100-$200) to get a supplemental policy to ensure you are covered for your investment in your dive trip. If you opt to not get trip insurance you are responsible for all losses related to your trip including not going for any reason. If diving a LIVEABOARD please consider the liveaboard rider offer by DiveAssure.com.
 
We recommend:
 
Dive Assure: for either a 'one time' policy OR an annual policy for BOTH Dive & Trip OR just Trip Insurance providing PRIMARY COVERAGE with excellent rates and coverage! Please use THIS LINK and/or reference SingleDivers.com via the drop-down menu under GLOBAL PARTNERS. (If you can not find the drop down, do not reference anyone and email info@singledivers.com your policy info and we will do it for you via our Dive Assure company representative. OR SIMPLY USE THIS LINK AND YOU WILL BE AUTOMATICALLY TIED TO US. )
Diving & Itinerary:
THE BOAT:
THE MV MIDNIGHT EXPRESS
18 Passengers

48-ft. aluminum hull

Cruising speed: 19 knots

Twin Turbo diesel engines

Emergency Oxygen

Dive platforms with fins-on ladders

Hot/cold freshwater shower/marine head

Spacious cabin with A/C and heat

Microwave, TV/DVD, fridge

Drinking fountain, toaster oven, Sundeck

Gear storage lockers
DIVING
The boat is docked in Morehead City about 10-15 mins from where we are staying in Atlantic Beach.
We will need to be at the boat at 6am for check in, docs, getting our tanks, analyzing them. loading gear on the boat, loading breakfast and lunch on the boat that we are supplying for you. NO NEED TO BRING ANYTHING SPECIAL UNLESS YOU HAVE DIETARY RESTRICTIONS.
The boat holds a maximum of 18 divers for comfort and better dives. There is a lot of room to walk around and plenty of shade as well as an area to get out of the elements. This also helps make surface time more comfortable for two tank dive trips.
All the boats feature a wide swim platform, which makes it easy to leave and return to the boat.
Divers will giant stride off the side of the boat where a tag line will be available for you to use to guide you to the anchor line. WE STRONGLY SUGGEST YOU NOT ONLY USE IT BUT YOU GRAB IT IN CASE OF SURFACE CURRENT AND PULL YOURSELF TO THE ANCHOR AND THEN USE THE ANCHOR LINE TO GO DOWN TO THE WRECK AS WELL AS ASCEND WHEN TIME TO COME UP. You'll thank me for this...I promise!
Gloves ARE permitted and STRONGLY SUGGESTED so you can hold onto the tag lines and anchor line ALL THE WAY DOWN AND ALL THE WAY UP.
If you get blown off the tag line or the anchor line you will at best waste most of your air/gas and therefore limit your bottom time. At worst you could be swept a way from the boat. If the latter happens and you can not safely or easily swim back ...signal the boat, deploy your safety sausage (6ft of longer is suggested) fill your bc up and relax. I SUGGEST A BANDANA OR CAP IN YOUR POCKET that you can pull out and put on your head to protect you from the sun as we have no chase boat to come and get you and we can't retrieve you until all divers have finished their dive and are safely up on the line. NO DIVE CAN BE ABORTED if you get swept away. BUT WE WILL FIND YOU. The capt will know which way the current is taking you and knows you have been swept away so will come and retrieve you as soon as possible.
Each of our local dive masters have been with us for many years and are well qualified to assist you in the unique diving venue. They ensure a safe experience while keeping things fun.HOWEVER they are not there to babysit you. This is why we keep saying NC DIVING is not for everyone. We are 2-3 hrs offshore. We can have 1-3 ft seas or more. It can be bouncy in the inlet where its shallow but smooth out in open sea. You can EASILY get sea sick even if you've never been before. The dive guides will hook the anchor to the wreck so we can safely descend and ascend. THIS IS WHY YOU MUST GO ALL THE WAY DOWN THE ANCHOR SO YOU KNOW WHICH ONE IS OURS AND WHERE IT IS LOCATED ON THE WRECK.
There will be MANY boats out this holiday weekend. So its imperative you  try to know our anchor line BUT ANY ANCHOR LINE IS A GOOD ONE WHEN YOU NEED TO COME UP. DO NOT PASS UP ANOTHER BOAT'S ANCHOR AND RISK FURTHER ISSUES IF YOU ARE LOW ON AIR, LOW ON BOTTOM TIME OR HOPELESSLY LOST. We will transfer you at the surface
You should have an underwater slate to communicate with others.
You need to take sea sickness meds EVEN IF YOU NEVER GET SEA SICK. You'll thank me for this and you'll love how quickly I shut up once everyone has taken them!
 You need to read THIS POST HERE to see if you are safely, comfortably and enjoyably able to do these dives. THIS IS NOT THE CARIBBEAN NOR IS IT FLORIDA. Its the hardest diving you'll ever love IN WARM WATER!!! 
PROPOSED ITINERARY:
While our personal NC WRECK & SHARKDIVING Experience may vary due to weather and conditions, the outline below will give you a good feel for the exciting trip in store for us:
July 2, 2020: This will be the official ARRIVAL date into Atlantic Beach. Do not plan late flights into RDU. The later you arrive into RDU the longer it will take to get a rental car and get on the road. Its a holiday weekend so plan accordingly. IF YOU ARE DRIVING...please do not plan to arrive later than 9-10pm. We have to get up at 5am or earlier the next morning so people gotta get sleep.  IF YOU WANT HELP WITH TRANSPORT SEE HERE FOR WHO'S DOING WHAT.
July 3-6, 2020:
Each day will begin at 5am or earlier if you need more time to get up, get organized, grab a bite to eat on the dock (we will also have some continental breakfast items on the boat as well) and load into cars to drive to the boat approx 10-15 mins away, park and then be at the shop at 6am.
We will use most of the day returning around 2-3pm from our 2 tank dives.
Lunch and beverages will be served on the boat daily for you so you don't have to try and find food at 5am. Breakfast will be supplied to you as well for the same reason. We are staying in a  motel not a hotel so no included breakfast other than coffee on the dock.
Each afternoon (or as soon as we return from our morning dives) you are free to relax and go check out the local area. We will have an early happy hour after the diving is done, head to dinner EARLY and then hit the sack early to rinse and repeat for the next day.
Dinner for all nights except the group dinner will either be at a group restaurant or on your own. We will do the group dinner as early as possible so we can then decide if we want to use the left over sides etc and hit a local grocery store and do another cook out. Or we can do one night ordering in Pizza to avoid the crowds. THIS IS THE BEACH...ITS THE 4th OF JULY...AND IT WILL BE CROWDED!
Each afternoon/evening SD Happy Hour takes place - don't forget to bring a bottle of your favorite booze(s) from home if driving or the local ABC store if flying.   NOTE: Drinks are high  locally so we will have our own Happy Hours with mixers either from the local grocery store.
ONE Dinners will be included in the pkg. probably the 4th so we can kick back, relax and watch the fire works from our motel.
There is NO night diving in NC.
Please read about the wrecks you can dive on in the 2nd post of this topic. NOTE: We can't guarantee any wreck on any day. The sooner we leave the dock in the morning the sooner we get offshore and we can choose our wreck of the day FIRST.  We have to consider the conditions when choosing wrecks and who is on them before us...BUT...we fully expect in the 4 days of diving to be able to do the U352 the German Uboat and of course at least 1-2 shark dives.
We have booked the ENTIRE BOAT so it will only be our people on it. THIS MEANS WE MUST FILL IT. So please tell your friends THIS IS THE TRIP. Due to the unique and sometimes challenging diving conditions the boat is ONLY AS GOOD AS THE WEAKEST DIVER. You have seen that we take a lot of time and effort to ensure we have no weak divers on the boat.  This makes our trip INCREDIBLY MORE SATISFYING FOR EVERYONE...assuming we fill the boat. PLEASE HELP US DO THAT!
July 6th, 2020: Last day of diving and time to dry our gear and have one final dinner together reliving all our amazing experiences. Maybe even plan another SD trip or a return to NC!!
July 7th, 2020:  This is our final day. We hope everyone booked their return flights for 2-3pm IF LEAVING REALLY EARLY AM or 5 PM or later in the day to allow for a chance to finish drying anything still damp, to get a full relaxing breakfast, and still have plenty of time to get on the road and make the 3-4 hr trip back to RDU for your flights. Plan to leave at 11am allow 3 hrs for driving 1 hr for rental car return and getting to the airport plus your buffer, 2 hrs for your flight to get checked in and thru TSA since its a holiday and that means don't book your flights before 5pm.
DIVING INSURANCE:
DIVE Insurance is required on all trips! DIVE insurance is VERY inexpensive. Even if you have insurance that you think covers DIVING ACCIDENTS and air lifts…it is CHEAP (approx $100-$125) to get a supplemental policy to ensure you are covered for an entire year of diving. 
PRO TIP; The two primary suppliers of dive insurance DiveAssure.com and DAN are inexpensive enough to carry both. This way you will have the best coverage internationally, the best coverage domestically, primary insurance, secondary insurance and if a claim is denied on one policy you can submit it on the other. No matter what happens...YOU ARE COVERED!!! ... PRICELESS!!!
 
We recommend:

Diver's Alert Network: Please use our reference number when ordering: ID1603080   (This only works if you are a new first time DAN member.)
Ship Wreck Diving:
The Graveyard of the Atlantic gets its name from the estimated 2000 shipwrecks scattered along the North Carolina coastline. Consistently voted #1 Wreck Diving in North America by Scuba Diving magazine's Readers' Poll, many of these historic vessels are accessible to divers.
Some of the most impressive wrecks are the World War II casualties - vessels fallen prey to Hitler's U-boat fleet as they traversed the offshore waters. Tankers, cargo ships, British fishing trawlers and even German submarines, form impressive underwater monuments to this tumultuous segment of our maritime heritage. Among others, a World War I gunboat, a late 18th-century schooner, and an early 20th-century luxury liner exist in North Carolina's unparalleled collection of dive-able history.
Additionally, thanks to the continued efforts of the NC Division of Marine Fisheries Artificial Reef Program, local fishing organizations and the Carteret County Artificial Reef Association, North Carolina is home to a plethora of vessels sunk purposefully as artificial reefs. Like their historical counterparts, these sites host a vast array of marine life making for thoroughly enjoyable diving experiences.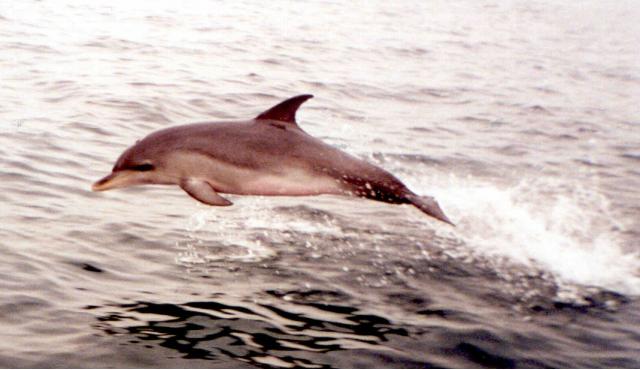 Hey gang! ONLY 18 TOTAL can do this trip!!! Diving on History in North Carolina is a once in a lifetime dive you have to do at LEAST once!!! But I'll warn you...when you find out that there is WARM Caribbean water (79 to 82degrees F) with HUGE animal encounters and the most incredible wrecks that you can dive on or in...you may just get 'hooked' like some of us near and dear to you...ahem...me!



What You'll See:



REAL WWI and WWII shipwrecks. Sunk as early as 1918
The U-352...the second U-Boat sunk by the US in WWII and the ONLY U-Boat in warm, clear diveable waters! Numerous U-Boat victims (not bodies) who fought valiantly for our freedoms! Large animals such as Huge Southern Stingrays, Barracudas, Grouper, Amberjack, and yes SHARKS...SHARKS...SHARKS!!!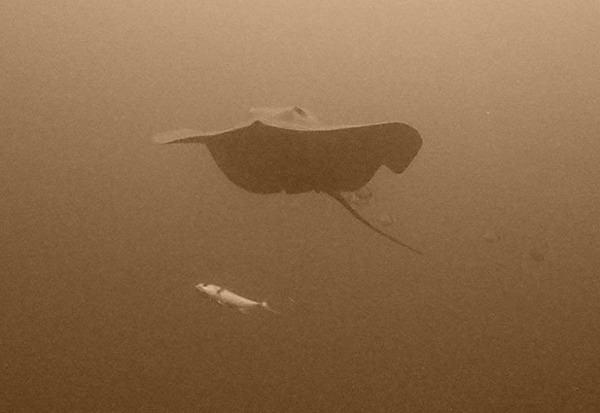 Experience Required & Training/Workshops:
 
EXPERIENCE REQUIRED MUST READ THIS POST HERE :
BIG BOY AND GIRL DIVING...this venue is NOT a party venue. It is also NOT THE CARIBBEAN NOR FLORIDA.  It is a serous venue bit is one of the world class wreck and shark diving adventures you can have. YOU WILL BE A BETTER DIVER AFTER DIVING IT!!! So I ask the following of peeps:
a. If you wish to party a bit ....arrive in Atlantic Beach EARLY and start EARLY so you can hit the rack EARLY as we have to get up REALLY EARLY aka 5am to depart for the dive shop by 5:45 to arrive by 6am to get paperwork filled out, any rental gear, tanks analyized, gear on the boat etc.
b. After you have made it thru the first day and if you have enough energy then plan to celebrate more then. Do not be surprised if you are ready to crash around 9pm or shortly thereafter.
c. Heavy drinking/partying and serious diving DO NOT MIX. This is a serious but fun diving venue...and this is still in my top 3 venues in the WORLD along with Indonesia, Galapagos and right up there with Dominica & Maldives. But to enjoy it you MUST BE WELL RESTED so you won't get sea sick. You MUST BE WELL HYDRATED and hopefully WELL MEDICATED WITH SEA SICKNESS PILLS JUST IN CASE!!! Rarely will you be ill underway but once we stop for a couple of hours to do a wreck you often will get queasy...so the meds, + light food + lots of hydration + LOTS OF REST will keep you feeling wonderful or at least human.



There is a DIRECT CORRELATION BETWEEN THOSE WHO LOVE NC WRECKDIVING AND THOSE WHO HATE IT AND IT CORRELATES PERFECTLY TO THOSE WHO WERE SEASICK AND THOSE WHO WERE NOT. Those who were sick hated diving here or at best could take it or leave it. Those who felt good loved the diving or at least had a great trip and would mark it off the bucket list.
Update on add'l requirements from the operator: Please note the addition of the requirement that diver's must be physically able to put their own rental or private tanks on the boat and remove them for fills at the end of the day.
OTHER REQUIREMENTS FROM THE BOAT:
·         A minimum of 40-50 logged dives. Advanced Open Water Certification OR equivalent required.
·         At least 2 dives in the ocean to 70 feet or greater.
Edited by WreckWench, 15 March 2020 - 10:06 PM.