There is a new series on tv called What Would You Do? And the premise is what would you do if faced with a difficult problem NOT knowing that you were being filmed by a hidden camera. Would you try to help? Would you walk away? Would you ignore it for fear of retaliation?

So here is our SECOND in a series called WHAT WOULD YOU DO? Diving Edition
Scene:
GRACIOUSLY CONTRIBUTED BY PETER AKA PETERBJ7
...
Recently I've had divers with two different operators here in Belize mention that they didn't like to see their DMs handling seemingly tame sting rays and nurse sharks. Even though the contacts were usually initiated by the creatures themselves, they (the divers) still thought it was an undesirable practice. What do you think? And what would you do?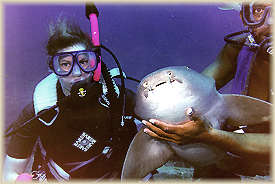 Options:
What do you think about handling fish in general? Would you say something to a DM or guide if you saw them do it? Would you say something to another diver if you saw them do it? If you do say something...what do you say and how to do you handle the situation?
How does it work:
There are no right and wrong answers. There are however MANY answers for many reasons. The point is to see what you would PERSONALLY do and why. And then hopefully to see how others would respond and perhaps collectively learn how to help our fellow divers be safer to themselves, and safer to our underwater world we so love and safer to those around them.
Rules for Posting a Reply:
This type of topic will involve a variety of differing opinions and as previously stated NO ANSWER is Right or Wrong. However we will mandate per our site rules that ALL RESPONSES BE RESPECTFUL AND POLITE AND KIND. The idea is to LEARN from this experience and discussion(s) and not 'showcase a reply so we look good', 'try to be hurtful' or even play 'armchair quarterback after the fact'.
Please keep in mind your initial response as to WHAT WE WOULD DO may change after ongoing discussion. This is most likely good. However to affect that change a variety of opinions will need to be presented which means a variety of options for solutions. Please consider all choices/options as VALID and do not dismiss them simply because they are not what you would have done. The truth is...no one knows what they would really do UNLESS THEY WERE ACTUALLY THE ONE IN THE SITUATION. And since we do not have a real hidden camera to film you we will rely on your honesty in your replies.
So may the discussion begin.

1. What would you do in this situation?
2. Why would you choose this course of action?