2012 Atocha Dive Adventure Week Dates ARE HERE & OPEN FOR BOOKING!!! SCROLL DOWN THIS POST FOR THE DATES AVAILABLE AND LINKS TO FULL DETAILS.
If you need help to register on our site for Atocha Trips so you can post in this topic/thread, then email atocha@singledivers.com or call us at 864-557-6079 and we'll help you with any questions!
An Atocha Silver Bar with Markings...come find your OWN! See Below For How To Do It!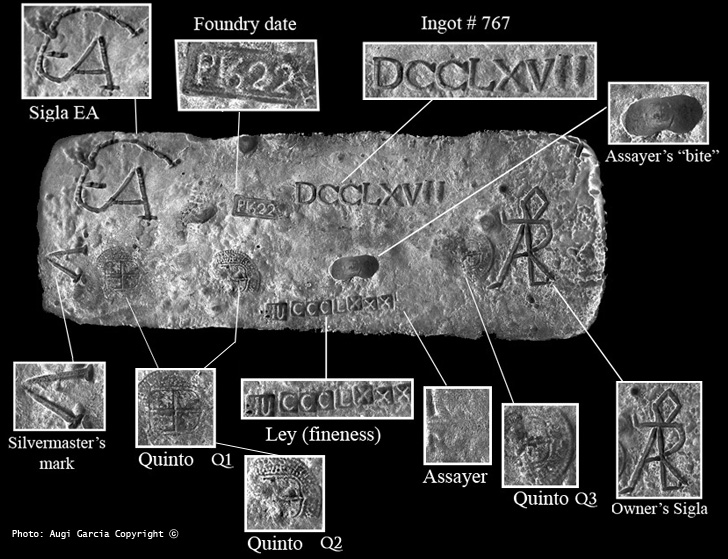 Hey gang...We now have the 2012 Dates for Diving on the Nuestra Atocha, a 16th Century Spanish Galleon fully laden with silver, gold and private wealth when she was sunk on the way back to Spain.

In 2012, divers will have a total of 6 opportunities to dive on the trail of this amazing wreck recovering treasure strewn and scattered along the way. A total of 36 divers will be able to share this unique experience with the handful of people lucky enough to date to have dived this wreck and the trail she made.

The only way to dive on different dates, or more frequently, is to become an investor. The Fisher Family will help you do that in lieu of doing this week as well as give you a $1500 credit towards becoming an investor if after doing the Adventure Week you decide to become an investor within 30 days of your Atocha Adventure Week. The minimum investor position is $12,000.

The price remains $2500 for the week for a diver and $500 for one non-diver, and you can ONLY book these adventures via SingleDivers.com! (These are the same prices as 2009!)

SingleDivers.com will be personally hosting 2 of the trips and EVERYONE is welcome on them regardless of marital status...at SingleDivers.com ´single´ is your diving status...not your marital status....our hookups are to TANKS!!! SD will host both of the July trips this year.

See below for the dates and the early booking window for our premier members (on the two July dates only) as these trips have a backlog of non-members who have been waiting for these trips to open up.

If you want to be sure of a spot in 2012 you MUST sign up early as they WILL sell out. At least one group will take one of the August dates leaving only a few spots left for over 200 names on the waiting list!

To reserve your spot you will need to make a $500 deposit for a diver or $300 for a non-diver!

Come and join us for a once in a lifetime experience! Kamala


Here are the 2012 DATES:

Jun 04-10, 2012. Click here for full details or to book! THIS TRIP HAS SAILED!!!

Jun 18-24, 2012. Click here
for full details or to book! THIS TRIP HAS SAILED!!!

Jul 16-22, 2012.

Designated SD.com Trip with group leader.

Click here
for full details or to book! -
THIS TRIP HAS SAILED!!!
Jul 23-29, 2012
Designated SD.com Trip with group leader.

Click here for full details or to book. THIS TRIP HAS SAILED!!!


Aug 6-12, 2012 Click here f
or full details or to book!
SOLD OUT!!!


Aug 20-26, 2012 Click here for full details or to book! - 6 SPOTS AVAILABLE!!!

NOTE: If you have any questions or need help getting booked on the trip YOU want to go on...email us at atocha@singledivers.com or kamala@singledivers.com or call 864-557-6079 and we'll be glad to help you!

Click here for an ATOCHA FAQ on Frequently asked questions about the wreck, the dive, or the Adventure Week.

Click here for access to the PRIVATE Atocha Forums which need password access to once you have signed up for a trip.(You will get the password and help when you sign up to monitor the final details found only in this private forum for the participants only!)

THOSE INTERESTED IN BEING NOTIFIED OF 2013 DATES AND WHEN THOSE TRIPS ARE OPEN FOR BOOKING:

1.
2.


[size="3"][b]Check out the NEWEST Treasure found HERE!!