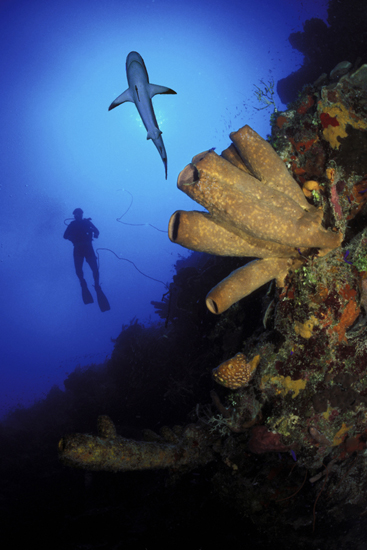 One Main Level spot opened up!!!

...ALL PRICES INCLUDE AN EXCLUSIVE $100 SD DISCOUNT + Book and pay in full before Mar 3, 2012 you'll get an additional $200 off the VIP if s/o or $100 off the "Sleep Together Discount" if 2 people in each of these 2 rooms (since there is only one bed) or $50 off Main Stateroom or $50 off the Lower Stateroom.
Check out SD's New Online Booking Engine FIRST & get $200k in FREE Travel Accident Insurance on every airline ticket you purchase + Much Much More! Simply click THIS link, register as a free preferred member and get LOTS of FREE perks on every ticket you buy & Save Money!
NOTE:

In 2012 all trip participants will need to be premier members of our site so that we can effectively communicate with you and help to manage your trip/vacation more easily. Its only $35 a year and you'll get $25 back after EVERY trip you take with us if you file for it. To become a premier member click on the MEMBERSHIP tab along the top of the forums and follow the prompts.
NEED HELP BOOKING THIS TRIP? SIGNING UP AS A PREMIER MEMBER? HAVE QUESTIONS? Please post your specific trip questions in the thread or for general help on signing up email trips@singledivers.com and our awesome volunteers will help you!
Special questions can be addressed to kamala@singledivers.com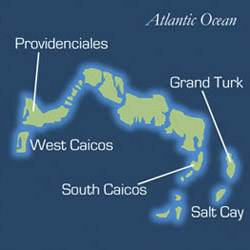 Turks & Caicos...Jewel of the Caribbean!! Sept 1-8, 2012... Another exciting and very fun liveboard experience awaits you! We have booked the Explorer Ventures Liveaboard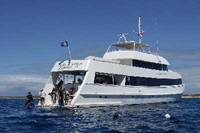 for an all inclusive INCLUDING alcohol and sodas Scheduling 5 dives daily, including night dives, the vessel boards in Providenciales each Saturday and offers 5½ days of diving each week. You'll explore the 5 different black coral species at Black Coral Forest, the reef sharks of Provos Shark Hotel, the deep-water gorgonians of G-Spot, and the spotted eagle rays of Double D, along with a multitude of other dive sites along the region's plunging walls.
For $1795* d/o or $3027 s/o Lower Stateroom;

$1995* d/o or $3357 s/o

Main Stateroom or for $2195* d/o or $3687 s/o VIP Stateroom - plus airfare - you'll have a unique dive vacation unlike any other AND you'll be diving on very pristine sites reachable only by a liveaboard! And if you book and pay in full before Mar 3, 2012 you'll get an additional $200 off the VIP if s/o or $100 off the "Sleep Together Discount" if 2 people in each of these 2 rooms (since there is only one bed) or $50 off Main Stateroom or $50 off the Lower Stateroom.

discount period expired
THE BOAT:
The Salon: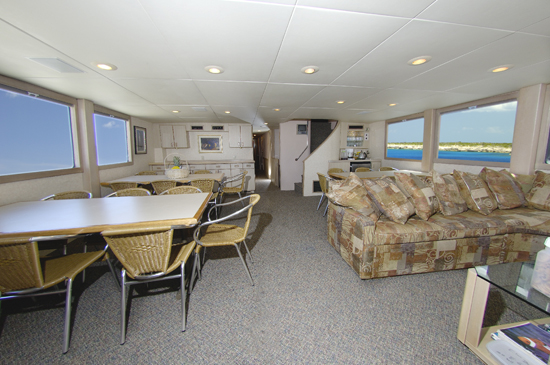 The Dive Deck: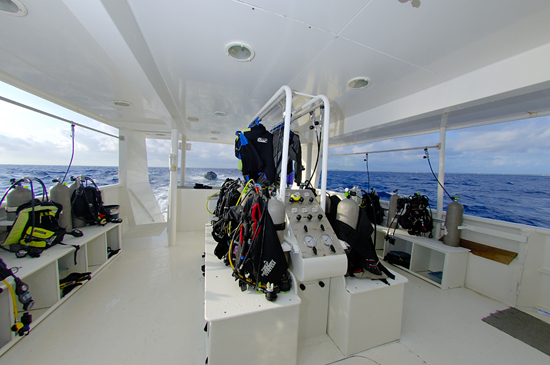 and the Sun Deck: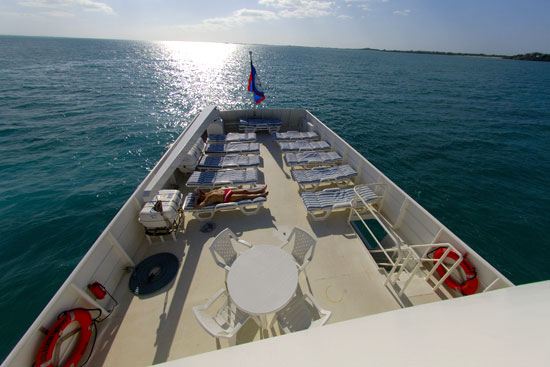 *$2195 pp d/o or $3687 s/o

-- VIP Stateroom
King bed, desk and chair, dresser, hanging closet, wardrobe, large window, TV, private ensuite bathroom (King Sized Bed only so only for a couple or s/o). Staterooms 1 & 2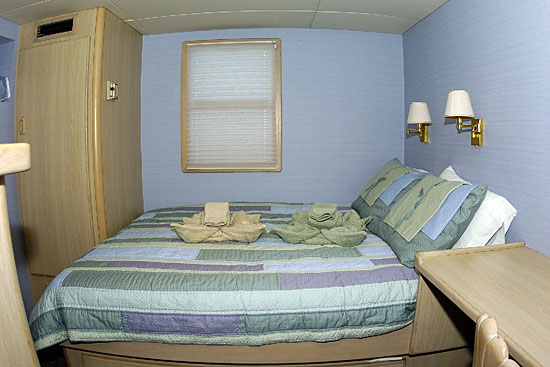 *$1995 pp d/o or $3357 s/o

--
Main Deck Stateroom
Twin or queen beds, desk and chair, dresser, hanging closet, large window(s), private ensuite bathroom. Staterooms 3-7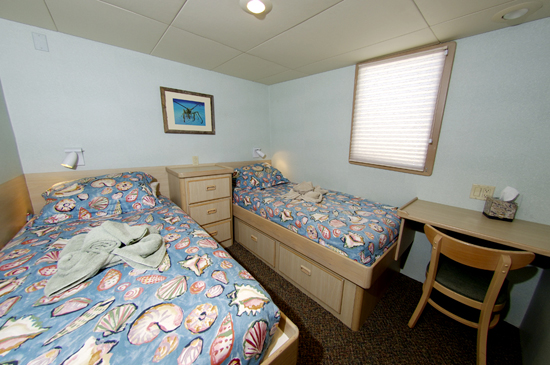 *$1795 pp d/o or $3027 s/o

--

Lower Deck Stateroom




Twin beds, dresser, hanging closet, port lights, private ensuite bathroom - Staterooms 8-10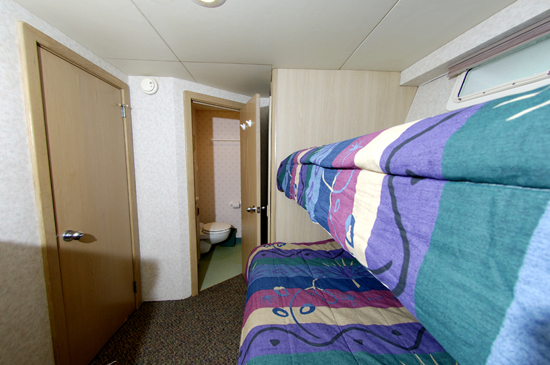 PRICE SUMMARY:
VIP Stateroom (has only 1 bed): $2195 pp d/o, or $3687 s/o.
0 SPOTS AVAILABLE!
Main Stateroom (has 2 beds): $2095 $1995 pp d/o, or $3,457 $3357 s/o.
0 SPOTS AVAILABLE!

Lower Stateroom (has 2 beds): [/color]
$1895 $1795 pp d/o
, or $3,127 $3027 s/o.
0 SPOTS AVAILABLE

Plus: Nitrox $150 + $125 per person fuel surcharge* (payable on board) + $85 per person port/departure fees* (payable on board) + approx $30 in taxi transfers (paid directly to taxi drivers)
*Subject to change
until 30 days prior to departure
Who's Going:

(SEE POST #3 FOR FULL LIST OF WHO IS GOING)
PACKAGE INCLUDES:
• 7 nights/5 diving days d/o room up to 5 dives per day
• SD Famous "Meet & Greet Get To Know Everyone" Parties
• Air fills, tanks, lead and weight belt
• ALL onboard meals and snacks, refreshments, water, juice, tea, coffee + All alcoholic and non-alcoholic beverages
• SD T-Shirt commemorating the trip!
• Daily SD.com H20 Happy Hours
• Diving Gifts and Giveaways from various SD Vendor Partners as available
PACKAGE DOES NOT INCLUDE:
• Airfare to Turks and Caicos (PLS is the airport code) - Arrive anytime 9/1 (or earlier), boat departs early 9/2.
• Friday night Dinner (In town with the group or on your own)
• Approx $30 round trip taxi fares, payable to taxi at time of service
• $85** Port Charge (Payable on boat)
• $125** Fuel surcharge (Payable on boat)
•
Diving gratuities (usually 15% of base pkg) for dive masters, boat captains and boat crew
• 3% non-cash fee on all payments per transaction that are made via credit card and/or PayPal

•
Departure tax of approx $35, payable in cash, upon leaving, unless it was included in your ticket price
• Optional Sightseeing in Turks & Caicos or even add'l boat or Shore Diving locally (see tripadvisor.com for what to do and we'll use the thread to help plan groups of people sightseeing or doing extra diving.)
• Nitrox upgrade (
$150
for the week payable by 90
days out (Payable to SD.com)
• Trip Insurance is OPTIONAL BUT STRONGLY ENCOURAGED If you miss the boat you've missed the trip! (see the end of this post for 2 great insurance links)

• Dive Insurance is MANDATORY. We recommend both Diver's Alert Network for Dive Insurance Only pls use

reference ID # DAN 1603080 or Dive Assure (choose SingleDivers.com via the drop down menu for Business & Global Partners)

where you get your Dive Insurance and Trip Insurance in one policy.
• SD's Rent-A-Buddy: Have your own private DM as your dive buddy and coach. Want to polish your skills? Reinforce what you just learned in your certification dives? Improve your air consumption? Then hire a dive coach/private guide for your trip! $50 per day or $150 for 5 days diving.
• Departure taxes (approximately US$35 and should be in your airline ticket fee)

** (Due to the volatile nature of fuel prices & port fees, this amount may increase or decrease upon 30 days' notice, and the actual surcharge/fee applicable to a certain trip may be different.)

OPTIONAL:
Single Supplement: Due to the unique nature of this trip, the Single Room Upgrade for the VIP Stateroom for $3,687. Or, see our 'Sleep Together Discount' and get the VIP Stateroom for $2195 per person (min of 2 people). The Main Stateroom s/o is $3,357, and the Lower Stateroom is $3,027
• Nitrox

$150

for the week



DISCOUNTS:
• First DIBS BOOKING for PREMIER MEMBERS until MAR 3RD!


• Price discounts if paid in full by Mar 3rd:

$200 VIP s/o or $100 VIP d/o (NEED 2 PEOPLE TO SLEEP TOGETHER), $50 Main Deck Stateroom or $50 Lower Deck Stateroom


• $25 Mail-In Rebate for SD premier or charter membership redeemable

after

the trip within 30 days (Click here for the form & details!
• Additional $50 Active Duty Military Discount for any active duty military of any country that fights for freedom.
• Deposit is a $500 per person non-refundable deposit. (Deposit can be refunded via claims on your trip insurance if you have to cancel or by selling your spot to a non-SD.com member. Ask SD for help.)
• Price includes cash discount. Please add 3% if paying via credit card or PayPal. Echecks via SD's Payment Link in my signature incur NO additional charge.


PAYMENT TERMS & SCHEDULE:

PROGRESS PAYMENTS:
a. $500 due at booking to lock in a spot (payment must be rec'd within 7 days to be valid or your spot will be released)
b. Mar 3, 2012: Last Day for $200 VIP s/o or $100 VIP d/o (NEED 2 PEOPLE), $50 early payment in full discount for Main or Lower Staterooms
c. April 1, 2012: $500
d. May 1, 2012: $500
e. June 1, 2012: $795 VIP or $595 Main or $395 Lower + Nitrox + any extras.

Note: Trip must be paid in full 90 days prior to departure. Extras must also be paid in full 60 days prior i.e., Nitrox, extra nights etc.

PAYMENT OPTIONS:
SingleDivers.com uses a secure payment gateway that allows you to pay for trips or merchandise using either an e-check which debits your checking account directly without having to mail in a check or debits your credit card without having to fill out a SD.com credit card authorization form. (Please note that many non-US bank originating credit card must still use the paper credit card authorization form as different processing procedures must be followed to process international/non-US credit cards. YOU CAN TRY YOUR CARD BY ENTERING AA AS YOUR STATE AND THE CHARGE MAY GO THRU OK. If you need to use the form you'll find this form in the Forms Forum link in my signature. - PLEASE email trips@singledivers.com for the password to the forms forum.)

SingleDivers.com provides its members with pricing that reflects all possible cash discounts so any payments via credit card or PayPal will still incur a 3% non-cash convenience fee. Our SECURE payment gateway which you can access using the Link in my Signature Line OR using the Link found on Every Page of Forums. It is not a shopping cart BUT it will total your trip choices AND add the 3% non-cash convenience fee if you are paying via credit card.

ONLY PAYMENTS RECEIVED VIA OUR SECURE ONLINE PAYMENT GATEWAY WILL BE ACCEPTED AND WILL QUALIFY FOR THE EARLY PAYMENT DISCOUNTS

If you are unable to use the gateway please provide a complete description of the problem/error you are encountering and contact kamala@singledivers.com immediately to manually process your payment for you.

Please add a 3% non-cash convenience fee if paying via PayPal (either via credit card or check payment) or any credit card or any non-cash option. Checks, money orders and real cash are discounted already and do not incur a 3% non-cash convenience fee.

International/ Non-US Clients: Please use the traditional written credit authorization form to submit credit card payments. Click here for the form and ask trips@singledivers.com for the password.



SAMPLE ITINERARY




Days aboard Turks & Caicos Explorer II generally involve breakfast from 7 am to 8 am (cold breakfast is available for late risers), followed by two morning dives, lunch at 12:30 pm, two afternoon dives, dinner at 6:30 pm, and a night dive. Island shore excursions will be arranged when possible for those interested. Please note also that this itinerary is an example only, and will change depending on weather and logistics at the Captain's discretion.


While each T&C cruise may vary due to weather and sea conditions, the outline below will give you a good feel for the adventure you could experience!
Saturday: Arrival can be anytime. The boat will depart in the early hours on Sunday.
Your adventure begins as you arrive in Providenciales, Turks and Caicos Islands. The word Turks derived from the Islands' pirate history, when 17th and 18th century pirates used the islands as hideouts and preyed upon the passing Spanish treasure ships bound for Europe. The term "Turk" for a pirate stemmed two centuries earlier when the Ottoman Empire dominated the Mediterranean and Turkish corsairs harried European Atlantic shipping, thus translated "Turks" Islands becomes "Pirate" Islands!
Though transfers are not included in the package, you will usually be met at the airport by a local driver who will be aware of the boat's location. Due to tides, weather conditions and her size, the vessel's weekend location and schedule is tide-dependent, and she may be located either in Caicos Marina or anchored offshore. If you are not met at the airport and are unsure where to meet the boat, simply ask your cab driver to call the boat's cell phone number or VHF Channel 16 and ask for instructions. Cab rides can vary from $15 to $30 per person depending on the time of day and number of people. Since you may be picked up by dinghy at a beach, you will be more comfortable if you wear sandals or deck shoes and either shorts, or trousers or pants that can be rolled up.
If you are staying overnight on Providenciales prior to boarding: While the vessel normally docks at Caicos Marina, tides and/or weather may dictate an early departure. Please be sure that your application form has included your hotel information on Providenciales, and call the vessel prior to checking out of your hotel to determine where and when to board. Normally, the boat is available for boarding after 3 p.m.
If you experience travel difficulties and are delayed, please contact the vessel on Saturday and notify them.


3:00pm Guests may begin to board the Explorer II. The vessel will normally be located at Caicos Marina but may depart early due to tides or weather. If you are staying on island, please check in with the vessel on Saturday morning to determine when and where to meet the boat. If you are arriving on Saturday, you will usually be met at the airport.


Sunday - Friday Morning:
Exploration begins in the waters around the island. The diving here ranges from shallow water reef dives to deep blue water drop-offs. There are quite a few impressive swim throughs as well. The reefs along the wall are very healthy and have lots of colorful sponges, corals, and tunicates. Small shrimps and crabs are attached to many of these corals, which provide an excellent site for macro photographers. You will also find colorful tropical fish, schools of blue tangs, hawksbill turtles, large grouper, reef sharks, nurse sharks and many more.
Enjoy at least 4 - 5 dives per day, including a night dive. A typical day goes something like this:
6 - 8:00 a.m. Breakfast Buffet
8:00 a.m. Dive briefing on sundeck followed by open diving
10:00 a.m. Mid-morning snack
11:45 a.m. Back onboard
12:00 noon While lunch is Served, boat moves to afternoon dive site
1:00 p.m. Dive site briefing on sundeck followed by open diving
3:00 p.m. Mid-afternoon snack
5:45 p.m. Back onboard
6:00 p.m. Dinner is served
8:00 p.m. Dive deck opens again for night dive
10:00 p.m. Depart for tomorrow morning's new dive site. Friday night:


The boat makes the passage back to Provo Turks and Caicos Islands.


Saturday:
0700/0830 Continental breakfast
0900 Depart the Explorer II. Should you be leaving on an afternoon flight, you may leave your luggage aboard for pickup later. However, cabs are very expensive and it can be costly to return to the vessel.
Due to the necessity of readying the vessel for our next cruise, we must strictly enforce the 9 am departure.



Additional Tours or Diving in T&C:

I

f you want to book add'l tours after our trip let us know! We'll have a full list of them posted soon. AND you can take FULL ADVANTAGE Of YOUR TICKET TO PLS and dive in T&C for 2-7 days after the trip.





THE VESSEL:


The Explorer II recently emerged from a refit/renovation in February 2007. The flagship of our growing fleet, the incomparable custom vessel was purchased by Explorer Ventures in December, 2004. The vessel was designed from the ground up and built as a corporate charter and liveaboard dive vessel in 1995. The newly-refurbished luxury vessel carries up to 20 passengers and 8 crew. All staterooms throughout the vessel have port lights or windows, individually-controlled air-conditioning, and private ensuite bathrooms. A comfortable full-width salon, located forward of the spacious dive deck, provides seating for all guests at once, a wet bar, and an entertainment area with VCR/DVD and CD stereo. The boat deck, one level up, has ample room for sunning and relaxing; the flybridge includes a barbeque, wet bar, and comfortable seating for up to 15. The two VIP staterooms located on the upper boat deck, as well as the two forward staterooms on the main deck, are equipped with TV/VCR. The dive deck of course include nitrox, individual gear bins, rinse tanks, camera table, recharging facilities, and ramp-style stair access to the swim platform for easy access into the water. The Turks & Caicos Explorer II comfortably accommodates 20 passengers in 10 double staterooms, each of which have private bathroom facilities, individually-controlled air conditioning, hanging closet and wardrobe. The air-conditioned main salon on the main deck includes dining tables, TV/DVD, video library and lounge area. A large sundeck with lounge chairs and buffet area is located aft of the upstairs deckhouse, which contains two additional passenger staterooms, pilothouse, and Captain's cabin. A large, awning-covered flybridge with wet bar, barbecue and seating for 12 to 15 is accessed from the sun deck as well. The dive deck is equipped with a bathroom, individual gear lockers, camera table, recharging station, air and nitrox filling stations, tank racks, freshwater showers, and a separate fresh water rinse for both scuba and underwater camera equipment. There are two large stairways accessing the dive platform, where two in-water ladders hang for easy access to and from the water. The Turks & Caicos Explorer II is also equipped with a satellite telephone for outgoing calls worldwide.



To view videos of diving with this vessel, click on the following links:



http://www.youtube.c...eos=DEFP9BOuHvs

http://www.youtube.c...h?v=3Z-6Mv44sCY

http://www.youtube.c...player_embedded

COMMUNICATIONS & HOW TO BE REACHED WHILE TRAVELING:
Explorer II has a satellite phone for incoming and outgoing calls. Please be aware that a charge is assessed for both incoming and outgoing calls on the satphone.

You can be reached aboard the Explorer II from North America via Iridium phone at 011.88.163.185.9096 or cell 1-649-242-8267.

Vital messages may be passed to guests by calling the operations office at 1-800-322-3577.

When calling from Provo, it is easiest to call the cell phone at 242-8267.
[i]
Internet access is not available aboard
TEMPERATURES & CONDITIONS:
The weather in Turks & Caicos is remarkably consistent year-round. The air temperatures range from the 70s (F) or higher in the winter months to the low 90s during the summer, with nearly constant sea breezes. Water temperatures range from a low of about 72 degrees F in winter to a high of about 82 degrees F in summer. There is normally little appreciable current at the sites we visit, and visibility is generally between 75 and 150 feet. Most divers are comfortable with a 3 mm wetsuit in summer, and a 5 mm wetsuit with hooded vest in winter.
AIRFARE:
Providenciales is well served by jet service from Miami and New York and Charlotte on a number of airlines, including American Airlines, USAirways, JetBlue, and Air Jamaica, as well as from London by British Airways. Weekly charter flights from Canada and other US cities is also frequently available.

ARRIVAL:
If you experience travel difficulties and are delayed, please contact the vessel and notify them via 242-8267.
DEPARTURE:
The Explorer II arrives back in Providenciales at midday Friday. Transportation will be provided for a casual dinner on Friday evening; passengers spend Friday night and have Saturday breakfast on board; there will be sufficient time to catch a flight out at any time on Saturday. There is a departure tax approx $35, payable in cash, upon leaving, unless it was included in your ticket price.

MEALS
Aboard the Explorer II, evening meals usually consist of lots of fresh vegetables, rice, pasta, chicken, beef, turkey, pork, and fish. Breakfast is the usual fare of eggs, bacon, pancakes, French toast, muffins, danish and fresh fruits. Lunches vary from soup and sandwiches, burgers, pasta, assorted salads, and quiche. Homemade baked breads, cookies and brownies are offered between dives. If you have any dietary restrictions or requests, please indicate so on your application form. Please note that specific brands of drinks, dressings and foods are often unavailable in the islands, and that it can be very difficult for us to find low-fat or soy products, fresh fruit, fish, and other items common elsewhere. While we will do our best to accommodate your requests, please be realistic and consider bringing some of your own foods if the lack thereof may constitute a health risk.

CURRENCY
The U.S. dollar is the official currency; travelers checks and most major credit cards are accepted widely throughout the island.

WHAT TO BRING
Packing for a liveaboard trip is much easier than packing for a land-based vacation. The climate doesn't require much more than shorts, T-shirts, and swimsuits (you may consider slacks, dress shorts or sundresses for dinner ashore). In the winter months, a sweater, long pants and windbreaker for the evenings can be a good idea. Soft luggage is recommended as it takes up very little space when empty. Sun screens, sunglasses, a visor or hat is recommended. In case of rough weather or if you have a tendency towards seasickness, come prepared with motion sickness medications or Transderm patches from your doctor. If you have favorite CDs or DVDs, feel free to bring them.

All linens (including sheets, comforters, bath towels, hand towels, dive towels, and wash cloths) are provided on board.

If possible, pack your regulator, dive computer, mask, a swimsuit, change of clothes and toiletries in your carry-on bag. Having these few items with you will make an unexpected luggage delay far more bearable.

ON BOARD CHARGES:
Though all meals (except Friday's dinner), beverages, and much more has been taken care of with your trip payment, there are additional items which you may charge to your on board bill. These include retail items (shirts, scuba accessories, etc.), incoming and outgoing telephone calls, photographic and scuba instruction, rentals, crew gratuities, a temporary fuel surcharge, departure tax, and a hotel tax. The bill may be paid at the end of the trip using Visa, MasterCard, American Express, Discover or cash. Personal or traveler's checks are not accepted on board, and we are unable to provide cash for credit card charges more than invoice amounts.
HOW TO BOOK A SPOT ON THIS TRIP:
1. Post in this thread that you plan to join us and advise your check or credit card payment is on its way via our NEW SECURE ONLINE PAYMENT GATEWAY. (SEE PAYMENT LINK AT THE TOP OF EACH PAGE OF THE FORUMS OR ON THE HOMEPAGE OR USE THE LINK IN MY SIGNATURE.) You MUST tell us which OPTIONS you want. We'll then put your name on the 'checks in the mail' list. (Please send your payment asap as we can NOT hold any spots on this trip. Your spot will ONLY BE CONFIRMED when we receive your $500 non-refundable deposit. - To post on the site you need to register as a member of the site. Registration is free or if you want to upgrade, premier membership levels are available for as little as $35 a year and you can get $25 back after the trip as a member rebate if you file for it AND YOU WILL QUALIFY FOR THE EARLY BIRD BOOKING WINDOW & DISCOUNTS ON FUTURE TRIPS. PLEASE NOTE THAT TO FACILITATE THE BOOKING PROCESS & PRE-TRIP COORESPONDENCE ALL TRIP GOERS NEED TO BE PREMIER MEMBERS. Click here to learn more.
2. Fill out the Trip Rooming & Diving Survey plus the SingleDivers.com Medical Liability Release & Insurance Summary form which you'll find under "Stuff you need to know for ALL SingleDivers.com trips & activities!" or click here to link to it. (Send a PM or an email to trips@singledivers.com for the password.)
3. Send your deposit for the trip and/or monies due based upon the payment schedule posted below and payment options. If you need to make special arrangements about payments with me please contact me and I'll gladly try to work with you.
4. We need to know if you need rental gear, will be diving nitrox and if you want d/o or s/o for the trip. You MUST include as much of this information as possible with your initial reservation.
5.
All participants must have Current Dive Insurance.
THIS TRIP DOES NOT REQUIRE TRIP INSURANCE.
You will need to verify if you have trip insurance, or will be procuring trip insurance, or conversely not procuring trip insurance. - .and state one of the following:
a. I have trip insurance that covers this trip already.
b. I will purchase trip insurance to cover this trip.
c. I will not purchase trip insurance and will accept all losses accordingly. THIS TRIP DOES NOT REQUIRE TRIP INSURANCE, BUT IT IS STRONGLY RECOMMENDED.
6. You are responsible for all info in the thread. We try to keep our FAQ and Important Updates posts #2 & #3 updated to make it easier for you but you are responsible for monitoring the thread for all updates. As the trip gets closer we'll open a private forum for all trip goers to answer last minute questions & provide last minute details. For sure monitor the thread the last 30 days prior to your trip for last minute updates and information.
7. Only requests posted in this trip topic/thread are considered official especially for limited options such as use of a computer, or going on a tour, etc.
8. Please note that while you may send pm and email requests for availability, the "official" availability is only accurate in the main trip post. For more information on SingleDivers.com, booking policies, etc please read here.
9. Also note that for FASTER service please email trips@singledivers.com for all general questions and kamala@singledivers.com for custom questions or special requests.
10. PLEASE SEND ALL DOCUMENTS ONLY TO TRIPS@SINGLEDIVERS.COM as I do not regularly check trip documentation emails, rather leaving it to our awesome volunteers who help me with our trips.

11. Save $75 by getting your documents in house within 3 weeks of booking your trip. If you miss the 21 day timeline we'll simply add the $75 document fee to your invoice total. If signing up within 3 weeks or 21 days of the trip, documents must be submitted within 3 days to avoid the document fee.
PLEASE obtain TRIP insurance - IT IS OPTIONAL BUT STRONGLY RECOMMENDED FOR THIS TRIP ..
.it is VERY inexpensive and will protect your investment. REMEMBER IF YOU MISS THE BOAT….YOU MISS THE TRIP! You can purchase it right online as well as check quotes etc .

Click here for a free quote or to purchase online!
or

Click here for Dive Assure for either a 'one time' policy OR an annual policy that is BOTH Dive & Trip Insurance, providing PRIMARY

COVERAGE with excellent rates & coverage!
PLEASE obtain DIVE insurance - IT IS MANDATORY FOR THIS TRIP ..
.it is VERY inexpensive and will protect your investment. Even if you have insurance that you think covers DIVING ACCIDENTS and air lifts…it is CHEAP to get a supplemental policy to ensure you are cared for
.

Click here for Diver's Alert Network and use our reference ID 1603080.
or


DIVE ASSURE ... get BOTH TRIP & DIVE insurance in one convenient package



TRIP INSURANCE VS GAMBLING LOSSES:
Hey folks if you are gamblers and opt to NOT take out trip insurance that is your decision! However, please understand that neither Explorer Ventures nor SingleDivers.com can help you out with your gambling losses. SD.com accepts a huge amount of liability to fill ALL the trips we run OR EAT THE SPOTS.
I can assure you that I have paid plenty of gambling losses over the years. But I won't gamble with my life (I have both DAN and DIVE ASSURE for Dive Insurance) and I won't gamble with my trips...(I have the annual policy by DIVE ASSURE which covers ALL MY DIVE TRIPS!)
So the choice is yours....bet on no hurricanes, no accidents, no illness, no deaths in the family, no job loss, no immediate death/injury to yourself* ...and laugh in the end when your bet pays off. But when it does not...PLEASE

PLEASE
PLEASE do not expect Explorer Ventures or SingleDivers.com to refund your money because your bet did not pan out.


NOTE: One of the reason's we have you finalize your extras and pay for everything by 90 days out is so you have more flexibility getting trip insurance. Please take a moment TODAY to do this important task.

*If you think it can't happen to you please think again...sadly it happens A LOT!!

WOW!!! Check out these SAVINGS!!!!
1. Premier Member and Above get "EARLY DISCOUNT" booking until March 3, 2012 with 20 spots total... 4 VIP, 10 Main & 6 Lower.
2. There is a $200, $100, $50 EXTRA discount if paid in full by March 3 so you may wish to upgrade to premier member of which you'll get $25 back and be one of the first to get this extra deal!
3. AND we are offering a $100 off per person Sleep Together Discount on the VIP cabins if you pay in full before March 3rd you'll get $200 off the 1st diver if s/o and $100 off 2 divers each if d/o.
4. If booking the Main Stateroom your discount if paid in full by March 3 is $50 or $50 if paying in full for the Lower Stateroom.
[size="3"]

So what are you waiting for? You MUST sign up in the thread using the booking template and you must use our payment gateway to make your payment. (The only exception is if your payment is not accepted for some reason and you contact kamala@singledivers.com for help.)