Click HERE for current AVAILABILITY on this trip!
Click HERE for Why our Trips are Unique & What Others Have Said About our Trips!
Click HERE for How to Sign up for our Trips AND Important SD Trip Booking Related Info.
Click HERE to Pay via our Secure Payment Portal
Click HERE to find the Documents for this trip (password will be sent in your "Welcome To This Trip" PM aka private message)
Click HERE - TBA for the Special Forums which are open approx 60 days prior to the trip to discuss more private trip details (password will be sent in your "Welcome To This Trip" PM aka private message when open)
Click HERE to Register as a Premier Member or HERE to Upgrade to a Premier Member of SingleDivers.com
Click HERE to LIKE our FaceBook PAGE and to share pics & more...
WIN A FREE OCEAN VIEW UPGRADE OR FREE NITRXO!!!

Simply register for this trip by May 1st and you can win a free ocean view upgrade. Or be refunded the difference if you've already paid for one!

ONE WEEK NOT ENOUGH?

Join us June 21-28, 2014 for our Cozumel Single's Week and then join us for our BEST OF MEXICO TRIP BELOW June 28-July 5th!!!
Come see WhaleSharks GUARANTEED!!! THE BEST OF MEXICO has it ALL...Cozumel, Cenotes & Whalesharks!!! June 28 - July 5, 2014 (With an optional extra week in Cozumel June 21-28, 2014)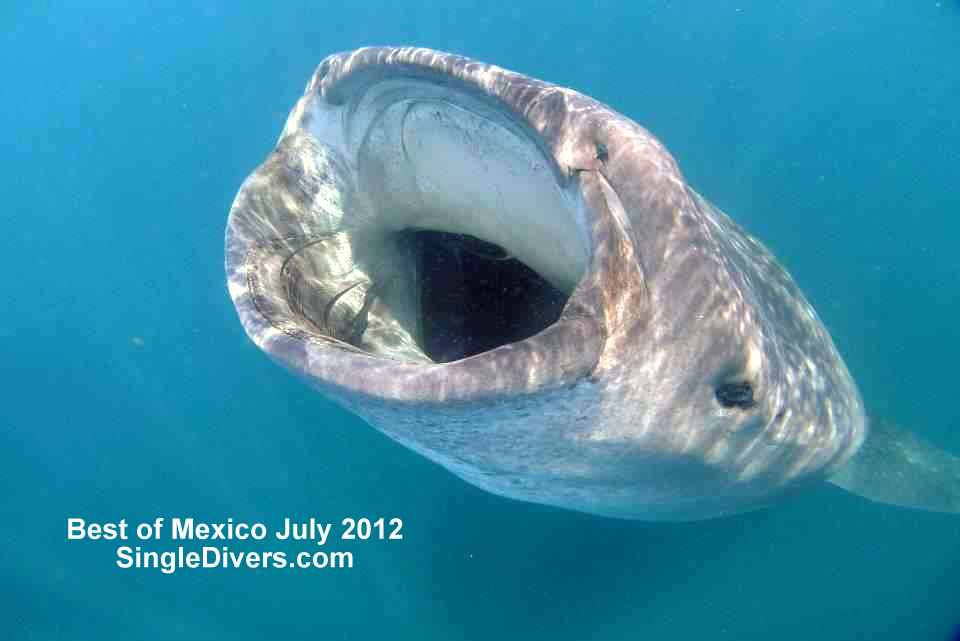 Join this amazing diving excursion to Cozumel for 3 full days of 3 tank fabulous diving, traveling to Cancun to dive the Cenotes in Talum for a day (staying in Cozumel) and then snorkeling 2 days with the magnificient Whalesharks and Dolphin and Manta encounters! From big animals to spectacular underwater caverns to one of the most diverse marine environments...Mexico has it ALL!!! This will be a trip to remember! Two (2) full days of Whaleshark encounters preceded by 3 days of diving in Cozumel and a day of diving the Cenotes makes this a one of kind trip! But hurry...the whalesharks are practically guaranteed and the spots are very limited...

ONLY 20 SPOTS!

Our trips average 10-20 whaleshark ENCOUNTERS EACH DAY!




PRICING:
$1599 d/o Diver
$ TBA d/o non-diver
$ TBA s/o Diver
$ TBA s/o non-diver
Cozumel/Cenotes/Whalesharks - ALL INCLUSIVE
for
All Inclusive including sodas, bottled water and alcohol plus 3 boat dives daily in Cozumel for 3 days, 2 dives in the Cenotes for one day and as long as we want with the whalesharks for 2 days all for

$1599 d/o or $1549 with early payment discount

plus air to Cozumel (suggest arrive and depart CZM)
($50 early booking & payment discount if paid in full by Mar 18, 2014
you'll have a once in a lifetime opportunity to see such a large variety of marine life, underwater caverns and WHALESHARKS!!!
This trip is limited to 20 people maximum
Non-Diver Pricing:
$TBD d/o includes unlimited
shore
snorkeling in Cozy, Cenotes and the 2 days with the whalesharks.
PACKAGE INCLUDES:
7 Nights Superior Rooms at Casa Del Mar
3 days of 3 boat dives in Cozumel with Marine World Cozumel
1 day of Cenote diving including transfers to/from the ferry station in Playa to Tulum with guided leader no more than 4 divers max per group (do not need to be cavern certified but you will be in overhead environment)
2 days of Whaleshark/Manta/Dolphin snorkeling including transfers to/from the ferry station in Playa
Unlimited Shore Diving in Cozumel
ALL Meals (off menu and not off buffet)
ALL Beverages including bottled water, sodas, and domestic alcohol
All hotel and diving taxes
Welcome Tank Check out dive
Welcome Cocktail
SD T-Shirt commemorating the trip!
PACKAGE DOES NOT INCLUDE:
Airfare to/from Cozumel (fly in and out of Cozumel)
Taxi to/from airport (approx $10 each way)
Taxi & ferry from hotel to ferry station in Cozumel for whalesharks and cenotes (approx $20x3=$60)
$2.50 per day diving in Cozumel park fees
Tips and Gratuities
Nitrox (verifying pricing)
Rental, instruction and retail charges
Crew gratuities
Trip Insurance (see the end of this post for 2 great insurance links)
$75 Document Processing Fee (SAVE THIS FEE BY SUBMITTING YOUR DOCS WITHIN THREE (3) WEEKS OF SIGNING UP AND THIS FEE IS WAIVED. OTHERWISE IT WILL BE ADDED TO YOUR FINAL INVOICE.
FLIGHT DETAILS CAN BE SUBMITTED WHENEVER YOU HAVE THEM.)
OPTIONAL:
* Note - All optional add-ons must be paid for in advance for these prices. Additional costs may apply if you sign up on the boat if still available at all.
Extra afternoon Dives in Cozumel $45 for a 3rd 4th tank min 5 people
Night Boat Dive in Cozumel $65 $60 min 6 people
Nitrox Upgrade Cozumel $13 per 80cf tank or $16 per 100cf
Single Supplement Cozumel: $TBD per night or $TBD
Extra Night Hotel- SD Rate: $TBD in Cozumel d/o or $TBD s/o
Extra Day Diving - SD Rate: $TBD for each extra day of 2 tank am diving
Extra Day Food/Taxes/Tips: $TBA per day for food, drinks, taxes etc.
Pricing for Full Week in Cozy ONLY: TBA
DISCOUNTS:
EARLY BOOKING PAYMENT IN FULL SAVINGS OF $50 until Mar 18th! Sign up and pay for this trip in full by Mar 18 and receive an early bird booking discount of $50 at time of booking.
BOOK AND PAY BY MAY 1st FOR A CHANCE TO WIN A FREE NITROX IN COZY!!!
BOOK AND PAY BY MAY 1st FOR A CHANCE TO WIN A FREE UPGRADE TO AN OCEANVIEW ROOM!!!
$25 rebate eligible

after

trip for SD premier and above membership levels if you file for it (See my signature for link to the forms forum. If you are new to the site send an email to trips@singledivers.com to get the password.)
Add'l $25 Active Duty Military Discount for any active duty military of any country that fights for freedom.
Deposit is a $500 per person non-refundable deposit. (Deposit can be refunded via claims on your trip insurance if you have to cancel or by selling your spot to a non-SD.com member. Ask SD for help.)
Price includes cash discount. Please add 3% if paying via any non-cash methods including paypal or credit card
SAVE $75 by submitting your Documents within 21 days of booking this trip. If booking within 45 days of the trip please submit your documents within 3 days. Otherwise the $75 document processing fee will be added to your final invoice.
If you are seeking the ultimate shark diving adventure, then come join us swimming among whale sharks on an unspoiled Mexican Island. Better yet, how about very long encounters in an area where dozens of whale sharks and breaching manta rays come to feed on the plankton blooms at the edge of the Yucatan Peninsula? This is your opportunity to visit this rare gem of an island and experience the Mexican Island culture in a very simple and lovely setting as well as spend your mornings swimming with one of the most exciting sharks on the planet!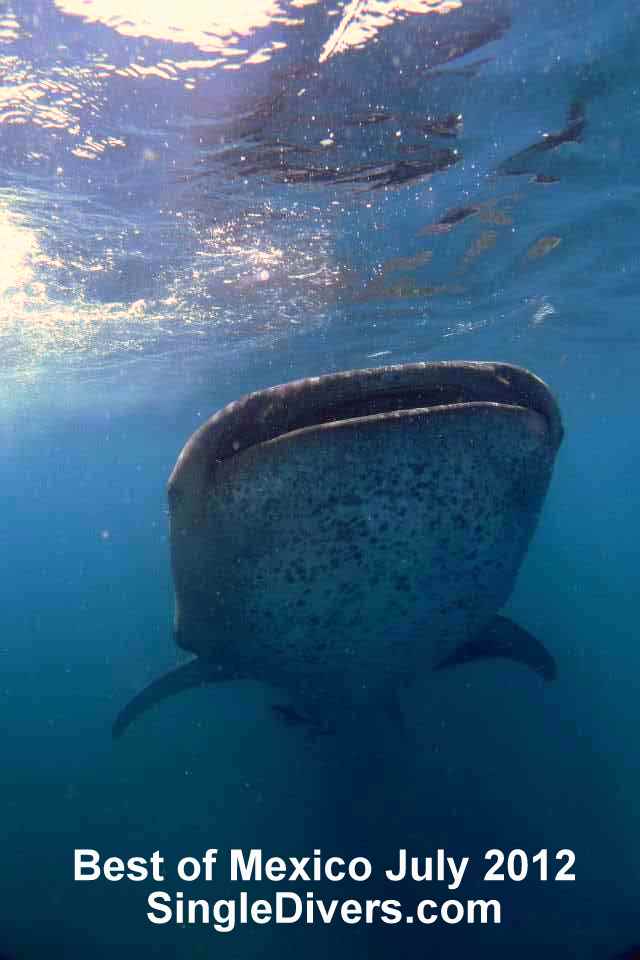 OVERVIEW:
Hey gang...the whalesharks in Mexicoa are soooooooooooo fabulous that we can't get enough so we are going back by popular demand! Our trip will have a great twist! We have negotiated a kick of a deal with our favorite resort in Cozumel for both divers and non-divers for 7 nights and 3 days of diving. We are adding a day of diving the
Cenotes
to this awesome trip! This day is optional so you can snorkel or swim in the Cenotes or stay and dive in Cozumel if you do not want to dive the Cenotes! Then for our last 2 days we'll snorkel with the whalesharks! All of this and NEVER have to pack and unpack during the trip since we'll stay at the same hotel throughout.
This trip was one of the best and most economical trips we've had in the past 4 years as we swam and snorkeled with over 45 whalesharks plus countless mantas and dolphins!
SCHEDULED ITINERARY
Days Prior to start of our trip:
Ask me for special pricing to extend the Cozumel portion of the trip! You can extend a day or even do a whole week!
Jun 28 Sat: Arrive in Cozumel or Cancun (must take ferry to Cozumel) & Stay at Casa del Mar in Cozumel (You can arrive anytime, take an approx $10US taxi/shuttle to the hotel, get checked in, have some lunch and you'll be able to do a 'day of arrival' shore dive if you like.)
Jun 29 Sun:
3 tank boat Dives in Cozumel & Stay at Casa del Mar in Cozumel
Jun 30 Mon:
3 tank boat Dives in Cozumel & Stay at Casa del Mar in Cozumel
Jun 31 Tue:
3 tank boat Dives in Cozumel & Stay at Casa del Mar in Cozumel
Jul 01 Wed:
Depart hotel early, travel via ferry to Playa, drive to Talum, Dive 2 dives fresh water Cenotes, transfer back to Casa Del Mar
Jul 02 Thurs:
Depart hotel early, travel via ferry to Playa, drive to Whaleshark and Manta and Dolphin encounters & transfer back to Casa Del Mar
Jul 03 Fri:
Depart hotel early, travel via ferry to Playa, drive to Whaleshark and Manta and Dolphin encounters & transfer back to Casa Del Mar
Jul 04 Sat:
Depart hotel to airport
WHAT YOU'LL SEE:
"Suddenly, excited hoops and hollers echoed across the water. The surface boiled, while as many as forty whale sharks, moved slowly, mouths agape, through the plankton rich waters. Entering the water directly in a whale shark's path, I peered into its approaching mouth. A few feet away, its eyes appeared to check me out (though that may be anthropomorphic). Some fed in circles, giving me a second or even a third encounter, where I could see attached remoras dining on parasites. Schools of sardines, a frenetic bait ball breaking the surface, gobbled anything escaping the gaping mouth. Cobia, playing the roles of pilot fish, kept pace with the shark's strong strokes. Two of us would slide into the 79 to 80 degree water with one or two whale sharks to observe and photograph them. Visibility ranged from 50-100 feet, enough to give me a great view, and to capture the shark's full length with my digital and video equipment. I made at least half a dozen entries, lasting up to fifteen minutes each. As two of us came out, the mate helped us up a side ladder as the boat idled. We never had to wait to find the next whale shark."





Floating through this dreamland of natural formations in crystal clear water, you can feel the ancient and timeless forces of nature that carved the cavern. With a maximum depth of 30 feet (10 m) and never more than 150 feet (50 m) from air, there is 1,500 feet (500 m) of cavern to see without ever leaving the light zone making this a great first cavern tour for the new diver. The tours are lead by experienced, full cave certified guides in groups of no more than four. Come and experience the dive of your life! The first dive is a traverse from one cenote to another. During this 45-minute dive you will explore the vast cavern zone of Dos Ojos (Two Eyes). The crystal clear waters offers unlimited visibility and gives the feeling of flight as you silently view the unbelievable beauty that has made this cenote so famous. The play of light and colors combined with the awesome formations make this dive a truly unforgettable experience. The second dive is to the Caverna de Murcielagos (Bat Cave), which takes you through galleries ranging from huge columns and stalactites to very fine and intricate formations. This is truly a mind blowing area and often divers are so impressed that they come up to the surface speechless.
Max Depth: 30 ft (10 m) Water Temp: 75 degrees F (24 celsius)
TRANSFERS:
Cozumel:
Upon arrival take a taxi or transfer to Casa del Mar hotel usually $10 per person to the hotel. The hotel is zone 1 so the cheapest taxi rates apply.
Cenotes:
We will all take the ferry early on the 1st to catch our ride to Talum for the Cenotes. If not diving the Cenotes you can relax, snorkel, swim or hike around. Special arrangements can be made to dive another day in Cozumel in lieu of diving the Cenotes.
Whalesharks:
We will all take the ferry early on each Whaleshark day to to catch our ride to Playa for the whalesharks. We will go in whatever direction the whalesharks are. If not snorkeling you can relax, swim or swap out diving in Cozumel. (Just be sure we know so we can set the diving up for you.)
TEMPS & CONDITIONS:
The weather in Mexico is remarkably consistent year-round. The temperatures range in the high 80's during this time of year and the water temps are in the mid 80's making this truly diving in paradise. The Cenotes will be cooler averaging a consistent 75 degrees.
AIRFARE:
You will fly in and out of Cozumel airport code = CZM. Most people book their own travel but we'll be happy to check airfares and book for you for $30 fee. Please tell us your departure city(s), airport preferences and your travel dates.
ARRIVAL:
Day 1 is our arrival day and you can arrive anytime. The only thing planned for day 1 is a day of arrival shore dive if you wish to do one, getting settled in and having fun! You should plan to fly into Cozumel arriving at any time the 28th and departing anytime on the 5th. Or you can go in and out of Cancun (cheaper) and take the ferry to Cozumel. This will run about $100 (VERIFYING) or so extra. If we have 8 people or more arriving via Cancun we can have the hotel pick us up as a group.
HOW TO BOOK A SPOT ON THIS TRIP:
1)
Post in this thread
that you plan to join us and advise your check or credit card payment is on its way via our SECURE ONLINE PAYMENT GATEWAY. (SEE PAYMENT LINK IN MY SIGNATURE LINE OR AT THE TOP OF THIS TRIP POST/TOPIC.) We'll then put your name on the 'check's in the mail' list. (Please send your pymt asap as we can NOT hold any spots on this trip. Your spot will ONLY BE CONFIRMED when we receive your $500 non-refundable deposit or get the early payment deals with payment in full by Mar 18, 2014.)To join an SD trip you must be a premier membership which is $35 a year and you can get $25 back after the trip as a member rebate if you file for it.
2)
Fill out the Trip Rooming & Diving Survey.
3)
Fill out the SingleDivers.com Medical Liability Release.
- DON'T FORGET YOUR MEDICAL ENVELOPE IN CASE OF EMERGENCY (details at the bottom of the Med Waiver)
4)
Fill out the Insurance Summary form
(All Forms can be found under "Stuff you need to know for ALL SingleDivers.com trips & activities!" or click here to link to it. (Send a PM or an email to trips@singledivers.com for the password.)
5)
Send your deposit
for the trip and/or monies due based upon the payment schedule posted below and payment options. If you need to make special arrangements about payments, please contact me and I'll gladly try to work with you.
6)
PLEASE USE THE BOOKING TEMPLATE IN POST #2.
We need to know if you need rental gear, will be diving nitrox and if you want d/o or s/o for the trip. You MUST include as much of this information as possible with your initial reservation or the type of room you want may no longer be available when you finally clarify for us.
7)
You will also need to verify if you have trip insurance
or will be procuring trip insurance or conversely not procuring trip insurance. All participants must have Current Dive Insurance and state one of the following:
a. I have trip insurance that covers this trip already.
b. I will purchase trip insurance to cover this trip.
c. I will not purchase trip insurance and will accept all losses accordingly. - THIS TRIP DOES REQUIRE TRIP INSURANCE.
8)
Only requests posted in this trip topic/thread are considered official
especially for limited options such as use of a computer, orgoing on a tour, etc.
9) Please note that while you may send pm and email requests for availability, the "official" availability is only accurate in the main trip post. For more information on SingleDivers.com, booking policies, etc please read here.
10) Also note that for FASTER service pls email trips@singledivers.com for all general questions and kamala@singledivers.com for custom questions or special requests.
11)
PLEASE EMAIL ALL DOCUMENTS TO TRIPS@SINGLEDIVERS.COM
[i]ONLY as I do not check trip documentation emails, rather leaving it to our awesome volunteers who help me with our trips.
PAYMENT TERMS & SCHEDULE:
PROGRESS PAYMENTS:
a. $500 due at booking
b. SAVE $75 Document Processing Fee By Submitting Your Docs Within 21 Days of Signing up for this Trip or within 3 days if signing up within 45 days of departure. (If docs are not submitted within the timeframes requested, we'll add the fee to your final invoice.)
c. Mar 18, 2014: Last Day for $50 early payment in full discount
d. Apr 18, 2014: $600
e. May 18, 2014: $499
f. May 28, 2014: AL EXTRAS DUE
Note:
Trip must be paid in full
60
45 days prior to departure. Extras must be paid in full 30 days prior ie. Nitrox, extra nights, extra dives etc.
PAYMENT INFORMATION:
SingleDivers.com uses a secure online payment gateway that allows you to pay for trips or merchandise using either an e-check which debits your checking account directly without having to mail in a check or debits your credit card without having to fill out a SD.com credit card authorization form. (Please note that any non-US bank originating credit card MAY still have to use the paper credit card authorization form as different processing procedures may be followed to process international/non-US credit cards. You'll find this form in the Forms Forum link in my signature. - NOTE: For the State us AA if using an international credit card. SingleDivers.com provides its members with pricing that reflects all possible cash discounts so any payments via credit card or paypal will still incur a 3% non-cash convenience fee. Our SECURE payment gateway which you can access by clicking the PAY HERE LINK along the top, in my signature line and on the homepage of SingleDivers.com.
This trip may sell out quickly due to the great pricing we have so in order to ensure timely & accurate processing of payment receipts and therefore timely & accurate acceptance of members onto the trip, [i]
ONLY PAYMENTS RECEIVED VIA OUR SECURE PAYMENT GATEWAY WILL BE ACCEPTED
If you are unable to use the gateway please provide a complete description of the problem/error you are encountering and contact kamala@singledivers.com immediately to manually process your payment for you.
The gateway will add a 3% non-cash convenience fee if paying via credit card or any non-cash option. Checks, money orders and real cash are discounted already.
International/ Non-US Clients:
Please use the traditional written credit authorization form to submit credit card payments IF the payment system does not work for you. (Remember use AA as the state and it should work). Click the DOCUMENT LINK in my signature line below for the form and ask trips@singledivers.com for the password. OR WAIT for the TRIP PM that you will be sent shortly after signing up.
HOTEL INFORMATION:
Casa del Mar Resort is an all-inclusive remodeled 3+ star resort situated across the street from the beach, two miles from downtown San Miguel, and approximately 2.5 miles from Cozumel Airport. This location is also a few minutes by boat to all of the island's main reefs and right in front of excellent shore diving!
The property's amenities include the one swimming pool, swim up bar, Jacuzzi, tennis court, gym, gift shop, dive shop, and beach club with private pier. The property is home to a hacienda-style restaurant, and snack bar by the pool with exclusive swim up pool bar. Hotel services include room service, full-service dive center, car and scooter rental, medical services, money exchange,
FREE Lobby Internet access
, and valet laundry service. The all-inclusive plan covers all meals and snacks, unlimited domestic drinks, daily activities, non-motorized watersports (kayaks and snorkeling equipment), free scuba demos in the pool, bicycle tours, nightly entertainment, and all taxes and tips.
All rooms feature terraces, air-conditioning, cable TV, telephones, bathtubs and showers, and safety deposit box (free of charge).
Hotel Amenities
• Babysitting services
• Baggage Check
• Business Center
• Beach - Across the road from a private beach
• Courtesy room
• Gift Shop
• Hot tub/Jacuzzi
• Laundry facilities - Valet , fees may apply
• Lounges/Bars - 1
• Pets Allowed - contact hotel for restrictions
• Restaurants on premises -1
• Room service - limited service
• Safety deposit box - complimentary
• Swim-up pool bar
Recreation:
• Activities desk/Concierge
• Game Room/Arcade
• Moped rental - fees may apply
• Swimming pools - 0 indoor, 1 outdoor, 0 children's
• Tennis courts - fees may apply
• Water sports available on premises - Additional fee for motorized sports
• Onsite Full Service Dive Shop
• Boat pick up at the dock at the Dive Shop
Location/Transportation:
• Downtown location - 2 miles from downtown or $3 taxi
• Miles from airport - 2.5 miles
• Miles from beach - Across the street from the beach, accessible by a Private walkway
IMPORTANT TRIP UPDATES:
CLICK HERE!!!
PLEASE obtain trip insurance - IT IS OPTIONAL BUT STRONGLY RECOMMENDED FOR THIS TRIP
...it is VERY inexpensive and will protect your investment. REMEMBER IF YOU MISS A DAY….YOU MISS A LOT! You can purchase it right online as well as check quotes etc .
Click here for Dive Assure for either a 'one time' policy OR an annual policy that is BOTH Dive & Trip Insurance providing PRIMARY COVERAGE with excellent rates and coverage!
or
Click here for a free quote from CSA Travel Protection or to purchase online!
PLEASE obtain DIVE insurance - IT IS MANDATORY FOR THIS TRIP
...it is VERY inexpensive and will protect your investment. Even if you have insurance that you think covers DIVING ACCIDENTS and air lifts…it is CHEAP to get a supplemental policy to ensure you are cared for.
DIVE ASSURE ... get BOTH TRIP & DIVE insurance in one convenient package
or
Click here for Diver's Alert Network and use our

reference ID 1603080

.