HAPPY NEW YEAR 2015!!!! We're Celebrating the New Year in The Apex of Diving...GALAPAGOS aboard's EV's liveaboard...Dec 29th to Jan 5th, 2015 + 3 days on the front end to ensure bags arrive and to do some touring so traveling Dec 26. (Fly into airport code UIO (Quito EC) for group transfers or Guayaquil if you wish to meet the group on your own.) - NOTE: We have half the boat as I sold the other half to a dive shop. That means we have 8 spots. We could get more or lose a few depending on how the sales go between us and our partner dive shop!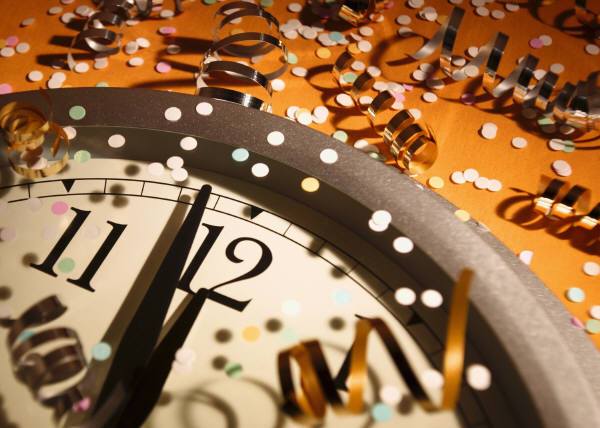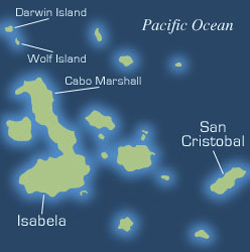 What is the ONLY thing better than the Apex of Diving...i.e. the Galapagos? Galapagos for NEW YEARS!! Join us Dec 29 - Jan 5th, 2015 with several days prior for safe arrival and touring...OFFICIAL BOOKING Thread.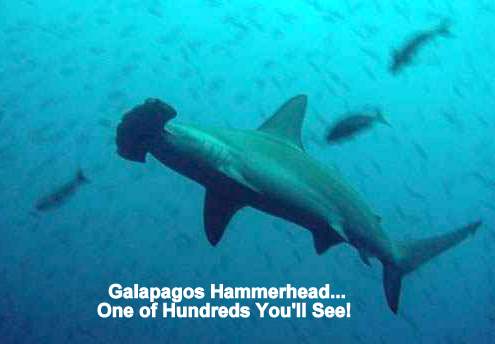 SEE POST #2 for GALAPAGOS IN PICTURES!!!


NOTE: 2014 pricing was $4395 but with 2 less boats in the Galapagos, the pricing is NOW $4595. HOWEVER, for those who pay in full early, you will be PROTECTED AND YOUR PRICE WILL BE THE LOWER PRICE OF $4395.



Pay in full by June 30, 2014 and you can lock in the LOWER 2014 pricing of $4395.
Please note that we plan to offer several days of sightseeing before this trip to ensure that all our luggage arrives and people are settled out for this "Bucket List" trip. We have 2013 pricing for the add-ons and estimate that the add-ons will not increase more than 10% over 2013 pricing but won't know until later this year.
As soon as the 2014 add-on pricing is locked in we will finalize the add-ons so people can book their international airline tickets to Quito or Guayaquil.
SD will book the local flights from Quito or Guayaquil to San Cristobal for you once participants are locked in and the window for booking the int'l flights has opened up. (This flight is NOT included in the price and runs about $550. NOTE: You cannot book this flight as the liveaboards have reserved all the spots on the plane for their clients.)

We did this trip in 2009 and my ONLY regret was that I did not have a camera...that regret is about to be rectified! Come and join me in one of the MOST AMAZING PLACES IN THE WORLD...GALAPAGOS!!!! Now Booking for NYE 2014/2015...See Below for Full Details!!!


DATES:
16 spots - ONLY A FEW SPOTS LEFT! Click HERE for availability:
Dec 29 - Jan 5th, 2015 + approx 1-3 days for add-on tours & safe luggage arrival
The Liveaboard dates are...Dec 29 - Jan 5th, 2015. (Yes the dates run Mon to Mon BUT the final number of days for each trip will be decided by the participants and will run longer to include a buffer for bags to arrive and sightseeing and tours...see below for details on the options available.)
PRICE:
Liveaboard:
$4395 EARLY BOOKING PRICE or $4595 if booking after the early booking specials.
Deposit Amount:
$1000 non-refundable except via trip insurance. The 2014 price is now $4595 per person and the deposit to hold a spot is $1000.
Lock in the OLD 2014 Pricing:
If you book and pay $4395 in full by June 30, 2014 you can lock in the LOWER 2014 pricing and not the new higher price of $4595 DUE TO OVERWHELMING DEMAND FOR SPOTS BECAUSE OF BUDDY DIVE CLOSING ITS OPERATION IN GALAPAGOS AND HAVING TO REBOOK THEIR CLIENTS TO OTHER OPERATORS.
FINAL 2014 Pricing:
2014 boat pricing is now $4595 (unless you book by June 30th during early booking specials).
PLUS THE FINAL PRICE OF THE TOURING/LAND/COMMUTER FLIGHT package of $TBD d/o or $TBD s/o that we can help set up for you. JUST LET US KNOW.
DISCOUNTS & SPECIALS:
Four (4) FULL weeks to sign up for our early booking discounts. Bookings will be 'first posted & paid' in order to secure your spot.
ONLY SD.com premier members can sign up for our trips (follow the upgrade directions in the 'How to Sign Up for this Trip' post.)
$1000 non-refundable deposit is required to hold a spot on this trip. (Deposit can be refunded via claims on your trip insurance if you have to cancel or by selling your spot to a non-SD.com member. Ask SD for help.)
LOCK IN and PAY EARLY 2014 pricing if paid in full by June 30, 2014. So price for those paid in full by June 30, 2014 will be $4395 vs the new price of $4595.
Anyone paid in full by June 30, 2014 will ALSO be entered 2x into a drawing to win one of the limited Main Deck staterooms.
Anyone deposited by June 30, 2014 will be entered 1x into a drawing to win one of the limited Main Deck staterooms.
ANYONE deposited by July 30, 2014 will have 1 chance at a Diver's GPS & Safety Device value $300!
Everyone signed up and deposited by September 1, 2014 will be entered into a drawing for a chance for FREE NITROX worth $150. (If you do not dive nitrox a substitute prize at SD's discretion will be awarded since prizes are non-transferable.)
ANYONE paid in full by July 30 will have 2 chances at a Diver's GPS & Safety Device value $300!
If you are active duty military take another $25 off for joining us and thank you for your service to our country.
Get a $25 member rebate if you file for it within

30 days

after the trip.
• Price includes cash discount. Please add 3% if paying via any non-cash methods including paypal or credit card
• SAVE $75 by submitting your Documents within 21 days of booking this trip or if signing up within 45 days send your docs within 3 days. Otherwise the $75 document processing fee will be added to your final invoice.
Click HERE for AVAILABILITY for this trip!
Click HERE for Why our Trips are Unique & What Others Have Said About our Trips!
Click HERE for How to Sign up for our Trips AND Important SD Trip Booking Related Info.
Click HERE to Pay via our Secure Payment Portal
Click HERE to find the Documents for this trip (password will be sent in your "Welcome To This Trip" PM aka private message)
Click HERE for the Special Forums which are open approx 60 days prior to the trip to discuss more private trip details (password will be sent in your "Welcome To This Trip" PM aka private message when open)
Click HERE to Register as a Premier Member or HERE to Upgrade to a Premier Member of SingleDivers.com

PRICE INCLUDES:
Base Price of $4595 2014 Pricing Includes:
• SD "Meet & Greet Get To Know Everyone Parties"
• 7 nights/8 days aboard the vessel with in suite private bath & shower, sink/vanity, & toilet, air-conditioned, queen bed or 2 twins, ocean view, & flat screen televisions. A partially covered sundeck with jacuzzi and ample seating areas, a salon including a lounge area, a spacious dive deck with a large camera table are just some of the features.
• 3 meals daily, plus between-meal dive snacks
• 2-4 dives daily (the park does not allow night dives)
• All alcoholic (wine, beer and hard alcohol) and non-alcoholic beverages (sodas, juices, etc)
• SD.com T-Shirt commemorating the trip!
• Use of tanks (80cf), weights, and belts (Limited number of shorter 63cf tanks also available)
• Diving Gifts and Giveaways from various SD Vendor Partners (when avail)

NOT INCLUDED:

Price of touring UNLESS we add this to the pkg so that we have economy of scale AND we can ensure we all arrive in time WITH luggage for this amazing trip. (See options under OPTIONAL PRICING)
Airport transfers (except same-day Galapagos arrivals)
Hotel accommodations
Flights to/from Galapagos
Last evening meal on Sunday night
Rental gear, instruction, nitrox and retail charges
Crew gratuities
Dive accident insurance (required..see end of post for links)
Trip cancellation insurance (required at time of booking or shortly thereafter...see end of post for links)
Premium alcoholic beverages
National Marine Park fees - $100 pp, cash only. Paid on arrival in Galapagos.
TCT Tourist card - ($10 pp, cash only) Paid at Ecuador airport of departure for Galapagos. Cash only.
Hyperbaric chamber fee ($35 pp, payable on board)
Fuel surcharge currently $150 and subject to change up to 30 days prior to departure.
OPTIONAL PRICING & ADD-ONS:
Nitrox: $150 (subject to change)
Int'l Air Booking Fee: $30 (the local in country booking fees are included in the trip price)
Ensure Bags Arrive + Touring Option: To ensure everyone makes the boat we suggest adding the following OR SIMILAR sightseeing, tours and overnight land package to the front & back end of this trip. Click HERE for pics and more details for 2013 options.


EXAMPLE of 2013 Three (3) Extra Days of "Don't Miss the Boat Pre-Trip Touring & Sightseeing" Trip Itinerary USING OUR NEW DATES FOR DEC 2014...(Quito arrival & departure)

SAMPLE ITINERARY:

Saturday Dec 27th: Quito Airport Arrival & transfer to Rio Amazonas Hotel
Sunday Dec 28th: Full day tour of Ecuador Overnight at Rio Amazonas Hotel
Monday Dec 29th: Transferred for A.M. flight to Galapagos via Aero Gal
Mon-Mon Dec 29-Jan 5th: World class diving on the Galapagos Humbolt Explorer
Monday Jan 5th: Return to Quito via Aero Gal for ½ day tour & overnight at Rio Amazonas Hotel (You may leave Quito on the 5th if you can book a flight after 10pm on the 5th)
Tuesday Jan 6th: Transfer to airport for flight home. Flights can be as early as 5am. (Quito has a new airport several HOURS away so it is best to set your flights up for Jan 6th.)

2013 SAMPLE Pricing for Tours & Add'l Transfers:
All add'l transfers required ($15 per transfer x 4 transfers): US$50.00 per person
3 nights at the Rio Amazonas: US 130.00 double occ ($65 per person) or $US 120 single occ per night or total of $195 d/o or $360 s/o
Tours: (1) Full day US$120.00 per person and (1) ½ day US$95.00 per person
Aero Gal Flight: $500 via Quito or $450 via Guayquil (subject to change)

Airfare:
You will fly into Quito or Guayaquil Ecuador. THE GROUP IS MOST LIKELY DOING A COMBINED HOTEL/TOUR PACKAGE VIA QUITO sin the fares are better to Quito. AeroGal flight times, prices and the Galapagos airport of arrival are all subject to change with little or no notification, and flights often run late. The boat strongly encourages all guests to plan on arriving at least one and preferably two days prior to your flight to the Galapagos Islands, to ensure that your luggage is with you or to make up for any travel delays. They also recommend that guests plan on an extra night in Quito or Guayaquil upon departing Ecuador. The earliest time a guest can reliably expect to connect to another flight is 10 p.m MONDAY night which means that Tuesday is the only realistic flights you can make. However any flight on Tuesday including 6am will work. Ticket holders are required to check-in a minimum of two hours prior to flight time for all international departures, even when connecting from an Aerogal flight.

Baggage Limits:
There is a weight limit on checked-in luggage for flights to and from Quito and/or Guayaquil to the Galapagos of 44 pounds (20 kilos). An additional fee of up to US$2.00* per 2.2 pounds (1 kilo) to and from Quito will be charged for luggage over the limit and US$2.00* per 2.2 pounds (1 kilo) to and from Guayaquil. In addition, passengers are allowed a carry-on bag weighing no more than 17.6 pounds (8 kilos). This additional fee must be paid in cash at flight time. *These prices could change at anytime.

Arrival/Departure:
Passports with a minimum of 6 months remaining before the expiration date are required for all arriving foreign nationals. If in doubt about visas, contact the Ecuadorian Consulate for specific requirements from your country.

Transfers within the Galapagos are included in your package for same day arrivals, and you will be met at the airport in Galapagos by one of our tour guides. If you miss any of your flights and are not able to make it to Ecuador or the Galapagos on schedule, please contact Galasam, our Ecuadorian partner, at 011-593-9703-1382 or 011-593-9529-7471 and notify them of your updated arrival time should you have that information, and where you may be reached in the meantime. The vessel will leave port on Monday at approximately 2:00pm. Retrieving lost luggage after the vessel departs on charter is impossible. It can be retrieved when the vessel returns to port at the end of the charter.

The vessel arrives at its final destination port on Monday morning. The Sunday evening meal is on the island and is not included in the price of the trip. Transportation is organized and included for transfer to the airport. The departure tax from Quito and Guaayquil is now included in international flight prices.

Please note: Flight times, prices and the Galapagos airport of arrival are all subject to change with little or no notification and are completely out of EV's control, and flights often run late. We strongly encourage guests to plan on arriving at least one and preferably two days prior to your flight to the Galapagos Islands, to ensure that your luggage is with you or to make up for any travel delays. We also recommend that guests plan on an extra night in Quito or Guayaquil upon departing Ecuador. The earliest time a guest can reliably expect to connect to another flight is 10 p.m on the last Monday of the trip. Ticket holders are required to check-in a minimum of three hours prior to flight time for all international departures, even when connecting from an Aerogal or Tame flight.

THE DIVING:
The diving is magnificent centering on large animals such as Whalesharks, Hammer Heads, Eagle Rays, Sea Lions as well as marvelous macro life.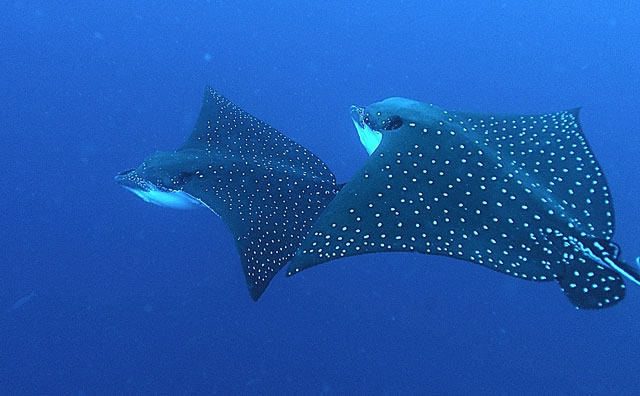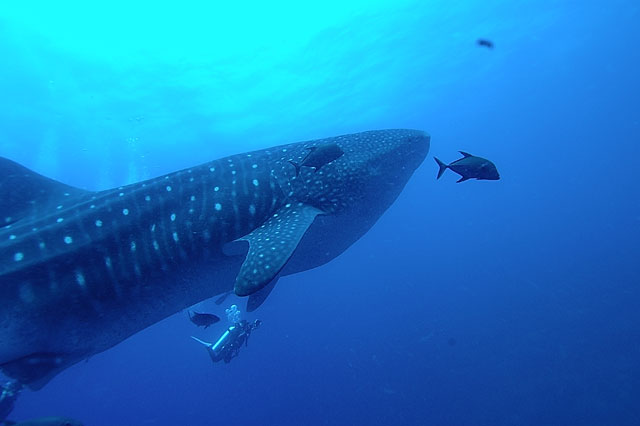 Join this exciting diving excursion from either Guayaquil or Quito, (THE GROUP *MOST LIKELY WILL BE GOING VIA QUITO* but if you wish to book your own flights from Quito or Guayaquil you may do so) starting on mainland Ecuador and culminating in the big-animal action and pristine diving of Darwin, Wolf, Isabela Island, Cabo Marshall as well as the Sea Lions & Penguins of Cousin's Rock! We have booked the Explorer Ventures Humbolt Explorer Liveaboard for an all inclusive INCLUDING alcohol and sodas Galapagos first class adventure...Dec 29th - Jan 5th. Scheduling 2-4 dives daily, including night dives, the vessel boards each Monday and offers 4½ days of diving each day on one of only a handful of vessels approved to dive the Galapagos!

The wonders of the Galapagos diving experience will be with you for a lifetime. Few will have the opportunity of diving some of the most remote and pristine seas in the world. No other place on earth boasts such a variety of sea and land life. Your seven nights and eight days will be filled with memories to last a lifetime - thrilling shark dives, diving with turtles and sea lions, informative shore-based naturalist guided tours, exotic vistas – and these will be only a small part of your experience aboard the Galapagos Humbolt Explorer. The crew of ten, plus 2 naturalist/dive guides, has a wealth of knowledge about these unique volcanic islands and are ready to share their experience with every guest, as well as provide you with the customer service and all of the amenities for which the Explorer Ventures Fleet is known.

The marine community of Galapagos is one of the most unique and exotic in the world. You will see penguins swimming with tropical fish and iguanas that feed underwater. The creatures of the sea exhibit the same bold curiosity and lack of fear characteristic of the terrestrial wildlife. Almost one quarter of the marine life in Galapagos is endemic to this archipielago-17% of its fish and 35% of its marine invertebrates are native and found nowhere else in the world. The underwater scene is rich in nutrients and teems with colorful life. Great schools of fish cruise the open water, at times so thick they nearly block out the sun. The reefs are an amazing profusion of invertebrate life. Swept by both cold-water currents from Antarctica and warm currents from the tropical Pacific, the marine life is a bizarre mixture of cold and warm water species.

Schedule:
Days aboard the Explorer generally involve a 6:30 am dive followed by breakfast, a dive at 9:30, lunch at 12:00, and afternoon dives at dive at 1:30 and 4:00 p.m. Dinner is served at approximately 7:00 p.m. Under current National Parks guidelines no night dives are allowed.
Please note that these itineraries are examples only, and will change depending on local regulation, weather and logistics at the Captain's discretion. Currently each week the itinerary includes the same islands. The order of the islands, however, is dictated by the National Parks Foundation and may vary weekly.

San Cristobal/BALTRA Departures
All departures are expected to be out of Baltra, Galapagos Islands for 2014. A guide will meet you upon exiting the baggage claim area for transfer to the vessel. If the departure island changes, your airlines tickets from mainland Ecuador to the Galapagos Islands will automatically be changed to San Cristobal (so long as the tickets have been purchased through our partners/SD).

Monday: Baltra/North Seymour
Guests fly to the Galapagos Islands from Mainland Ecuador, arriving in the late morning. Guests are met at the airport and taken to the Estrella del Mar. After boarding the vessel by 1:00pm, guests will depart for a short crossing to North Seymour for a check out dive and safety orientation briefing Lunch will be served during the crossing and dinner will be served after the check out dive. The vessel will make a late day departure to the next destination.

Tuesday: North Seymour Island
6:30, 9:30, dives. Sightings include turtles, hammerheads, sea lions. Afternoon/overnight transit to Darwin (20 hours).

Wednesday: Darwin Island
6:30, 9:30, 1:30 and 4:00 dives. Sightings often include hammerheads, whale sharks, eagle rays, Galapagos sharks, and silky sharks. Night at anchor. Considered by many experienced divers as the very best dive site in the world, The Arch at Darwin Island honors its reputation. It is warmer by a few degrees than the central islands. In one single dive you can find schooling hammerhead sharks, Galapagos sharks, large pods of dolphins, thick schools of skipjack and yellow fin tuna, big eye jacks, Mobula rays, and silky sharks. From June to November, whale sharks can almost be guaranteed in numbers of up to 8 different individuals in one single dive. The presence of occasional tiger sharks, black and blue marlin and killer whales adds on to this amazing diving experience. If you still have time to look for smaller stuff, you'll find octopus, flounders, and an enormous variety and abundance of tropical fish. Darwin Island is the biggest jewel on the Galapagos Crown.

Thursday: Darwin Island
6:30, 9:30, 1:30 and 4:00 dives. Sightings often include hammerheads, whale sharks, eagle rays, Galapagos sharks, and silky sharks. Evening crossing to Wolf Island (2.5 hrs). Experienced divers agree Wolf & Darwin offer some of the world's best diving. No land visits here, just some serious diving. At Darwin`s Northern Arch, the northern most point of the two Islands, schools of hammerhead sharks and groups of bottle nose dolphins often swim in clear view of divers. Divers often see whale sharks and giant manta rays.

Friday: Wolf Island
6:30, 9:30, 1:30 and 4:00 dives. Sightings often include hammerheads, eagle rays, Galapagos sharks, turtles and silky sharks. Overnight transit to Isabela Island (15 hours). One of those magical islands, with several dive sites to choose from, Wolf will astound dive visitors. If you want to see sharks, you are at the right spot. This is a place for schooling hammerhead sharks, large aggregations of Galapagos sharks, and occasionally whale sharks. Seeing dolphins, large schools of tuna, spotted eagle rays, barracudas, sea lions and sea turtles is common. The ocean floor here is peppered with hundreds of moray eels, many of them free swimming. Being several degrees warmer than the central islands, you can look for many representatives of the Indo-Pacific underwater fauna.

Saturday: Isabela Island, Cabo Marshall
6:30, 9:30, 11:30 and 3:00 dives. Sightings include giant manta rays, turtles, hammerheads, Mola Mola (ocean sunfish), black-striped salema. Evening or overnight transit to Cousin's Rock (6 hours). At Cape Marshall, on the eastern side of Isabela island, you encounter rocky volcanic cliffs, that drops down to the ocean floor as an almost vertical wall. You might see large animals like manta rays, marbled rays, hammerhead sharks mola mola (sun fish) and marine turtles, but also Chevron barracuda, snappers, yellow fin tuna, rainbow runners, wahoo and groupers. There are also a lot of smaller fishes like creole fishes, parrot fishes, scrawled filefishes, pacific box fishes and tiger snake eels.

Sunday: Cousin's Rock
6:30 dive – macro diving with excellent chance of seeing sea horses, frog fish, sea lions and fur seals. . Lunch and transit back to Santa Cruz (3 hrs). Land trip to see the giant tortoises in the highlands of Santa Cruz and possible visit to the town of Puerto Ayora. Possible dinner ashore

Monday: Baltra
Early morning panga ride in the mangroves of Black Turtle Cove. Breakfast; depart the vessel by 9 am . Transfer back to the airport for flight back to Quito or Guayaquil.

Departure:The Galapagos Humbolt Explorer arrives at its final destination port on Sunday afternoon and passengers spend Sunday night and have Monday breakfast on board. Transportation is organized and included for transfer to the airport. There is a departure tax which is not included in your airline tickets. NOTE: The group MOST LIKELY will be leaving via Quito.



HOW TO BOOK A SPOT ON THIS TRIP:


1, Please register/upgrade to a premier member to join our trip. (This allows us to privately contact you but share that contact with all trip goers while keeping your contact information hidden.)
2. Send your $1000 deposit for the trip and/or monies due based upon the payment schedule posted below and payment options. If you need to make special arrangements about payments with me please contact me and I'll gladly try to work with you. Use the payment link in my signature line or on our home page.
3. Post in this thread that you plan to join us USING THE BOOKING TEMPLATE IN POST #3 and advise your check or credit card payment is on its way via our SECURE ONLINE PAYMENT GATEWAY. (SEE PAYMENT LINK IN MY SIGNATURE.) We'll then put your name on the 'check's in the mail' list. (Please send your pymt asap as we can NOT hold any spots on this trip. Your spot will ONLY BE CONFIRMED when we receive your $1000 non-refundable deposit. - To post on the site you need to register as a member of the site. Registration is free however you need to be a premier membership to join the trip which is only $35 a year and you can get $25 back after the trip as a member rebate if you file for it. Click here to learn more.
4. Fill out the Trip Rooming & Diving Survey plus the SingleDivers.com Medical Liability Release & Insurance Summary form which you'll find under "Stuff you need to know for ALL SingleDivers.com trips & activities!" or click here to link to it. (Send a PM or an email to trips@singledivers.com for the password.)
5. We need to know if you need rental gear, will be staying extra days and if you want d/o or s/o for the trip. You MUST include as much of this information as possible with your initial reservation. Just put "maybe" or "waiting for info" etc. if you don't know yet.
6. You will also need to verify if you have trip insurance or will be procuring trip insurance or conversely not procuring trip insurance. All participants must have Current Dive Insurance AND Trip Insurance for this trip and state one of the following:
a. I have trip insurance that covers this trip already.
b. I will purchase trip insurance to cover this trip.
7. You are responsible for all info in the thread. We try to keep our FAQ and Important Updates posts #2 & #3 updated to make it easier for you but you are responsible for monitoring the thread for all updates. As the trip gets closer we'll open a private forum for all trip goers to answer last minute questions & provide last minute details. For sure monitor the thread the last 30 days prior to your trip for last minute updates and information.
8. Only requests posted in this trip topic/thread are considered official especially for limited options such as use of a computer, or going on a tour, etc.
9. Please note that while you may send pm and email requests for availability, the "official" availability is only accurate in the main trip post. For more information on SingleDivers.com, booking policies, etc please read here.
10. Also note that for FASTER service pls email trips@singledivers.com for all general questions and kamala@singledivers.com for custom questions or special requests. (Please allow more time for replies from Kamala as she may be traveling leading a trip.)
11. PLEASE SEND ALL DOCUMENTS ONLY TO TRIPS@SINGLEDIVERS.COM as I do not regularly check trip documentation emails, rather leaving it to our awesome volunteers who help me with our trips.

/>/>/>/>/>/>/>/>/>/>/>/>/>/>/>/>/>/>/>/>/>
12. Save $75 by getting your documents in house within 3 weeks of booking your trip. If you miss the 21 day timeline we'll simply add the $75 document fee to your invoice total. If signing up within 45 days of the trip documents must be submitted within 3 days to avoid the document fee.
13. Explorer Venture Application/Waiver: Please fill out this form and fax it to Explorer Ventures, or email it to trips@singledivers.com, and we will fax it for you.


Booking Template - (Cut and Paste the Booking Template from Post #3 into a new post in this thread/trip details to sign up for this trip):

PAYMENT TERMS & SCHEDULE:

PROGRESS PAYMENTS:

a. $1000 due at booking to secure one of only 16 spots for DEC 29th-Jan 5, 2015 Galapagos trip.
b. SAVE $75 Document Processing Fee By Submitting Your Docs Within 21 Days of Signing up for this Trip. If signing up within 45 days of the trip pls submit within 3 days to avoid the fee. (If docs are not submitted within 21 days of signing up or 3 days if within 45 days of departure, we'll add the fee to your final invoice.) - Does not apply to the EV Waiver until it is posted on the site and in the Documents Forum.
c. June 30, 2014: Last Day for LOCK IN of LOWER 2014 PRICING of $4395 early payment in full discount AND your chances to win a FREE DIVER'S GPS, NITROX, and more
d. Jul 30, 2014: $1500
e. Sept 1, 2014: $1500
f. Nov 1, 2014: $595
g. Nov 1, 2014: ALL EXTRAS DUE Land/Tour pkg of $TBD d/o or $TBD s/o plus any extras ie. Nitrox $150, Instruction, Rental gear, S/O Upgrade, etc. due in full.etc.

Note: Trip must be paid in full 90 days prior to departure. Extras must be paid in full 90 days prior ie. tours, extra nights etc.

PAYMENT OPTIONS:
SingleDivers.com uses a secure online payment gateway that allows you to pay for trips or merchandise using either an e-check which debits your checking account directly without having to mail in a check or debits your credit card without having to fill out a SD.com credit card authorization form. [i](Please note that any non-US bank originating credit card MAY still have to use the paper credit card authorization form as different processing procedures may be followed to process international/non-US credit cards. You'll find this form in the Forms Forum link in my signature. - NOTE: For State us AA if using an international credit card.)


SingleDivers.com provides its members with pricing that reflects all possible cash discounts so all paypal and credit card payments will still incur a 3% non-cash convenience fee. Our SECURE payment gateway which you can access by clicking the PAY HERE LINK along the top, in my signature line and on the homepage of SingleDivers.com.

This trip should sell out quickly due to the popularity of this venue so in order to ensure timely & accurate processing of payment receipts and therefore timely & accurate acceptance of members onto the trip, ONLY PAYMENTS RECEIVED VIA OUR SECURE PAYMENT GATEWAY WILL BE ACCEPTED

If you are unable to use the gateway please provide a complete description of the problem/error you are encountering and contact kamala@singledivers.com immediately to manually process your payment for you.


The gateway will add a 3% non-cash convenience fee if paying via credit card or any non-cash option. Checks, money orders and real cash are discounted already.

International/ Non-US Clients: Please use the traditional written credit authorization form to submit credit card payments IF the payment system does not work for you. (Remember use AA as the state and it should work). Click here for the form and ask trips@singledivers.com for the password.


HOW TO BE REACHED ON THE BOAT WHILE TRAVELING:

You can be reached aboard the Humbolt Explorer from North America via satellite phone at +(TBA). Outgoing calls may also be made. Please be aware that a charge is assessed for both incoming and outgoing calls. (Not sure what the charge is.)

_______________________________________________________________

OTHER INFORMATION:

Boat Amenities:

Vessel: Humboldt Explorer
Registry: Pto Baquerizo Moreno, Galapagos Islands
Length overall: 111.5 ft (34 meters)
Beam: 21.3 ft (6.5 meters)
Draft: 8.2 ft (2.5 meters)
Tonnage: 169 ITC
Main engines: Detroit Diesel 6V92, 350 hp
Generators: 2x Perkins 73 kw
Maximum Speed: 10 knots
Fuel Capacity: 5,300 gallons (20,000 liters)
Range: 1,800 nm
Accommodations: 16 passengers in 8 air-conditioned rooms on main and lower decks, all with private bathrooms and showers. All rooms except rooms 3 & 4 (forward belowdecks) can be converted to either one queen bed or two twin beds. Up to 7 crew and 2 guides in crews' quarters.
Safety Equipment: Life rafts (2), life rings/strobes, life vests/strobes, emergency position locator, flares, oxygen and first aid equipment
Air Systems:2 electric Bauer compressors with nitrox membrane, producing 32% nitrox, bank storage
Tenders: Rigid hull inflatables (2), used for passenger transport and diver pickup
Accessories: Diving Equipment

Temperatures and Diving Conditions and Qualifications for these dives:
The weather in the Galapagos has water temperatures ranging from 70 – 85 degrees F from December through May and 60 – 75 (F) June through November. Water temperatures are slightly warmer in both Darwin and Wolf. Air temperatures range from 75 (F) or higher in the rainy season (December-May) to the mid 60's (F) during the dry season (June – November), with nearly constant sea breezes. Currents can range from 1 to 5 knots at the sites we visit, and visibility is generally between 30 and 80 feet. Most divers are comfortable with a 7mm wetsuit June - November and a minimum 5 mm wetsuit December - May. Gloves and hood are recommended. Your dives will be done from the pangas(dingys) with an easy backward roll in to the water. After your dive, your tank will be lifted back in to the panga and you will board via its stern ladders. All divers must be experienced divers (we recommend that you have more than 100 logged dives) and have logged at least one dive within the 6 months prior to boarding the vessel. To dive Galapagos, one must be an experienced diver with adequate skills. Galapagos is not suitable for novice or infrequent divers due to strong current, sea (swell), surges, cool waters, upwelling, poor visibility (at times), and large animals including the harmless Galapagos shark. Divers must have excellent buoyancy control and be totally self-sufficient to handle all gear. All dives are guided by an instructor/naturalist guide. All divers must log in and out of the water with a member of the diving staff. All divers must have a submersible console and a computer. NO night dives are allowed in the Marine Park. Decompression diving is not allowed under any conditions. The maximum allowed depth is 130' (110' on nitrox). All divers must carry a DiveAlert, a surface signaling device, and a electronic beacon while diving (all available for rent on board).

Money Matters:
Though all meals, most beverages, transportation between islands, and much more has been taken care of with your trip payment, there are additional items which you may charge to your on board bill. These include retail items (shirts, scuba accessories, etc.), incoming and outgoing telephone calls, photographic and scuba instruction, rentals, nitrox, premium alcoholic beverages, and crew gratuities.
The bill may be paid at the end of the trip using cash (PREFERRED), Discover, Visa, MasterCard, American Express, or Diner's Club;

traveler's checks are not accepted nor cashed. DO NOT BRING THEM.

. Personal checks are not accepted on board, and we are unable to advance cash on credit card charges. The U.S. dollar is the official currency of Ecuador; therefore, it is not necessary to purchase currency before arriving. Most major credit cards are accepted widely when shopping ashore.

Meals
Aboard the Humbolt, evening meals usually consist of lots of fresh vegetables, rice, pasta, chicken, beef, turkey, pork, and fish. Breakfast is the usual fare of eggs, bacon, pancakes, French toast, muffins, danish and fresh fruits. Lunches vary from soup and sandwiches, burgers, pasta, assorted salads, and quiche. Homemade baked breads, cookies and brownies are offered between dives. If you have any dietary restrictions or requests, please indicate so on your application form. Please note that specific brands of drinks, dressings and foods are often unavailable in the islands, and that it can be very difficult for us to find low-fat or soy products, fresh fruit, fish, and other items common elsewhere. While we will do our best to accommodate your requests, please be realistic and consider bringing some of your own foods if the lack thereof may constitute a health risk.

What to Bring
Packing for a liveaboard trip is much easier than packing for a land-based vacation. The climate doesn't require much more than shorts, T-shirts, and swimsuits (you may consider slacks, dress shorts or sundresses for dinner ashore). In the winter months, a sweater, long pants and windbreaker for the evenings can be a good idea. Soft luggage is recommended as it takes up very little space when empty and fits more readily under the bed. Sun screens, sunglasses, a visor or hat is recommended. In case of rough weather or if you have a tendency towards seasickness, come prepared with motion sickness medications or Transderm patches from your doctor. If you have favorite CD's or DVD's, feel free to bring them.

All linens (including sheets, comforters, bath towels, hand towels, dive towels, and wash cloths) are provided on board.

If possible, pack your regulator, dive computer, mask, a swimsuit, change of clothes and toiletries in your carry-on bag. Having these few items with you will make an unexpected luggage delay far more bearable.

More about Darwin's Galapagos:
The Galapagos Islands were discovered in 1535 by Fray Tomas de Berlanga, bishop of Panama who drifted across them while on a voyage from Panama to Lima, Peru. They were given their current name by Abraham Ortelier in 1574 after the giant tortoises. Galapagos is Spanish for a saddle a reference to the shape of the carapace (shell) of the saddleback tortoises found on some of the islands.

The Islands had been called Las Encantadas or bewitched islands. This was because of the strong currents that flow through and around them, so making navigation difficult and also due to the gaura or mists making it difficult at times to tell whether it was the islands or the ship that was moving. This name was in continued use by whalers and pirates for some time after the title of Galapagos was generally accepted.

There were no native peoples, though doubtless sea-faring races in pre-history had come across the islands, but kept on going for more hospitable places to build their communities.

Because of their isolation, the Galapagos quickly became a refuge for pirates and castaways. Treasures were buried, and stories grew up around them. By 1792, British whalers had reached the Galapagos and began to hunt for whales around them. Like many oceanic islands, the topography of the ocean floor suddenly sweeping upwards causes upwellings of deep nutrient-laden currents so resulting in a bloom of phytoplankton and so of animals that are a part of the food chain. The Galapagos are an excellent feeding ground for whales, with the Islands of Isabela and Fernandina being a calving place.

The whaling business was lucrative and unregulated, whalers took whatever they could until their holds were full. They also took the giant tortoises as living larders to provide fresh meat on the cruise. A typical whaling ship would take 500-600 giant tortoises in this way to be stored upside down in the holds to be slaughtered and eaten when fresh meat was needed. It is thought that the whalers caused the extinction of tortoise subspecies on the islands of Floreana, Santa Fe and Rabida. In total it is estimated that whaling ships removed 200,000 tortoises from the Galapagos.

One interesting relic of whaling days is still preserved on the islands, that is the whalers post-boxes. Whaling ships were away from port for usually at least 2 years and commonly more, so post-boxes were erected on islands where they might be seen by other whaling ships. Letters left in the boxes, often little more than a small barrel raised on a pole with a roof to keep the rain out, were left with a request that ships on their homeward journey would take the mail back with them and post them on arrival.

The whalers also caused further problems that would be around long after they left in the form of feral non-native animals. Black rats, cats, cattle, donkeys, goats, pigs and dogs are a legacy of whaling and other ships that called by. Sometimes the animals escaped, sometimes in the case of goats and pigs, they were deliberately let free to breed and establish a population that could be used for food by ship wrecked sailors in the future. These feral animals then competed with native fauna for food and habitat.

Author Herman Melville (of Moby Dick fame) visited the Galapagos aboard a whaler and later wrote about this visit in the story The Encantadas in 1855.

The Galapagos were largely ignored and considered unremarkable except to the occasional ship's naturalist until Charles Darwin landed in 1835 aboard HMS Beagle. Darwin was at the time a young man who had embarked on the exploratory voyage while in the midst of studying for the clergy. The voyage and especially the experience and collection of animal specimens from the Galapagos led to the development and crystallization of a set of ideas that would lead to Darwin's theory of evolution. Surprisingly perhaps, when Darwin arrived at the Galapagos, he was more interested in their geology than biology, though this changed when he started to look at what there was to be found there.

What fascinated Darwin the most was the geographical isolation and distribution of species. In Voyage of the Beagle, published in 1845, he documented his epic natural history journey. His discourse on the subject of evolution was not published until 1859, when the first edition of On the Origin of Species emerged in England and forever changed the study of evolutionary biology.

There were two to three hundred people living on Floreana at the time of Darwin's visit, he wrote:

"The staple article of animal food is supplied by the tortoises. Their numbers have of course been greatly reduced in this island, but the people yet count on two days' hunting giving them food for the rest of the week. It is said that formerly single vessels have taken away as many as seven hundred, and that the ship's company of a frigate some years since brought down in one day two hundred tortoises to the beach."

The Ecuadorian government used the Galapagos for penal colonies until the middle of the twentieth century. There were plans to further exploit the islands for their mineral resources such as coal and guano, but these foundered for the simple reason that there was insufficient for it to be viable. Salt was mined from a salt lake on Santiago and was used for salting locally caught fish and tortoise meat.

The oldest colony on the Galapagos was established on San Cristobal in 1869 and remains the seat of government in the Galapagos today. Other towns that are still in existence were established in the later years of the 19th century. Villamil on Isabela where coral was mined and burned to produce lime. Santo Tomas, 20 km inland also on Isabela was established to mine sulphur from the volcanic fumeroles in the area. These activities were supplemented by fishing and cattle ranching on the moist windward slopes of Sierra Negra.

Ecuador declared the Galapagos Archipelago a wildlife sanctuary in 1935. From about this time, eco-tourism began in the Galapagos, U.S. President Franklin D. Roosevelt, visited in 1938 for instance.

In 1942, the United States was permitted to construct a major air base on one of the islands, Baltra, to protect and defend the Panama Canal. After World War II, the United States returned this base and its airstrip to Ecuador. Legislation to protect the archipelago had begun in 1934, but war and politics prevented official protection to take place until 1959, when Ecuador established Galapagos National Park. In that same year, 100 years after the publication of On the Origin of Species, the Charles Darwin Foundation was established under the auspices of UNESCO and the World Conservation Union. The Foundation's stated goal is "to provide knowledge and support to ensure the conservation of the environment and biodiversity of the Galapagos Archipelago through scientific research and complementary actions." To achieve this goal, in 1964 the Foundation opened the Charles Darwin Research Station (CDRS) in Puerto Ayora on the island of Santa Cruz.

The principal partner of the Charles Darwin Foundation is the Galapagos National Park Service, the government agency that manages the National Park, and, since the passing of the Special Law for Galapagos in 1998, the Galapagos Marine Reserve. The Charles Darwin Foundation helped to establish the GNPS in 1968, and over the years, the Park-Station partnership has become a model for how conservation science and management can work together.


PLEASE obtain trip insurance - IT IS REQUIRED FOR THIS TRIP ...it is VERY inexpensive and will protect your investment. REMEMBER IF YOU MISS A DAY….YOU MISS A LOT! You can purchase it right online as well as check quotes etc.

Click here for Dive Assure (the company I use) for either a 'one time' policy OR policy options that are BOTH Dive & Trip Insurance providing PRIMARY COVERAGE with excellent rates and coverage meaning THEY PAY DIRECT YOU DO NOT HAVE TO PAY AND WAIT FOR A REFUND!

or

Click here for Diver's Alert Network and use our

reference ID 1603080

.


PLEASE obtain DIVE insurance - IT IS MANDATORY FOR THIS TRIP ...it is VERY inexpensive and will protect your investment. Even if you have insurance that you think covers DIVING ACCIDENTS and air lifts…it is CHEAP to get a supplemental policy to ensure you are cared for.



DIVE ASSURE ... get BOTH TRIP & DIVE insurance in a number of inexpensive configurations!



or

Click here for Diver's Alert Network and use our

reference ID 1603080

.
FAQ's & ONGOING INFORMATION FROM THE THREAD:
Please see the 2nd post of this topic/thread for ongoing updates in chronological order for ease of keeping updated.