REMEMBER EACH TRAVELER MUST BE PREMIER MEMBER OR ABOVE & HAVE DIVE INSURANCE THAT COVERS RELATED TRIP DATES TO BE ELIGIBLE TO JOIN OUR AMAZING TRIPS!
Location: Bahamas Aggressor "OFF THE BEATEN PATH" Exploratory Trip
Dates:      Sept 19-Sept 29, 2018
Resort:    Bahamas Aggressor
Dive operator: Aggressor
Water Temp: Low 80's
Air Temp: 80-90F
Current: mild- strong (most dives will be drift dives, some live-boating and some moored dives)
Visibility: 60-90ft
Experience Level: moderate (must have AOW or similar experience, these are not your normal everyday dives so exceed the skills of new and novice divers. Contact trips@singledivers.com to ensure you can safely and comfortably make these dives)
 
The crystal-clear tropical Atlantic pours over the deep cuts between the cays and constantly shifting sand bars. Waters are thick with coral reefs that are alive with every imaginable ocean critter from the living jewels – angelfish and butterfly fish – to the charismatic food-chain toppers like grouper and barracuda – right down to the tiniest living invertebrates. Night diving allows guests to experience an entirely different group of critters and bevy of behaviors not visible during the day.

When you're considering your options for liveaboard scuba diving in the Caribbean, the Bahamas and her Out Islands offer a distinct blend of international glamour and tropical ease. The islands and cays sprawl across nearly 100,000 square miles of ocean, beginning at the northern point east of Palm Beach, Florida and spanning practically 750 miles to the southeast where there come inside 50 miles of Cuba and Haiti.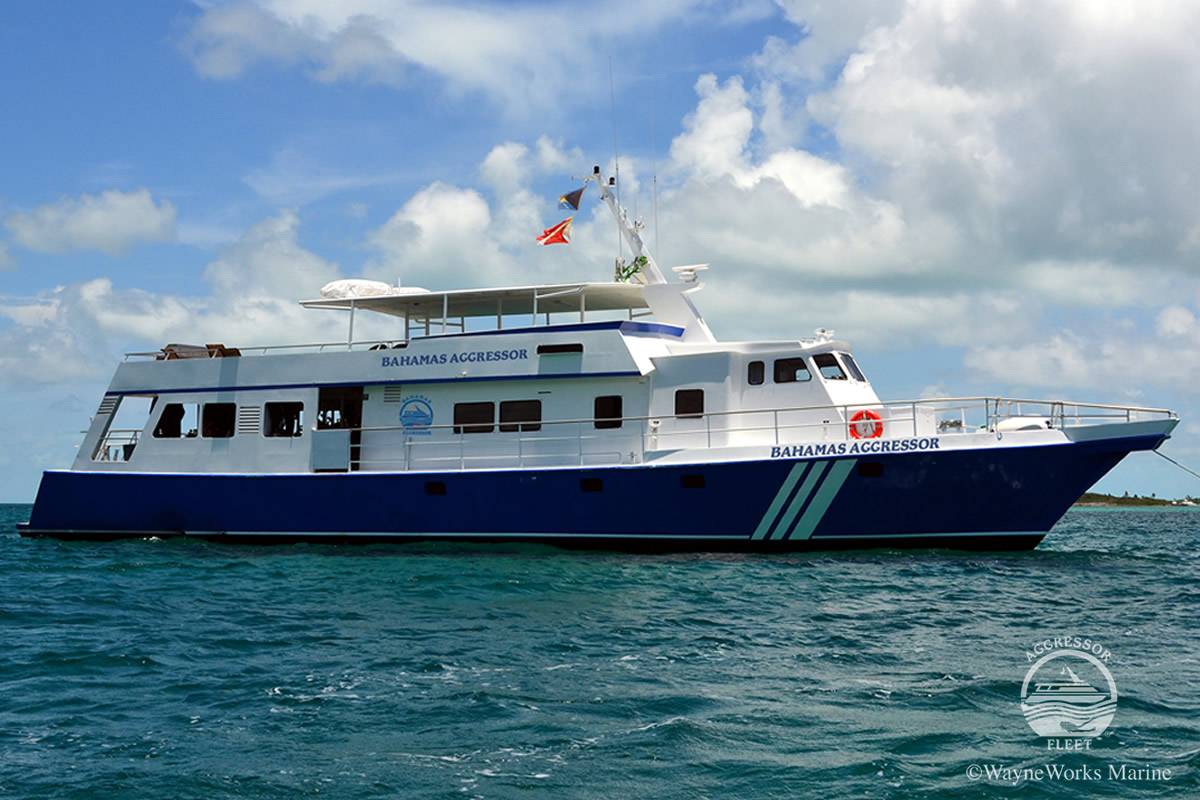 Pricing:
 
TRIP PKG PRICING:
Double Occupancy Deluxe $3528 or 

$3425 CASH

Quad Occupancy $3219 or 

$3125 CASH (MALE ONLY)

Single Occupancy $5822 or $5652 CASH (Ask us to convert 2 d/o spots to one s/o spot)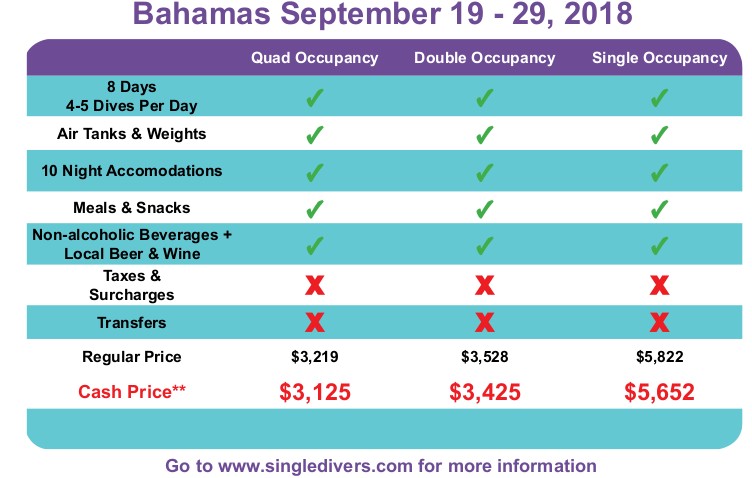 *All prices are per person.
**Cash Discounted Price is given when you select e-check at final checkout.
 
What's Included:
PACKAGE INCLUDES
• 10 nites Accommodations aboard the yacht
• 8 days Diving up to 42 dives
• Compressed air tanks, weights & belts
• All meals and snacks, non-alcoholic beverages, local beer and wine
FREE T-shirt "just pay $5 shipping) and other great give-aways!

Lots of 'Meets & Greets' to get to know everyone!

FREE Product Demos & Sponsorships by: Big Blue Dive Lights, Stream2Sea Body & Reef Friendly products, Coreskin thermal garments, and MORE being added all the time!
NOT INCLUDED:
• Airfare (international and domestic)
• Insurance
• Equipment rentals
• Nitrox fills
• Certification or specialty courses
• Hotel stays/day rooms
• Dinner on final evening
• Crew gratuity
• Port/park fees, fuel surcharge (when applicable), taxes (when applicable) Port fees $158 for 10-nights. All fees are paid onboard at the end of the charter. 
Airport Transfers  are not included in the charter price.
DIVE Insurance - is MANDATORY! DIVE insurance is VERY inexpensive. Even if you have insurance that you think covers DIVING ACCIDENTS and air lifts…it is CHEAP to get a supplemental policy to ensure you are cared for. Consider DiVEASSURE as it is primary insurance with minimal limits.
TRIP Insurance - It is STRONGLY RECOMMENDED. See INSURANCE info below for more recommendations.
Options & Extras:
 
OPTIONAL: 
 
Discounts & Rebates:
DISCOUNTS & DISCOUNT DISCLAIMER:
You must use the code when you book as they are not retroactive after you sign up UNLESS otherwise stated like the member rebate etc.
We are sorry for any inconvenience this may cause but the accounting expenses of manually trying to do the discount is far exceeding the discount amount making it very prohibitive to manage this way. So please be sure to use the discount code AT TIME OF INITIAL BOOKING.
NOTE: The EBD or Early Booking Discounts can only be used as follows:
When paying in full
When you first sign up
By the deadline given. After that deadline they disappear and the code will not work. (So please leave a buffer if you need to xfer money or have questions.)
Only one (1) coupon code can be used per order.
NOTE we will have a number of great discounts for this trip and signing up early including up to $ in cash discounts YES early booking HAS REWARDS!!!!
LATE IS GREAT...unless it is TAXES!!!  But this year you save BIG because we are late in getting this trip opened up so that MEANS BIG SAVINGS FOR YOU! Save up to $ by booking and paying in full by Oct 5, 2019. (Note various deadlines below.) Bring a friend and SAVE $$$.  But don't wait too long...all discounts will expire soon! 
Book & Pay in Full at time of Booking by 04-16-2018: Take

 

$300 off

 

ANY Package offered either Quad or Double occupancy (Use COUPON CODE:

 

18

NAS300EBD

) 
Book & Pay in Full at time of Booking by 04-23-2018: Take

 

$200 off

 

ANY Package offered either Quad or Double occupancy (Use COUPON CODE:

 

18

NAS200EBD

) 
Book & Pay in Full at time of Booking by 04-30-2018: Take

 

$100 off

 

ANY Package offered either Quad or Double occupancy (Use COUPON CODE:

 

18

NAS100EBD

) 
Book & Pay in Full at time of Booking by 05-10-2018: Take

 

$50 off

 

ANY Package offered either Quad or Double occupancy (Use COUPON CODE:

 

18

NAS50EBD

) 
 Bahamas Buddy Rebate:

 

Get a

 

$25

 

buddy rebate EACH 

 

for getting one NON-SD.com member to go and you both get a buddy credit. Get one SD.com member to go and you both get a

 

$25 buddy rebate.  Rebate issued at the end of the trip, after both trip goers send their buddy diver credit request, listing who they brought as a buddy to

 

info@singledivers.com

 

within 14 days of the trip ending.
SOCIAL MEDIA BONUS: Earn (1) CHANCE to win

 

$50 gift cert

 

for any merchandise SD.com sells including corporate sponsor merchandise including BIG BLUE LIGHTS, STREAM2SEA, CORESKIN, & MORE... good until Sept 2019. Simply sign up on our Facebook Trip Event for this trip AND "LIKE" SingleDivers.com if you haven't already AND share the FB trip booking on your page or in another diving group to which you belong. Each post in a different group or friends page will result in one chance.

 

Simply email  with your full list of contest entries no later than Sept 10, 2018; Please reference

 

BAHAMAS50GC

 

in the subject line.
Cash Discount:

 

Use our e-check option to pay for your trip and

 

CASH DISCOUNTED PRICES

 

will be applied at checkout.
Active Duty Military Discount:$25 OFF

 

Active Duty Military Discount for any active duty military of any country that fights for freedom. Thank you for your service. (Please be prepared to show military credentials to verify active duty status. )
Member Rebate:

 

File for your $25 member rebate within 30 days after the trip for SD premier and above membership levels

 

(See my forums signature for link to the forms forum or click on the green Paper Forms button in the forums . If you are new to the site send an email

 

to get the password. PLEASE follow the directions on the form for proper submission & processing.)
SAVE $75

 

by submitting your Documents within 21 days of booking this trip. If booking within 45 days of the trip please submit your documents within 3 days. Otherwise the $75 document processing fee will be added to your final invoice.

 

NOTE:The fee is not part of the trip price but will be added to your final amount if not submitted on time.
Accommodations:
Professional Crews
Captains and staff are professionally licensed as required by the laws of the country in which the yacht operates and complies with and the appropriate flag state regulations and/or SOLAS (International Convention for the Safety of Life at Sea) standards.  All yachts are required to follow Aggressor Fleet® Standard Operations Procedures (SOP). Dive instructors and divemasters are trained and certified by international recognized certification agencies. Each receives proficiency training and annual inspections to review safety aspects.
MACHINERY
Twin diesel engines on all steel and aluminum yachts
Two or more generators, 110-208 ac voltage, each capable of supplying the yachts needs independently
Two SCUBA air compressors with cascade storage
Nitrox membrane system  with cascade storage
Watermaker with ample storage
Support dinghies with outboard motors for shore excursions and scuba diving
NAVIGATION
Radar
Magnetic Compass
Depth sounders
Global Positioning Systems (GPS)
COMMUNICATIONS
Multiple VHF radios
Long Range Single Side Band Radio
Satellite Phone (where necessary)
Satellite Email (where necessary)
ENTERTAINMENT
Shore excursions to cays and beaches (where available)
Snorkeling and scuba diving
Digital underwater photography
Entertainment center, featuring a TV, DVD, stereo player and an assortment of movies and books
OTHER AMENITIES
Partially covered sun deck with chaise lounges, complete wet bar, CD Stereo player, and hot tub *
BBQ grill area
Full-service galley, freezer, and refrigerator storage
Comfortable swim platform with (2) warm freshwater showers, fin storage and (2) water exit ladders
Dive deck with personal gear lockers for in-place air/nitrox fill stations, rinse tanks and camera table with low pressure air hoses
Scuba diving equipment rentals and complimentary "loaners" if your equipment malfunctions or is delayed
Weights, weight belts, 80 cu. ft. aluminum tanks with  standard  yoke valves
DIN adapters *
SAFETY EQUIPMENT
Hang bar for safety stops (where necessary)
Complete First Aid Kit and medical supplies
D.A.N. Oxygen System with 100% demand regulator
Automatic External Defibrillator (AED)
Fire and Smoke Detection Systems
Fire extinguishers and Fire Fighting Equipment
EPIRB – Emergency Position Indicating Radio Beacon
Life rafts & rescue craft
Life jackets equipped with lights and whistles for all passengers and crew
Full Complement of Safety and Rescue Equipment
Emergency flares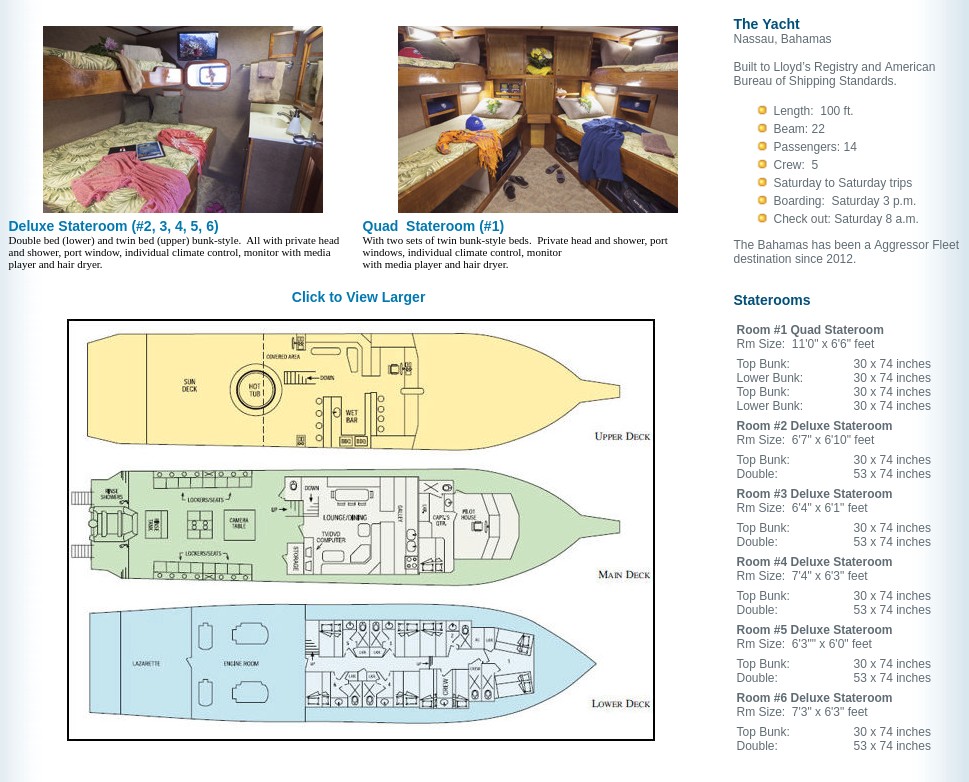 Payment Details:
 

PROGRESS PAYMENTS:
 
DOUBLE OCCUPANCY:
$750 dep asap
$900 payment due April 15
$900 due June 1
Final Payment: July 15, 2018 of $875 plus extras such as nitrox etc.
QUAD:
$750 dep asap
$1000 payment due April 19
$1000 due June 1
Final Payment: July 15, 2018 of $575 plus extras such as nitrox etc.
Note: For those signing up after July 15 the trip must be paid in full 90 days prior to departure or at signup. Extras must also be paid in full 30-60 days prior i.e., Nitrox, extra nights etc. IF YOU NEED EXTRA TIME LET US KNOW! (Note that to add an extra to the trip you must pay for it when you add it.)
PAYMENT OPTIONS:
 
SingleDivers.com uses a secure payment gateway fully integrated into our online booking system that allows you to pay for trips or merchandise using the following payment options:
An online e-check that debits your checking account automatically without having to mail in a check or having your bank mail a check from your account
An online credit card transaction that eliminates the need to fill to fill our a credit card authorization form.  (Note int'l cards please use AA as your *STATE* designation and 12345 as your zipcode and the charge should go thru. Please also note that we only can accept MC and VIsa)
PRICING INFORMATION:
 
SingleDivers.com provides its members with pricing that reflects all possible savings available including discounts from our over 10,000 member buying clout. We offer a CASH DISCOUNT that is always in BOLD RED LETTERS along with our regular pricing for easier comparison of all possible savings. The cash discount will be taken at the time of payment when you choose the "e-check" option.
 
HOW TO PAY:
As you sign up for a trip you will add either the trip deposit amount or the full trip price to the shopping cart. You can also add any extras you wish to purchase but you will have to pay for them whenever you sign up for them. So if you are not ready to pay for nitrox now but want us to know you will be adding it to your order...please use the comment box to let us know ultimately what you are signing up for and any other special concerns you have or information you want us to know. Just understand we will not show you listed as doing something until it is paid for.
When you are ready to pay for the extras you want you will click on the BOOK NOW button for the trip you are on and select the add-on(s) that you wish to pay for, add them to your cart and then check out. Depending on the trip you may need to click on the purple TAKE ME TO THE ADD-ON'S BOX. You will then either pay via e-check or credit card depending on whether you want a discount for cash or prefer the convenience of payment over time.
When its time to make a progress payment you will click on MY TRIPS under TRIPS on the main menu. You will see "Make a Payment" under PAYMENTS in the upper right. Then choose what you are paying for and complete your payment.
After each order you place with us you will receive an email order and payment confirmation. If you do not receive these TWO email confirmations (one showing the order at full price and one showing what was debited from your account including the cash discount) check in MY PAYMENTS to see if the payment was successful. If you do not see the payment in your My Trips then MAKE THE PAYMENT AGAIN. You will always get an order confirmation email every time you attempt an email but you will ONLY get a Payment Confirmation email when your payment was successful. If you need assistance please email .
The MY PAYMENTS section is located under the PAYMENTS option found in the upper right of the MY TRIPS area of our site which is found under the TRIPS tab in the main menu.
IN GENERAL:
Only payments received via our secure online payment gateway/portal will be accepted and will qualify for early payment discounts. (So check before you book for any discounts you may qualify for as they can not be applied after booking.)
If you are unable to use the gateway please provide a complete description of the problem/error you are encountering INCLUDING A SCREEN CAPTURE of the error here: SUBMIT HELP TICKET
If International/ Non-US Clients and your credit card payment does not work, either use AA as the state and 12345 as the zip or please use our traditional written credit authorization form to submit your credit card payment. To receive this form click on SUBMIT HELP TICKET.
Travel & Transfer Details:
 
AIRPORT & AIRLINE INFO 
The BAHAMAS AGGRESSOR™ liveaboard boat departs for scuba diving from Elizabeth on Bay Marina in downtown Nassau, a short ride from Nassau International Airport (NAS).
Many major airlines fly into Nassau: American Airlines, Air Tran, Bahamas Air, British Airways, Delta, Jet Blue, Spirit, United, US Airways. There are many direct flights from the US and several connecting flights through the US gateway cities of Miami, Fort Lauderdale and Atlanta.
ARRIVAL/BOARDING/DEPARTURE:
Guests arriving into Nassau (NAS) International Airport on Wednesday Sept 19, 2018 will first clear customs then proceed to the taxi stand located just outside the terminal building. A fixed fare taxi can be secured to take you to "Elizabeth on Bay Marketplace and Marina" in downtown. Guests may board the BAHAMAS AGGRESSOR™ after 4 pm on Wednesday. At 6 pm the yacht departs for its night anchorage to prepare for diving Thursday morning. After a full 10 days of diving fun, the BAHAMAS AGGRESSOR™ returns back to the Elizabeth on Bay dock in Nassau Friday afternoon after lunch (1 dive offered Friday). Check-out is Saturday Sept 29th morning at 8 am. The crew will assist organizing transportation back to the Nassau International Airport Saturday morning or a local hotel if you are extending your stay.
 
VISA/PASSPORT INFORMATION
The Commonwealth of The Bahamas consists of 700 islands and nearly 2,500 cays.  About 30 of these islands are inhabited.  The capital city of Nassau is located on New Providence Island.  Close by is Paradise Island which is accessed by bridges from Nassau.  The closest island to the U.S. is Bimini, about 55 miles off the coast of Florida.
Please note that A U.S. passport valid for at least 6-months from the date of entry is required to enter THE BAHAMAS. Though not required by law, some travelers have reported difficulty departing THE BAHAMAS using a passport with less than six months of validity beyond the date of departure. A visa is not required, but tourists must provide evidence of return or onward travel. U.S. citizens are encouraged to carry a photocopy of their U.S. passports with them at all times, so that if questioned by local officials proof of identity and U.S. citizenship are readily available. For other global citizens, please review BAHAMAS visa requirements posted on the Internet.
 
TRIP INSURANCE:
 
Trip Insurance is STRONGLY SUGGESTED and/ is NOT required on this trip! TRIP insurance is RELATIVELY inexpensive. Even if you have insurance that you think covers your trip…it is CHEAP (approx $100-$200) to get a supplemental policy to ensure you are covered for your investment in your dive trip. If you opt to not get trip insurance you are responsible for all losses related to your trip including not going for any reason. If diving a LIVEABOARD please consider the liveabaord rider offer by DiveAssure.com.
 
We recommend:
 
Dive Assure: for either a 'one time' policy OR an annual policy for BOTH Dive & Trip OR just Trip Insurance providing PRIMARY COVERAGE with excellent rates and coverage! Please use THIS LINK and/or reference SingleDivers.com via the drop-down menu under GLOBAL PARTNERS. (If you can not find the drop down, do not reference anyone and email info@singledivers.com your policy info and we will do it for you via our Dive Assure company representative. OR SIMPLY USE THIS LINK AND YOU WILL BE AUTOMATICALLY TIED TO US. )
Diving & Itinerary
 
Diving Details:
Sharks, Eagle Rays, Stingrays, Groupers, Walls and Reefs with abundant marine life and multiple macro critters.
All dives from mothership.
Water temperature: 80-84F, 26-28C for September
3-5 mm wetsuit recommended (easier to cool off than warm up)
10-night charters: up to 42 dives
A 15 ft x 4 ft tender is used to take guests for 1 - 2 shore excursions during the week. All diving is from the mothership
Our special 10 day itinerary will consist of 8 days of up to 5  tank dives starting on Thursday and ending on Thursday/Friday am. We are trying something NEW and EXCITING...we are GETTING OFF THE BEATEN PATH and doing some EXPLORATORY DIVES where others have not dove before. BE THE FIRST TO SEE PRISTINE DIVING NO ONE HAS SEEN BEFORE....  Stay tuned for more details!
THE PROGRAM SO FAR FROM THE BOAT CAPTAIN....
Kamala, I have been in touch with David, the Captain on the Bahamas Aggressor, just to check with him and get some more detailed info about this trip. This is what he said and to me it sounds extremely exciting.
I don't see any reason why we can't do Conception Island. For the ten day itinerary we could take in Cat Island and Conception Island as well as working our way up the Exuma chain. If they are aware that this is an off the beaten path itinerary then we could do some wonderful exploratory diving. I will also do some research in regards to Oceanic White Tips near Cat Island. This is nothing different to what we did at first in Grand Bahama and Bimini. We had zero dive sites in Bimini and we had very little in GB - however those ended up being a great success. This trip is a long time away so we have time to finalize our plan of attack to show these guys a great time.    Kind regards  Dave P (Aggressor Boat Capt)
PROPOSED ITINERARY: TBA
 
While OUR personal OFF THE BEATEN PATH EXPLORATORY BAHAMAS DIVING Experience may vary due to weather and conditions, the outline below will give you a good feel for the exciting trip in store for us! KEEP CHECKING BACK AS MANY ACTIVITIES ARE STILL BEING LINED UP FOR THESE TWO AMAZING WEEKS OF FUN IN THE SUN AND CRITTERS IN THE SEA!!!
Sept 19, 2018 Wednesday - DAY OF ARRIVAL
Sept 20, 2018 Thursday - First day of diving
Sept 21, 2018 Friday - DIVING
Sept 22, 2018 Saturday: - DIVING
Sept 23, 2018 Sunday: - DIVING
Sept 24, 2018 Monday: - DIVING
Sept 25, 2018 Tuesday: - DIVING
Sept 26, 2018 Wednesday: - DIVING
Sept 27, 2018 Thursday:  - DIVING
Sept 28, 2018 Friday: possible early am dives
Sept 29, 2018 Saturday: This is departure day and the end of our exciting week aboard the Bahamas Aggressor. All guests will depart the boat by 8am. Do keep approx $15 for your exit tax out of the country in case it is not included in your airline ticket. 
DAYS AFTER YOUR TRIP: For those who opt for the add'l extra days your departure date will vary but the process will be the same. We will help you with fun optional things to do and we will help you find a roomie for extra days...we just can't guaranteed it so just let us know!
DIVING INSURANCE:
DIVE Insurance is required on all trips! DIVE insurance is VERY inexpensive. Even if you have insurance that you think covers DIVING ACCIDENTS and air lifts…it is CHEAP (approx $100-$125) to get a supplemental policy to ensure you are covered for an entire year of diving. 
PRO TIP; The two primary suppliers of dive insurance DiveAssure.com and DAN are inexpensive enough to carry both. This way you will have the best coverage internationally, the best coverage domestically, primary insurance, secondary insurance and if a claim is denied on one policy you can submit it on the other. No matter what happens...YOU ARE COVERED!!! ... PRICELESS!!!
 
We recommend:
 
Dive Assure: for either a 'one time' policy OR an annual policy for BOTH Dive & Trip Insurance providing PRIMARY COVERAGE with excellent rates and coverage! Please use THIS LINK and/or reference SingleDivers.com via the drop-down menu under GLOBAL PARTNERS. (If you can not find the drop down, do not reference anyone and email info@singledivers.com your policy info and we will do it for you via our Dive Assure company representative. OR SIMPLY USE THIS LINK AND YOU WILL BE AUTOMATICALLY TIED TO US. )
Alternatively you can also use....
Diver's Alert Network: Please use our reference number when ordering: ID1603080   (This only works if you are a new first time DAN member.)
Experience Required & Training/Workshops:
Minimum Certification / Experience:  The Bahamas diving is GENERALLY open to ALL levels of certification OW and up, at any experience level. HOOWEVER since this is an exploratory trip we are requiring AOW or equivalent with at least 45-50 dives. You must be able to comfortably do drift dives, throw a bag and/or extend a safety sausage from 20 feet while doing your safety stop and be comfortable with diving sites no one has ever dove before.
Certification in Paradise - Ask us about different certifications available on this trip. Its always nice to get certified in Paradise. Let us help you do this!  USE THE "Help with this trip" BUTTON TO REQUEST MORE INFORMATION
Advanced Open Water - includes several 'advanced dives' such as navigation, night, and deep plus several choices of your own including photography, peak buoyancy, etc. USE THE "Help with this trip" BUTTON TO REQUEST MORE INFORMATION
Nitrox - includes book work, classroom instruction and sometimes the manual. Some classes include the use of a nitrox compatible computer and the gas itself. Some classes will give you a reduced rental rate for the computer and use of the gas if you take the class during the trip.  USE THE "Help with this trip" BUTTON TO REQUEST MORE INFORMATION
Solo Certification - This cert will enable you to dive independently of a human dive buddy by training you to dive with a mechanical dive buddy aka a pony bottle or stage bottle. - Ask about the 'enhanced solo skills' where the instructor will challenge you with several additional skills that will complement your solo cert skills enabling you to be even MORE independent and self sufficient in the water. USE THE "Help with this trip" BUTTON TO REQUEST MORE INFORMATION
PRICES: Prices for classes in Paradise are always more expensive than doing them at home. Sometimes SingleDivers.com has instructors on our trips who are happy to teach AND usually offer a member discount to anyone interested in taking a class. The more that take a class the more feasible a discount becomes .
 
Documentation & T&C's:
 
DOCUMENTATION
All SingleDivers.com trips require necessary documentation to facilitate booking your trip and/or making it a better experience for you.  Once you complete your documents online our automated system will take the information from your last trip with us and fill out your new trip forms for you. You then add any missing information and/or change anything that is no longer current. You will find the forms you need to complete under MY TRIPS which you will find under TRIPS in the main menu across the top of the site. Since each trip requires a unique set of docs, please choose the correct trip from your "My Trips" drop down and then complete the forms required for that trip. Some trips will also ask you to complete the resort or liveaboard's forms as well.  

The AIR AUTHORIZATION FORM is only required when you are having SingleDivers.com book air for you but this includes air that is part of the trip pkg price. 

Not all of our forms are online as they are either infrequently used or being phased out. If you need a form that is not in our online directory, simply click on SUPPORT on the main menu and then click on SUBMIT HELP TICKET and choose TRIP ADMINISTRATION and ask for the form you need.
 
TERMS & CONDITIONS
All SingleDivers.com trips require:
You complete the necessary documentation as referenced above for each trip you sign up to take with us. A $75 document fee will be applied if you fail to submit your online and uploaded documents withing 21 days of signing up for a trip or within 3 days if signing up within 45 days of departure.
You read the EXPERIENCE REQUIRED & TRAINING/WORKSHOPS information in the online trip details to ensure that you are able to safely and comfortably meet the requirements of the trip. Please contact to further discuss any questions you have about attending one of our trips. We often accept students who would not otherwise meet the stated trip requirements because they are taking a class that will then enable them to meet the trip specifications and they will be diving with an instructor or dive master during the dives.
We require Dive Insurance for all dives and trips as stated above and we STRONGLY recommend trip insurance for all dives and trips but in some cases require it due to vendor specific mandates. Please see the online trip details under INSURANCE to see if the trip has optional or mandatory trip insurance requirements.
In the event of cancellation, your trip insurance will be your first line of defense. Secondary remedies include some rights afforded to you based upon when you have to cancel your trip in writing. Please see THIS link for full additional trip cancellation details.
Please read THIS link for our Guaranteed Double Occupancy Policy, Rooming Policies, Payment Terms, the "Ex" Rule etc.
Edited by dive_sail_etc, 06 May 2018 - 04:45 PM.