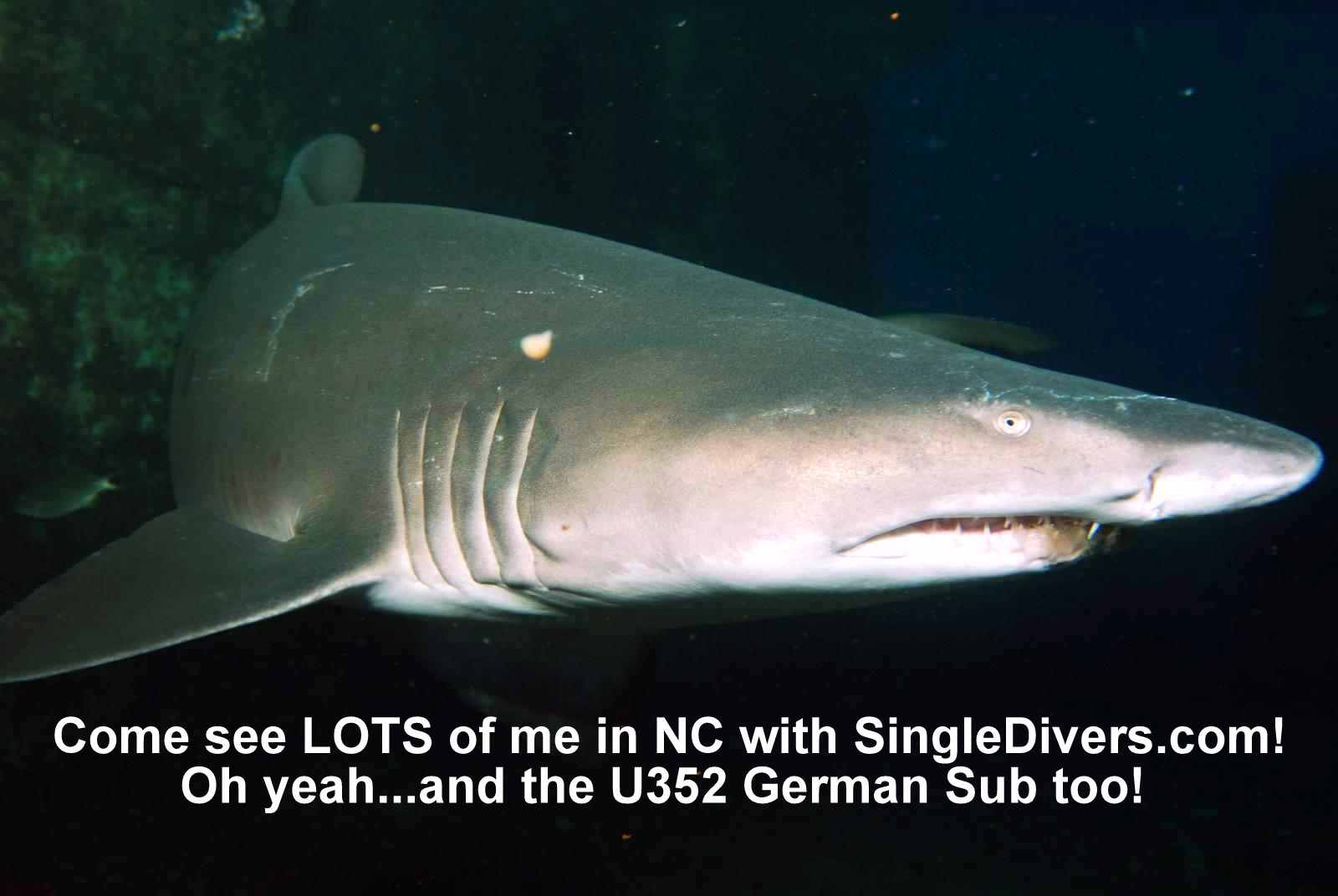 The pictures are amazing and the thrill of diving on history is exciting. But is North Carolina wreck & shark diving really suited for me? Or are my skills up for it?
Please note...after reading below even if you sign up I will speak to EVERYONE on the trip to verify they are really comfortable with the diving conditions in this venue. It's not personal. The boat can't turn back to help someone seasick no matter how sick you are. The boat will turn back for life threatening emergencies and DCS but nothing else. So because more people end up NOT doing NC than do it...we have to vet everyone signing up for this trip. Thank you for understanding. A number of the people joining our trips do so ONLY because we do not let people on the trip who should not be there. The trip is only as good as the weakest diver... so we have to ensure everyone can handle NC diving. I know many divers with hundreds of dives...and several with over 1000 dives but HATE NC because its too hard, to wild, to crazy, too unpredictable. So please let us help you determine if this is a good venue for you.

First off I've been diving NC for nearly 30 years. I did my first real ocean dives in NC and have had the best and the worst diving experiences in NC both above and below. And I have led numerous trips to NC over the years so I am happy to help anyone figure out if they will enjoy NC as well as be able to be safe for their diving skills, style and preferences.
When its good...its GREAT!!! And on any given day it can be fabulous fall off the boat diving like anywhere n the Caribbean.  But that is not most days...and on most days it can be the most challenging diving you've ever done. But if you do join us on this epic trips be prepared for your skills to grow to a whole new level. Sometimes we offer our famous Rent A Buddy program in NC and sometimes we do not. I am still uncertain if it will be offered this year since its been so many years since doing NC last. We will let you know soon if that program will be available.
The best way to help you answer this for yourself is to tell you what it is not and what it can be. Then we ask you to feel free to contact kamala@singledivers.com or 864-557-6079 with any additional questions or to chat with me about your skills. We don't want you getting in over your head... literally!
1. How many dives should you have? You should have at least 40-50 dives in fairly challenging conditions such as current that you had to swim into, hanging onto a line with 'flagpole current' pulling yourself to the wreck to block it or choppy waves you had to get back on the boat in timing the ladder to not hit you trying to climb up it...or be thrown around.
2. What level of certification should you have? You should be advanced open water or equivalent. In other words you are comfortable using your computer. You are comfortable doing you own dives with a compass and natural navigation as there are NO in water dive masters to guide you around the wreck nor get you back to the anchor line. You should be able to take care of yourself under water as well as your buddy. You should be comfortable in low vis and sometimes changing sea conditions.
3. How is NC diving different from other places?
The wrecks and so therefore the dives are EXTREMELY far offshore ie. 2-3 hr boat ride one way.
The wrecks are deep ranging from 80-130 ft with very little relief meaning the top of the wreck may be 20-30 ft off the bottom max. So if the wreck sits in 110 ft of water and only has 20 ft of relief then your effective dive profile is 90-110 ft or at most 85-110 ft. You will not see anything 50 ft off the wreck.
Even if the weather is good you can easily get sea sick due to different wave action from so many currents and waterways merging. i.e Atlantic, Gulf Stream, etc.  Even if you've NEVER gotten sea sick before... many people will get sea sick in NC due to distance off shore, hour of the morning, lack of sleep, different rocking and rolling or even pounding action when the boat hits waves or bounces around.  We STRONGLY suggest you take sea sickness meds and will have them on the boat for you. PLEASE TAKE THEM.
NOTE: We try to avoid all undesirable sea conditions and weather conditions but some are unavoidable.
If there is a little wind you will have surface current. You can have no current at the surface but have current at 30 ft. Or none at 30 ft but have strong current at 80 ft or the bottom of the wreck.
You can have warm water for the first 80 ft and the last 20 ft can be 5-10 degrees cooler. Usually the cooler water has lower vis as well. The best vis is the warm clear Gulf Stream. By July its usually in this part of NC but it can be elusive and not quite cover all the wrecks in the area.
You must hold onto the anchor line going up and down the wreck to ensure you are not swept away by surprise or heavy currents.  To prevent injury to your hands you will need gloves. The wrecks are not a marine park so gloves are not only allowed but suggested. NOTE: We suggest cheap work or garden gloves and not expensive dive gloves unless you already own dive gloves and never use them.
You must not do a free ascent meaning that you do not come up to the surface like you do in the Caribbean. You MUST come up the anchor line and go down the anchor to the wreck physically touching the anchor line. You never know when you will hit current and be swept off the line. By the time you realize its happened you could be swept too far away to get back to the line and will have to abort your dive or you will waste a lot of air/nitrox trying to get back to the line. So just hold onto it and you won't have an issue in this arena.
If we have current you need to be able to use the wreck to hide from a strong current or just hang onto the line and enjoy being a flag on a pole.
There are no dive masters to follow so you must be able to use a compass and natural navigation to explore the wreck and return safely to the anchor line. The boat will have crew members but their job will be to jump in with an anchor and tie the boat off to the wreck and then until the anchor from the wreck at the end of the dive. They are also there to help you on and off the boat.  Sometimes you can hire a dive master to be your personal guide but this is quite expensive and is not always available due to space limitations of total passengers the coast guard has rated the boat for. NOTE: Our trip does not allow add'l crew on the boat without exceeding USCG regulations.
You should not walk along the boat deck with fins on. You should put them on right before jumping into the water in case the boat pitches or rolls thus avoiding unnecessary risk of injury.
You need to be comfortable with a 5ft drop off the side of the boat to the water as well as a negative entry meaning you go in without any air in your bc and you keep going down. You can attempt to come to the surface to get a camera but if the current is strong you may need to abort a large camera set up and consider using a paralenz or gopro that is in your bc pocket.
You must be able to plan your dive and dive your plan as divers will scatter in different directions and you should never trust following someone as they most likely do not know the wreck any better than you do. Also keep in mind that your compass will not give you a good reading due to all the metal so you will need to be able to use alternate navigation techniques such as the hub and spoke pattern off the anchor line to navigate the wreck. In this navigation pattern you go out 15-30 fin kicks from the anchor and then turn around and return to the anchor and then do the same thing again in another direction each time returning to the anchor.You will see a great deal of the wreck and always know where the wreck is thus allowing you to be relaxed and confident in your diving.
The boat leaves around 6:30am so you need to be an early bird. If you get seasick we will NOT return to shore until both scheduled dives are completed along with a two hour surface interval between the dives and the 2-3 hr boat ride each way. If you are sick you will need to gut it out as there is no way to return to the dock until many hours later that day sometimes as late at 5pm.
3-5 ft seas is normal. 1-2 ft seas is calm. 6-6+ft seas are considered rough.  To better understand what this means; If you are in the Caribbean with 1-2 ft seas they will call the dive and not allow you to dive. Even parts of Fl will do the same. NC divers laugh when they do this because what they consider too rough in the Caribbean is a calm beautiful day in NC.
When you get back on the boat you MUST keep your fins with you. You can not hand them up. You MUST be able to put them on your wrists or clip them off to your bc because if you are thrown off the ladder away from the boat you will need to put them back on to attempt to get on the boat again. So no full foot fins are allowed. You will not have a way to attach them to your bc or your arms otherwise you could easily lose them trying to hand them up to a crew member. To avoid possible injury to you or a crew member we require traditional booties and fins and your fins need to be able to attach to your bc or looped onto your wrists.
There are no small boat tenders to come and get you if you can't get back to the boat. You must be able to get back to the boat no matter what. We may be able to throw you a line but we won't have a chase boat nor can we rely on a diver to rescue you. You must be able to self rescue.
You must be able to deploy a safety sausage from 15-20 feet below water in case you are separated from the line due to current or getting lost so we can see you if you drift away while doing your safety stop. You MUST do a 3-5 min safety stop and you MUST be able to deploy your sausage under water. If you wait to deploy it on the surface and you are NOT attached to the anchor line of the boat then you could drift a very long ways away and possibly not be in sight of the boat when you surface.
You must be comfortable knowing if you have drifted away from the boat that we will find you BUT... it will be awhile. First we have to wait til every diver has finished their dive. Then we will do roll call and discover that you are missing. Then we need to unhook the anchor from the wreck and haul it back up before we can start to look for you. It could be 45mins to an hour that you are drifting before we can get you. WE WILL FIND YOU. We know which direction the currents are flowing. Even if you can't see the boat any longer we will find you, however it will take time. You MUST be comfortable with this possibility should this happen to you. I repeat...WE WILL FIND YOU! It just won't be fast. (We have found divers as well as cameras that float both of which have floated for a very long time but we can and will easily find you.)
You need at least a 5-6ft safety sausage. A 3 ft sausage is too small and can not be seen if we have 3-5 ft waves. You must have a 5-6ft sausage or longer.
You MUST dive a computer and preferably two computers. Two computers are really one if it fails and one computer is really none. We will not allow anyone to do these dives without at least one computer. NOTE: A computer is not considered a back up computer unless its been diving with you all your dives. You can't leave it it in the bag and pull it out if your primary fails.
You really should be nitrox certified to do these dives. You will have an incredibly short dive if you are diving air. If you plan to dive air PLEASE contact me before signing up. I need to understand why you are not choosing longer bottom time after spending so much time and money to get here.
Vis can range from 30 ft to 100+. We suffer thru the days with only 30ft of vis and live for the days or 70-100 ft vis. Wind, currents, the gulf stream, storms, etc can all change the visibility. We never know what the vis will be. It can be great one day and terrible the next. Yes it changes that much. You need to be prepared for this and comfortable with it and be able to take it into stride.
The  boat will have a head on it but it will be small and for many people will make them more prone to being sea sick. You need to be prepared for this.
We will serve lunch on the boat for everyone so you won't have to try and bring a dozen small coolers or find food at 6am in the morning. Lunch will be sandwiches and snacks water and soda.
While its not as common as it used to be...often we'd get people who had only done fresh water dives attempt NC. It is really a good idea to have ocean dives under your belt. There is just no comparison to only fresh water dives.  NOTE: The boat now requires you have had at least 2 ocean dives. (See below for more boat requirements)
If you are flying in you need to do the FLY IN PKG which has an extra night of hotel. If you are driving in we STRONGLY RECOMMEND THE FLY IN PKG vs the drive in pkg. The drive in pkg entails you checking out the morning of the last day of diving and then go diving and then drive home without a shower and after a long day of diving. We do not recommend this. We usually offer it for those on an extremely tight budget but we do not recommend it.
If big sharks make you nervous then you need to reconsider this dive. If big fish make your nervous you need to reconsider this dive. If seeing people kill lionfish or other game fish makes you nervous then again you should reconsider these dives. Hunting is allowed and hunting of lionfish is encouraged. 
And while it is a wreck and mother nature does more harm in one storm than man can do in years...we do ask everyone to treat the wreck like you would a reef and try to stay off of if UNLESS we have ripping current and you have no other choice.
You must be back on the boat with 750 psi. This means you need to start ascending at 1200 psi or no less than 1000. You will need plenty of gas to go from 80-120 ft to the 20 ft level to do your safety stop. You will need enough gas to do your 3-5 min safety stop and you will need enough gas to get back on the boat even if the seas are rough and its blowing you away from the ladder. Usually we do NOT hang a spare bottle off the back of the boat in 20ft of water but sometimes they do. This is for emergencies only and not part of your planned gas management. If everyone relies on that bottle which may or may not be there then you are risking a further disaster.
The season for NC is very very short. I try to choose a date right in the middle of the season anticipating the best chance of good weather and good conditions. However we can have storms in NC anytime during June, July and Aug (and of course during official hurricane season of Sept and Oct).  We can have terrible conditions one day and great the next. Yes the conditions can be that unpredictable. But when its good... its great!!! Its REALLY GREAT!!! In fact its one of the best places I have ever dove in my nearly 30 years of diving!!!
This is big boy and big girl diving...its not for everyone which is why we are trying to help you decide if its for you.  The sharks are amazing...the wrecks divine...but its not always easy diving. As I said above, I have personally dove NC for almost 30 years so I can help you decide if its right for you. 
Some ask why they have heard that NC diving is easy or the water was glass calm when their friend went there. And my reply is that on any given day you can win the NC wreck conditions lottery and the conditions will be perfect...the seas will be glass smooth...there will be no wind, no waves and no current. But those days are what diving dreams are made of and why everyone will put up with the other conditions in hopes of having another one of those perfect days!!! 

Got a member question I wanted to share to give you an idea of just how different this diving is...and of course summarize the boat's add'l requirements I have not mentioned so far:
Q. Do they put our tanks on the boat for us and take them off at the end of the day like they in most places around the world?
A. No. Since this is a US Domestic venue and we live in such a litigeous society, for liability reasons you put your own tank on the boat and hook up your own gear. No one will do this for you so no 'valet' diving in NC.
Update on add'l requirements from the operator: Please note the addition of the requirement that diver's must be physically able to put their own rental or private tanks on the boat and remove them for fills at the end of the day.
OTHER REQUIREMENTS FROM THE BOAT & SINGLEDIVERS.COM:
·         A minimum of 40-50 logged dives. Advanced Open Water Certification OR equivalent required.
·         At least 10 dives in the ocean to 80 feet or greater.
·         At least 10 logged boat ocean dives.
·         At least 10 dives in the last 12 months. Minimum age for Full Day Dive Trip is 15 years old. (Prefer 17 but contact trips@singledivers.com to see if your child is ready)
·         Physically able to put tanks (rental or private) on the boat each day and remove them to get them filled.   (Wheelbarrows are available but the dive crew/shop staff do not manage/handle tanks for divers. OUR MEMBERS will help each other but don't expect the crew to do this. ASK US IF ANY QUESTIONS via trips@singledivers.com)