WE CAN NOW OFFER A COMPACT WAY TO KEEP YOU DRY AND WARM
WITH THE SINGLEDIVERS.COM MICROFIBER TERRY and MICRO-SUEDE TOWEL (Note: The Terry Towel is the first picture and the suede towel is the second picture.)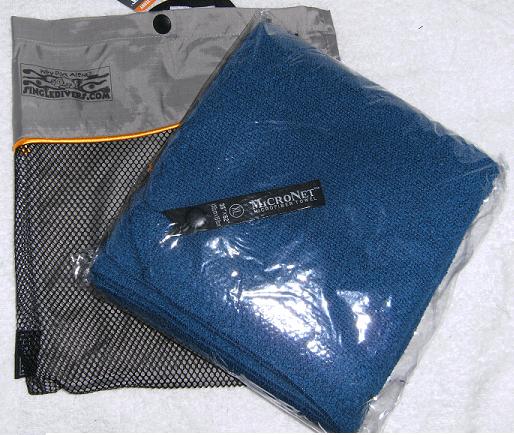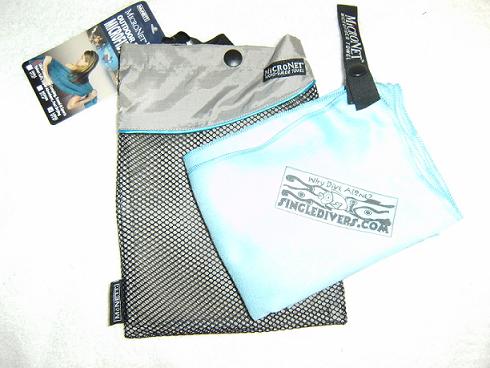 PRODUCT DETAILS
Name:
MicroNet Micro-Terry Towel
Dimensions:
Large = 30"x50"
X Large = 35"x62"
Color:
Blue (avail in Suede and Terry)

Light Teal (avail in Suede)

Light Brown (avail in Suede)

Weight
1 lbs.



Product Info:
Full-sized towels of velvet-soft microfiber pack down to the size of a paperback book! Towels absorb 5 times their weight in water and dry quickly. Deluxe mesh storage bag with accessories pocket included.

Care:
Machine or hand wash in cold water with like colors. Do not bleach. Do not use fabric softener. Wash dark colors separately. Hang to dry or machine dry with low heat
Price:
XL SUEDE = 30.00
LRG. SUEDE = 25.00

XL TERRY = 26.00
LGE. TERRY = 22.00

Shipping & Handling: $6.00 US & Canada

Quantity On Hand:
Micro-Terry
IN STOCK =XL
IN STOCK =LG
Micro-Suede
IN STOCK =XL
IN STOCK =LG
To Order:

1. To order a Micro-Terry or a Micro Suede or any other SD merchandise please post in the appropriate thread INCLUDING SIZE & COLOR PREFERENCES, HOW YOU WANT IT SHIPPED AND IF YOU WANT INSURANCE* and use the Payment Link in my signature or
Please don't forget the 3% credit card fee. You must add it manually to the amount you submit to SD. (To obtain the forms for int'l credit card payments click on the link in my signature below. If you need the password email trips@singledivers.com and we'll send it to you!)
2. Shipping and handling is to the US and Canada. (See below for insurance amounts.) Contact us for shipping outside of this area.


3. Insurance amounts or state you waive all insurance:

Domestic Insurance Prices
Amount for Merchandise
Insurance Coverage........Price
$0.01 to $50 .............$1.75
$50.01 to $100 .............$2.25
$100.01 to $200 ......$2.75
$200.01 to $300 ......$4.70
$300.01 to $400 ......$5.70
$400.01 to $500 ......$6.70
$500.01 to $600 ......$7.70
$600.01 to $5000
(maximum liability is $5,000) $7.70 plus $1.00 per $100 or fraction thereof
over $600 in declared value


Payment Options:

All prices quoted include a cash discount. Please add 3% if paying via paypal or credit card on the TOTAL amount of your order including shipping and insurance. (Echecks via our payment system do not incur the 3% fee.)
ORDER SUMMARIES:
1. Tray aka Scrappykidz ordered xl blue suede towel @ 29.95. No insurance any any other size or color will do if not in stock. - $___ rec'd via ______ on ______. - Product shipped via _____ on _____.
2. Carla aka rkmtwy ordered xl blue TERRY towel @ $26. No ins and asked to hand carry to Cozy. - $ ___to be given in Mexico. - Will hand carry to Mexico.
3. Clint aka ScubaClint ordered xl blue TERRY towel @ $26. No ins and asked to hand carry to NC. - $ ___rec'd via _____ on ____. - Product to be hand carried to NC.