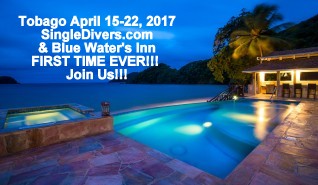 TOBAGO, APRIL 15-22, 2017 DISCUSSION THREAD/TOPIC
PRICING:
All Inclusive  Superior Beachfront Diving D/O = 10 spaces: $1665 full price OR 

$1615 cash discounted price

All Inclusive Beachfront Diving S/O = 5 spaces: $2256 full price OR 

$2188 cash discounted price

All Inclusive Superior Beachfront

NON-Diver D/O = 2 spaces: $1204 full price OR 

$1168 cash discounted price

All Inclusive

Beachfront NON-Diver S/O = 1 spaces: $1695 full price OR 

$1645 cash discounted price
PACKAGE INCLUDES:
8 Days/7 Nights Beachfront and Superior Beachfront room at the beautiful Blue Water's Inn
Breakfast, Lunch & Dinner Daily (including 2 glasses of soda per day)
(2)-Tank Boat dives for 5 days
Juice, water, tea, coffee and 2 sodas per day
Air fills, tanks, lead and weight belt
Secure Gear Lockers for your gear and LOTS of hanging space for your wetsuits/skins
Welcome Beverage upon arrival & group orientation meeting after last group of divers arriv
Special Happy Hour Events & Pricing
FREE T-shirt and other great give-aways!
Lots of 'Meets & Greets' to get to know everyone!
NOT INCLUDED:
Airfare to Tobago (TAB)

Does not include airport transfers (see this topic for info & coordination)
Alcoholic & Non-alcoholic beverages (after 2 included sodas daily) are extra
Optional island tours

Rental, instruction and retail charges

Dive Crew/Hotel/Wait staff gratuities (usually 10-15% of your land pkg cost or approx $150+)

Departure taxes - (approx US$35)

Instruction/Classes - will be available on this trip. Please let us know what you are interested in?

DIVE Insurance - is MANDATORY! DIVE insurance is VERY inexpensive. Even if you have insurance that you think covers DIVING ACCIDENTS and air lifts…it is CHEAP to get a supplemental policy to ensure you are cared for.
TRIP Insurance - It is STRONGLY RECOMMENDED. See INSURANCE Tab below for recommendations.
DISCOUNTS & DISCOUNT DISCLAIMER:
Hey gang we need you to look below if we have posted the codes or at the purple TAB called DISCOUNTS in the booking system (click on the link at the top of this topic and it will take you to the specific booking details for THIS trip or click on the blue box called BOOK NOW and it will take you to the full trip details in the new website/booking system.  Once there click on the trip you are interested in and READ THE DISCOUNT details under the purple tab called DISCOUNTS  to know what they are AND to get the code needed to get the discount. (WE ALSO TRY TO POST IT BELOW FOR YOUR CONVENIENCE)
You must use the code when you book as they are not retroactive after you sign up UNLESS otherwise stated like the buddy rebate etc.
We are sorry for any inconvenience this may cause but the accounting expenses of manually trying to do the discount is far exceeding the discount amount making it very prohibitive to manage this way. So please be sure to use the discount code AT TIME OF INITIAL BOOKING. 

NOTE: The EBD or Early Booking Discounts can only be used as follows:
1. When paying in full
2. When you first sign up
3 By the deadline given. After that deadline they disappear and the code will not work. (So please leave a buffer if you need to xfer money or have questions.)

Pay in FULL at time of Booking

by 10-16-16 for Early Bird Discount: 

$75 OFF

(use COUPON CODE:

SEE BOOKING SYSTEM

)
Pay in FULL at time of Booking by 11-5-16 for Early Bird Discount: 

$50 OFF

 

(use COUPON CODE:

SEE BOOKING SYSTEM

)

DEPOSIT at time of Booking by 11-5-16: for Early Bird Discount:

$25 OFF

(use COUPON CODE:

SEE BOOKING SYSTEM

) 
Book by 12-31-16 and enjoy an Early Christmas Present to Yourself - 10% Discount on any one purchase from ANO Lights or Coreskin Apparel or 20% off two or more items (10% or 20%Discount must be used by March 30, 2017)
Book by 12-31-16 For one (1) chance to WIN FREE NIGHT DIVE
Book by 2-31-17 For one (1) chance to WIN A FREE Coreskin or ANO Product/Voucher worth $100!
1 additional chance for each...WIN FREE ANO/CORESKIN GEAR worth $100 and/or Free NIGHT DIVE by signing up on our Facebook Trip Event for this trip AND "LIKE" SingleDivers.com if you haven't already AND share the FB trip booking on your page or in another diving group to which you belong. (EARN ONE CHANCE PER SHARE)

Please email  with your full list of contest entries links and please reference TOBAGO SOCIAL MEDIA CONTEST ENTRIES in the subject line.

Cash Discount: Use our e-check option to pay for your trip and

CASH DISCOUNTED PRICES

will be applied at checkout.
Active Duty Military Discount: $25 OFF Active Duty Military Discount for any active duty military of any country that fights for freedom. Thank you for your service. (Please email your military ID to or fax to 888-480-0906)
Member Rebate: File for your $25 member rebate within 30 days after the trip for SD premier and above membership levels (See my forums signature for link to the forms forum or click on the green Paper Forms button in the forums . If you are new to the site send an email to to get the password. PLEASE follow the directions on the form for proper submission & processing.)
SAVE $75 by submitting your Documents within 21 days of booking this trip. If booking within 45 days of the trip please submit your documents within 3 days. Otherwise the $75 document processing fee will be added to your final invoice.
Click here to book any package
*all prices per person, cash option requires selecting e-check at final checkout 
**cash price is the same as the cash price in the forums, new accounting regulations change the way the 3% non-cash convenience fee is applied.
VERY IMPORTANT LINKS:
REMEMBER...ALL TRIP GOERS NEED TO BE PREMIER MEMBERS OR ABOVE TO JOIN OUR AMAZING DIVE CLUB TRIPS!!!   Email admin@singledivers.com for help in registering or upgrading if needed! Email trips@singledivers.com for help regarding the trip itself!
Edited by ScubaPunk, 29 March 2017 - 07:55 PM.