This trip is NOW OPEN for Booking HERE!!! 
Come join us! We have been filling our trips really fast...don't delay while airfare is still VERY REASONABLE!!!

HAPPY NEW YEAR!!!

  And after you finish celebrating TONIGHT....start planning for NEXT YEAR...as SingleDivers.com will be celebrating in the Bay Islands in the crown jewel of ROATAN!!!  Join us diving Roatan's best kept secret... "THE SOUTH" in the comfy and friendly world of 'Coco Nuts"....none other than CocoView Resort!
SEE FOR YOURSELF HERE!!!
And to celebrate SD will offer some fun early booking perks!

  So don't worry...
we have a good number of spots AND single aka private rooms but they ALWAYS GO FAST...
so check out the details below...
get your name on the NOTIFY LIST
and get ready to get your air and jump on this amazing trip opening soon!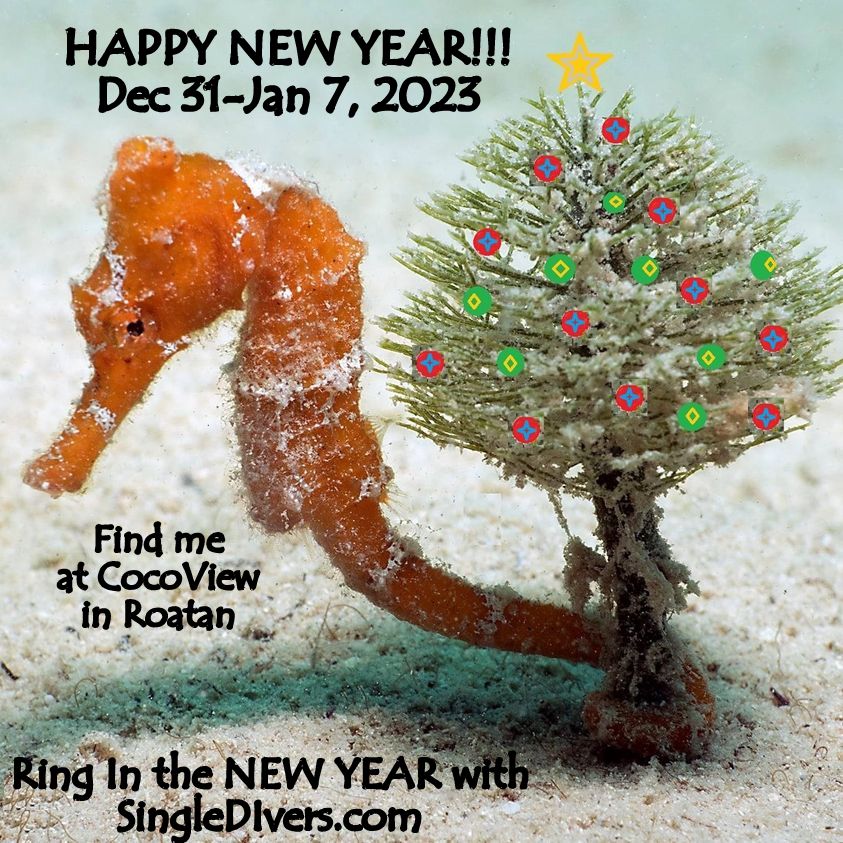 SAVE THE DATES...& ADVISE WHEN OPEN FOR BOOKING:
Dec 31 - Jan 7, 2023  RING IN THE NEW YEAR... CoccView Resort Roatan  ... DIVING THE SOUTH!!!
See more pictures HERE     Coming soon!
We will have full details on this amazing trip soon! Please start the planning process to join us!
Date:  Dec 31 - Jan 7, 2023 New Year's Eve Celebration Cocoview Resort Roatan, Honduras
Where: ROATAN, Honduras with our amazing friends CocoView Resort diving the SOUTHERN REEFS!!!!
How:  Easy to get too.... phenomenal diving.... conservation projects to give back and start the new year off and if all goes well... we will RING IN THE NEW YEAR WITH PUP THE SCUBA COWBOY!!!!  Don't Miss This Chance!!!   Extra days before and after available but lock in early to ensure YOUR prefered dates and flights!!!   Dec 31 - Jan 7, 2023
Why:  Our members LOVE ROATAN AND LOVE COCOVIEW!!!  NOW WE CAN DO THEM BOTH!!!  4 boat dives a day... nearly all inclusive and great pricing.... NOW that's how you ring in the new year!
And if Covid has taught us anything its that 'time and life is fragile and fleeting'. Seize life and opportunities NOW...they may not come again!
Pricing:  Estimated $1650 d/o for the 4 dives a day pkg (includes all taxes)
The dive trip is ALL INCLUSIVE sans alcohol and premium beverages for 4 boat dives a day and UNLIMITED SHORE DIVING!
We will have a limited number of ocean view upgrades TO WIN and TO BUY plus a limited number of SINGLE OCCUPANCY or PRIVATE ROOMS!!!
Other Interesting Stuff: This will be the first SD Group Trip to Cocoview and our 100th trip to Roatan... (well maybe not that many but pretty close!)

   Don't miss the BEST WAY TO RING IN THE NEW YEAR....DIVING!!!
What:  Save these dates....simply post in this topic to have us add your name to the "I'm Interested List" and we will let you know when this trip is open for booking Or you can send an email to trips@singledivers.com with your screen name, email you used to register on the SD.com site with and that you'd like to be added to the notify list!
NOT A MEMBER YET?  Simply click on REGISTER in the upper right and CREATE A FUN SCREEN NAME such as WreckWench or ScubaPunk or CajunDiver or Luv2Dive etc and then you can post to SAVE THE DATE yourself! (Note only upgraded members of our club can book our trips so get a head start on that process now!)
NEED HELP?  Email trips@singledivers.com or admin@sngledivers.com for assistance.
ADD MY NAME TO THE NOTIFY LIST (just login and post below to be added to the list):
 Kamala aka WreckWench
 Sharon aka SaltyAngel
 Douglas aka SaltyAngel+1
 Ed aka Diver Ed
Rick aka SharkB8+1 non diver
Diana aka SharkB8 
Ted aka BusyBoys
Chris aka RN Sharks
Butch aka Cajun Diver
Ellen aka SeaLassie
Sandy aka SandyBeach
Christine aka kittydiverChris
Scott aka Cmdr. ClownFish
Pup aka Neptuner aka the Scuba Cowboy!
Tricia aka diveps
 Kathleen aka gigidives
 Stephanie aka SweetBabyBubbleBottom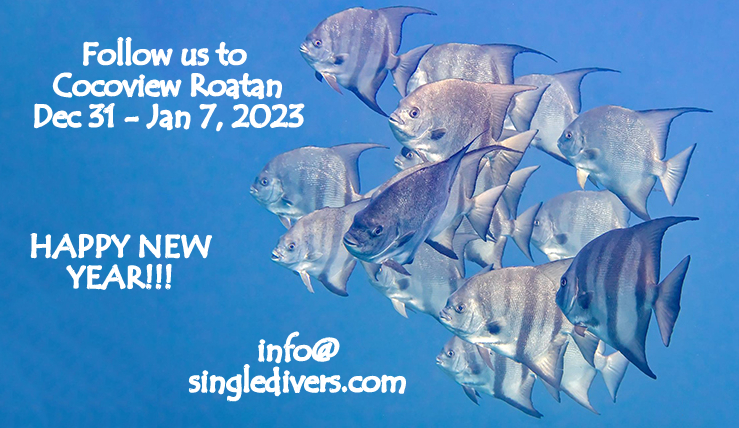 Edited by WreckWench, 15 May 2022 - 08:38 AM.